What's the Traditional Swiss Christmas Meal?
Having lived in Switzerland for some time, you might ask yourself what the Swiss eat for Christmas. The bad news is that there's no such thing as one traditional Swiss Christmas meal. Every region has its own Christmas dishes, and even in those regions there are usually a variety of dishes to choose from. A tradition we all do share, though, is that our Christmas meal happens in the evening, not at lunchtime, and it's traditionally either before or after church. While general church attendance has dropped dramatically in the past decades, most Swiss still make an effort to go to church at Christmas. Those with small children usually attend a child-friendly service in the late afternoon and then head home for their Christmas dinner; those with older children or no children often attend the Midnight Mass after celebrating Christmas at home earlier. Most families will meet sometime in the afternoon and start the celebration with drinks and then the dinner. The meal is usually followed by lighting the Christmas tree candles (yes, we use real candles, much to the surprise – or shock? – of many foreigners), listening to or singing Christmas songs, eating Christmas cookies and opening presents.
In the German part of Switzerland, there are three traditional Christmas meals: meat fondue (either Fondue Chinoise, which is thinly sliced meat cooked in bouillon, or Fondue Bourguignon which is meat cubes cooked in hot oil); and Filet im Teig, which is a pork fillet covered in sausage meat containing either savoury or sweet bits and wrapped in puff pastry. And an old traditional Christmas dinner which is becoming popular again is Schinkli (smoked ham eaten warm) with potato salad. Desserts vary these days, but when I was a child in the 1980s and '90s, exotic fruits such as mango, pineapple and passion fruit were an important part of any Christmas dinner, because this was the only time of year these fruits could be bought in Switzerland, as was Viennetta, a shop-bought, multi-layered ice cream cake.
We Swiss usually indulge in a Christmas dinner both on Christmas Eve and Christmas Day, and sometimes again on Boxing Day, depending on how many relatives there are to visit. This is why it comes in handy to have more than just one traditional Christmas meal; as much as I love Fondue Chinoise or Filet im Teig, three days in a row of the same can be a little overwhelming, especially since these traditional dinners are again the Swiss' most popular choices for their New Year's Eve dinner.
Recipe for Filet im Teig
Ingredients:
Pork fillet (400-500 grams)
1 rectangle sheet of puff pastry (320g or 25x42cm)
350g Kalbsbrät (Swiss veal sausage meat, sold in small boxes or over the meat counter)
100g ham, in small cubes
100g mushrooms, sliced
½ bunch of parsley, chopped
1 Tbs Madeira or white wine
1 egg
Method:
Season the pork fillet with salt and pepper and a little yellow curry powder. Heat some oil in a frying pan and shortly fry the fillet on all sides, only until slightly browned. Put fillet on a plate to cool down and gently fry the sliced mushrooms in the still-hot pan.
Mix the sausage meat with the chopped parsley, the fried mushrooms, Madeira or white wine and the ham. If you want a special touch, add some grated black truffles, too. Add some salt and pepper and, using your hands, mix everything.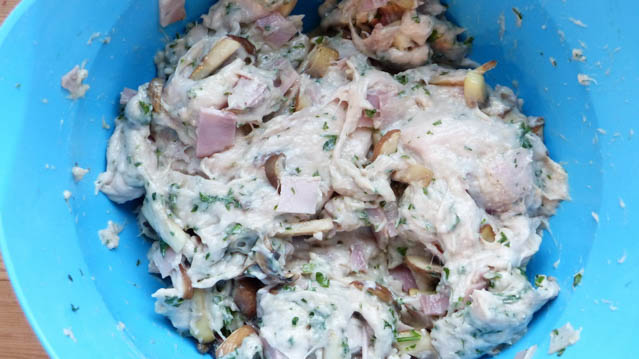 Roll out the puff pastry. Spread some of the sausage meat onto the pastry, put the fillet on top and then use the rest of the sausage meat to entirely cover the fillet. Crack the egg and paint the sides of the dough with a little egg white.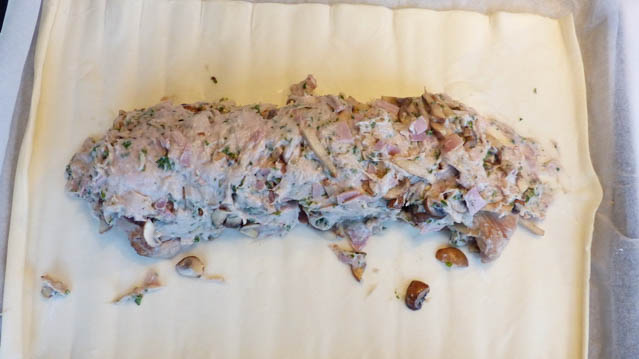 Then carefully wrap the meat and press the dough ends together. Using a fork, make holes on the upper side of the dough so the hot air can escape while baking. Now mix the egg and paint the dough with egg wash.
Bake at 190°C for about 45 minutes or until the dough looks baked and slightly browned.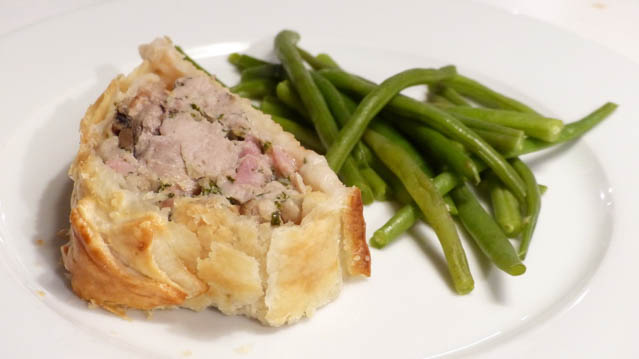 Photos and text by Franziska Wick
Originally from Switzerland, Franziska spent 10 years abroad, the longest stretch of it in London. She has always been passionate about food and has visited farmers' markets and attended cooking schools in China, large parts of Southeast Asia, Australia, North Africa and the UK. Now she's back in Zurich with her husband and two little girls and blogs about Swiss food and recipes on her blog called Little Zurich Kitchen.