Homemade Marbled Paper Holiday Cards
'Tis the season of plentiful craft ideas! During the holidays there are so many fun crafts and decorations you can make with your kids. From the classic candy cane with reindeer antlers to something a little more original, there's no shortage of fun holiday crafts and activities.
This year my son and I decided to make some homemade cards using a fun and easy marbled paper technique. For this craft you only need a few items, most of which you probably already have on hand at home!
Materials needed:
thick paper, such as cardstock
washi tape and stickers of choice
foam shaving cream
food coloring
What to do:
We started by cutting the paper in half so our cards were a normal size instead of A4-paper sized. You can use whatever size you like; the activity is just as fun with any size of paper! Decorate your cards with washi tape and stickers in the designs you like.  We made a Christmas tree, reindeer and strings of twinkle lights.
Spread the shaving cream out over a tray or large shallow plastic bin. Drop food coloring randomly around on the shaving cream.
Use a toothpick or craft stick to swirl the colors around in the shaving cream. Don't overdo it, or they will start to mix together, but do make sure the colors are spread all over.
Carefully place your paper, design side down, on the shaving cream swirl. Press gently to make sure all parts of the paper are touching the shaving cream.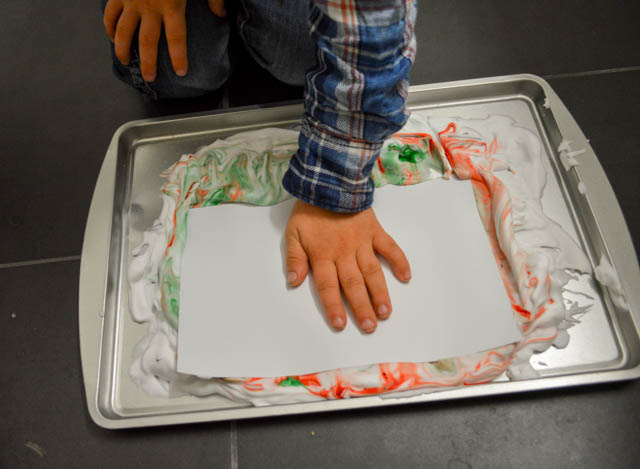 Remove paper from shaving cream. Wipe off excess shaving cream into the sink and you will be left with the marble colors!
Allow the paper to dry a little, and then remove the tape and stickers to reveal your design. Then allow it to dry completely before writing on the cards.
Tip: Remove the tape and stickers before the paper is completely dry so they are easier to get off. Otherwise the design will dry over the tape, which might tear the paper when you remove it.
Enjoy your cards, and happy holidays! What designs would you make on these cards?​
Text and photos by Rachel Blate
Rachel is a lifestyle blogger with a blog focused on travel, kids activities and life as an expat. Originally from the US, she currently lives in Zurich with her husband and 3 year old son. Find her blog at My Mini Adventurer and follow her on Facebook and Instagram.