Recipe for Resilience: Pasta e Fagioli
This soup is a real comfort food and a hearty meal in a bowl. It'll warm you right up on a cold day. I've made this recipe many times, and my kids love it.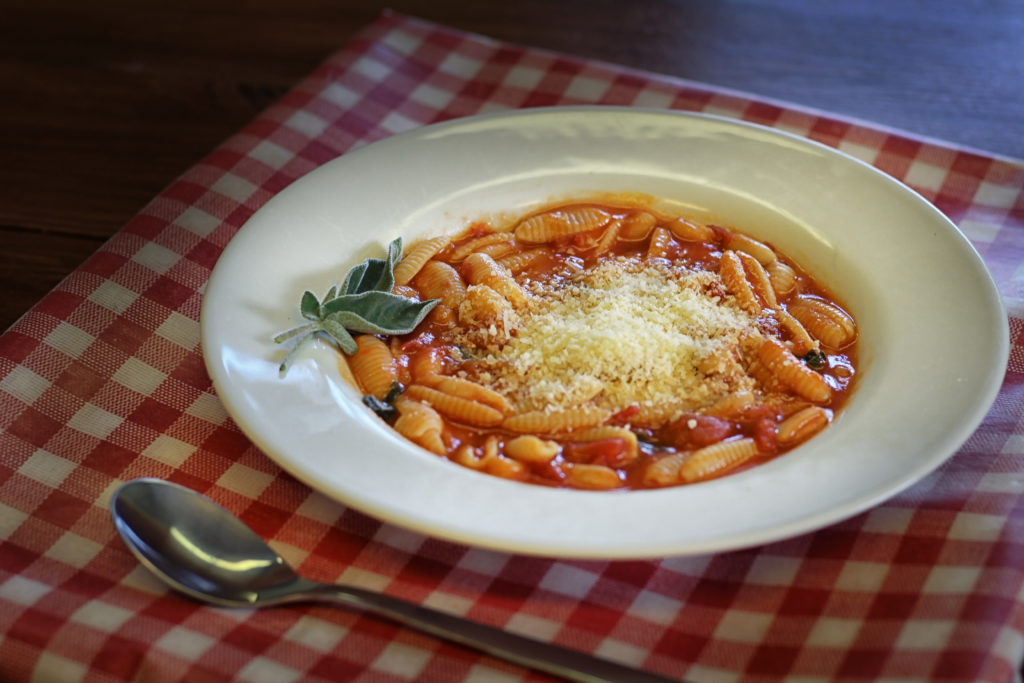 Pasta e Fagioli – Italian Pasta and Bean Soup
Serves 6
3 tbs. olive oil
1 onion, chopped
2 garlic cloves, crushed
1 x 400 g tinned cannellini beans
2 x 400 g tinned tomatoes 
4 cups vegetable or chicken stock
1 tbs. fresh sage leaves, chopped
Pinch of red pepper flakes (optional)
500 g dried small pasta shapes eg. little ears or shells
Grated Parmesan cheese
Salt and pepper to taste
In a soup pot over medium-low heat, warm the olive oil. Add the chopped onion and garlic and saute slowly, stirring until onion is soft, about 10 minutes. Add the tomatoes, half the sage, and red pepper flakes (if using). Simmer for 20 minutes. Add the beans and stock and simmer for 30 minutes longer to blend the flavors. The soup will become thicker, almost stew-like. If you like, you can blend a part of it.
Add the pasta to the soup and cook, uncovered, until the pasta is cooked al dente. Add salt and pepper to taste. Off the heat stir in the rest of the fresh sage. Ladle the soup into bowls. Garnish with cheese and serve.
Recipe by Carina Katz
Carina makes nutritional lunches for children ages 0 – 7 at Children First in Zurich.
Nutritional highlights of Pasta e Fagioli, a Commentary by Dr. Janice Sych
The valuable combination of beans and pasta gives the benefit of improving the overall quality of the protein profile in the soup.
This soup contains about 12-15 g of protein per serving (from the beans and pasta), and so one serving would cover 20-25% of daily protein needs for most adults (for children aged 4-10 it would cover about 30% of their protein needs).
Olive oil is one of the best choices of a fat in a recipe, and shown by scientific studies to be cardio-protective.
Cannellini beans have favorable carbohydrates, plant-based protein, and are a good source of fibers. 
Onion and garlic: both are considered superfoods, and for good reason; they contain health-promoting substances referred to as organosulphur compounds, shown in studies to have many positive health effects (antioxidant, anti-inflammatory, and antibacterial properties).
Tomatoes: while the vitamin C might be lost during cooking, other phytochemicals, such as lycopene, will be retained in both cases, even when your soup has simmered for a long time.
Sage is a bouquet of nutrients: vitamin K and small amounts of magnesium, zinc, copper and vitamins A, C and E. (Parsley has a similar nutrient profile.) Herbs will give you small amounts of these, but if you follow a healthy balanced diet, small amounts accumulate during the day to meet your requirements. Adding fresh herbs to the cooked soup ensures that you get some vitamin C, too.
Vegetable stock: this is important for overall flavour of the soup, but be careful which one you choose: sometimes soup stocks can be quite high in salt. Reducing salt in our diet is recommended, to reduce the risk of high blood pressure.
Pasta – carbohydrates: this is an important energy source for kids. While pasta also contains proteins, when combined with beans the overall protein quality is increased.
Parmesan cheese is a great source of proteins, and a good source of calcium too; recent consensus is that the fat from the dairy group is no longer a concern for health; overall it is harmless, unlike other types of fats in sausages, chips or bakery products, which have been linked with health risks.
Reference USDA Food Composition data base
https://fdc.nal.usda.gov/fdc-app.html#/food-details/375512/nutrients
By Dr Janice Sych
Janice is a nutrition expert and academic who teaches food science at the Institute of Food and Beverage Innovation (ZHAW). Janice lives in Kilchberg. She has three adult kids and has just become a grandmother. In addition to cooking, she loves to hike, cross-country ski, and is a member of the Swiss Gospel Singers.
Photos by Diana Kübler & Cloudia Chen
Diana, originally from the US, lives in Zurich with her husband and daughter. She enjoys taking photos everywhere she goes. She believes every challenge is a new opportunity to grow and create something new.
Cloudia is a portrait photographer specializing in family and children's portraits, as well as Swiss CV, business headshot and event photography. Before settling in Zurich, she lived in Mainland China, Hong Kong, London and the South of France. Her photos and articles have been published in various social media and popular travel magazines in China. To contact her please visit her website www.cloudiachen.com.