The Swiss Transport Museum in Lucerne Celebrates Flexible Transportation
When I pictured Switzerland before moving here many years ago, I imagined snow-covered mountains, cows on alpine pastures, herders producing milk for the famous cheeses and chocolate, and, above all, trains. Having lived in Florida, where there were really only three ways to travel (by car, by boat or by plane), I was thrilled to move to a land where I could walk almost everywhere and travel to work by train. Sure, we walked a lot in Florida, and we rode our bikes on trails, but this was for leisure, not to travel from point A to point B! Living in Switzerland offered us so many more mobility options – trains, trams, buses, cogwheel trains, cable cars, even zeppelins. And our children have thrived in this transport Mecca. One of our regular family outings honors all of these modes of transport – a trip to the Swiss Transportation Museum, or Verkehrshaus! This past summer we spent an exciting day at this museum with two of our grown children and our grandchildren.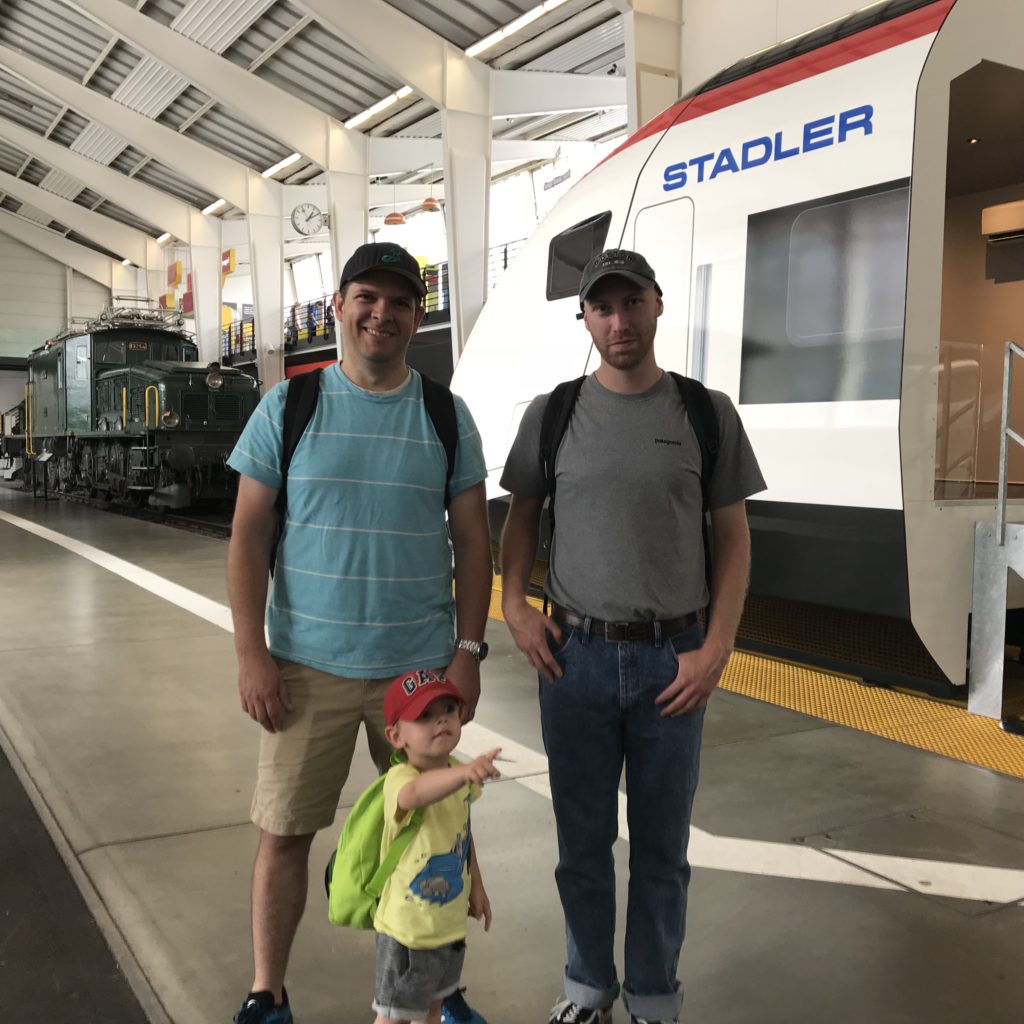 More than just a museum, the Verkehrshaus is a celebration of mobility, transportation, and Swiss ingenuity, drive and accomplishment. As soon as you enter the building, you get a sense of the pioneers who worked hard to make much of this mountainous country accessible for the alpine farmers and cattle herders as well as for the rest of us. As you move from exhibit to exhibit, you realize that the Swiss contributed to humanity's pursuit of remote realms – the deep ocean and troposphere, and even into space. With the 50th anniversary of the Apollo 11 mission this year, it is a great time to visit this museum. They do not disappoint! We saw the show "CapCOM Go" in English (French and German are also available), about the space race to the moon during the 1960s. We relaxed in the Planetarium and were wowed by the large exhibits about space travel. Aviation is also a central part of the museum – our grandchildren especially enjoyed the two Swiss airplanes they could enter.
I would say that the biggest thrill for the youngest in our troupe (age three at the time) was the train hall. He was quite content to spend hours there, climbing into each of the trains and pretending to be a conductor or locomotive driver. There was even a life-size model of a modern locomotive that they could "operate," which our seven-year-old granddaughter enjoyed. There is plenty for adults, too! For example, one can learn about how the engineers conquered the mountains, forging tunnels through complicated geology, or how they built the world's steepest cogwheel train in 1889, to reach the peak of Pilatus in Lucerne.
The museum is also devoted to exploring the mobility of the future: it deals with the incursion of driverless cars or digitally controlled freight trains on the horizon and how our mobility behavior will change. There are so many different experiences to have and fascinating stories to read about; you simply can't do it all in one day.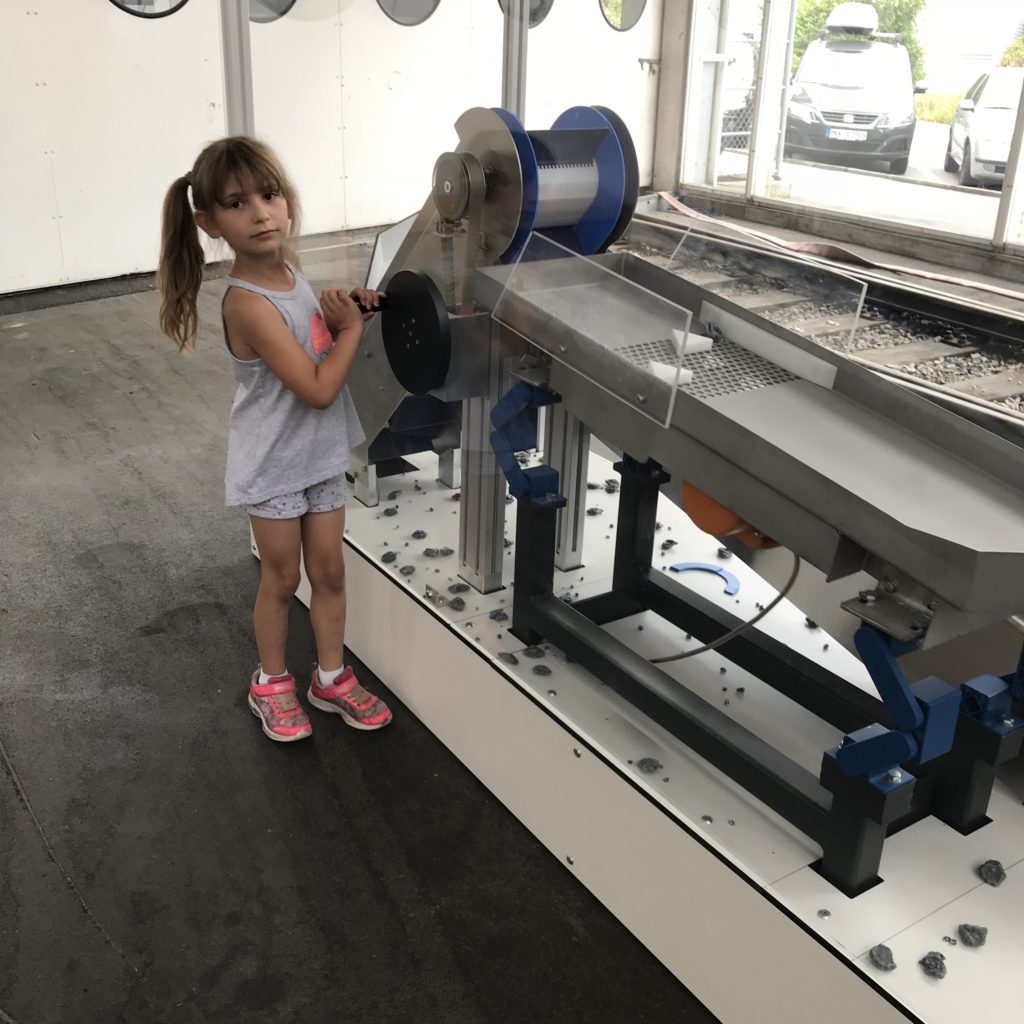 I particularly liked the hands-on activities for children. They can investigate a piston engine or interact with a life-sized map that measures elements of air travel, or operate a model excavator. There are also little carts to drive and boats to control remotely, all located in a play area outside. We could hardly get the children – or adults, for that matter – to stop for lunch. But when we did, we chose to picnic outside in a designated area and had a coffee and dessert later in the cafeteria. There is a good restaurant in the complex, but you will probably need reservations to eat there.
If you tire of the museum – not that I think that's possible – you can go outside and walk around Lake Lucerne – the Vierwaldstättersee – for a while. Why not take a boat ride from the museum to the city center and explore Lucerne, if you have time?
There are so many different experiences to have at the museum – and the exhibits change, too – that you simply can't do it all in one day. This is why we return again and again!
The museum is open every day of the year from 10:00 to 18:00 in the summer months and from 10:00 to 17:00 in the winter months. The tickets are pricey but generally affordable: a ticket to the museum costs SFr.32 per adult. A day pass is SFr.56 per adult and SFr.32 for students up to 26; children under 16 pay SFr.22 and under 6 pay SFr.11. This day pass is what we buy, because it includes the planetarium and film along with the museum. It also includes an entrance into the Swiss Chocolate World! So there we are again – when we think of Switzerland, we think of trains, cheese, and – oh yes, chocolate!
Traveling to the Verkehrshaus by train and boat is quite easy. You can reach it by car but be prepared for annoying traffic jams in the vicinity of Lucerne. More on how to arrive is here.
Text and photos by Teresa Bingham Mueller

Teresa is an earth scientist who has worked as a researcher, educator and project manager. She now works as a writer, editor and educator. She has three adult children, ages 38, 24 and 21 and two adorable grandchildren ages four and seven.