Summer Hiking in Appenzellerland: Hochalp and Schwägalp
As Switzerland continues to loosen coronavirus restrictions and allows visits to museums, zoos, castles, etc., many families are still averse to participation in activities where they will, inevitably, be in proximity to throngs of people. Although COVID-19 seems to affect elderly individuals most, many families have members with medical conditions (e.g., asthma, diabetes, and heart conditions) that place them at risk of a negative outcome from this disease. Nonetheless, everyone can enjoy this beautiful spring/summer in Switzerland. One fantastic option is to hike!
Our family enjoys hikes in the Appenzell region of north-eastern Switzerland. One of our mainstay hikes is up to the Hochalp (1522 meters above sea level). This alp is renowned for the annual spring ​Alpfahrt, or cow procession, in which the cattlemen/cheesemakers and their families dress in traditional clothing (known as ​Tracht)​ and lead their cows, adorned with flowers and show bells, up to the alpine meadow for the fresh green grasses. The procession up the alp is finished for this year, but you can still follow the path they take. And if you mark your calendar, you can catch the ​cows' descent from the alp​ to the village, scheduled for September 19,​ 2020.
This small alp is an easy ascent up a paved street (mainly), which makes it a good choice for families with young children. There are also ample opportunities to choose a picnic spot, if you don't care to brave the restaurant at the summit. This year, due to COVID-19, we went by car to Urnäsch, traveling part way up the hill/mountain over a narrow street and parking within the Bruggerenwald. From here, the marked way leads to a grill/picnic area through the forest to a farmhouse known as Nasenhaus. From here it is an easy ascent through a meadow of wildflowers to the summit of the small Swiss alp. The hike is 5.1 km long and should take about 21⁄2 hours to complete.
The scenery is spectacular. As you ascend you are mainly walking on ​Nagelfluh​, a massive bed of conglomerate rock of the Miocene age, part of the molasse deposits (sandstones, marls and sharls). If you look closely you will notice large pebbles in the rock that resemble nail heads, hence the name "Nagelfluh" (​Nagel​ means "nail"). At the summit on a clear day, you can see the Alpstein mountain chain with the Säntis peak (2502 m.a.s.l.), and much of the Churfirsten chain looking southwest toward Toggenburg. In the distance you might see hints of the Glarner alps with the Glärnisch (2327), and Tödi (3614 m) mountains. You can see the Uetliberg in Zurich in the west. In the North you'll see Lake Constance, and beyond that the extinct cinder cone volcano, ​Hohentwiel​, in Hegau, Germany. You'll also see the Speer summit, with a peak of 1950 m, in the canton of St. Gallen.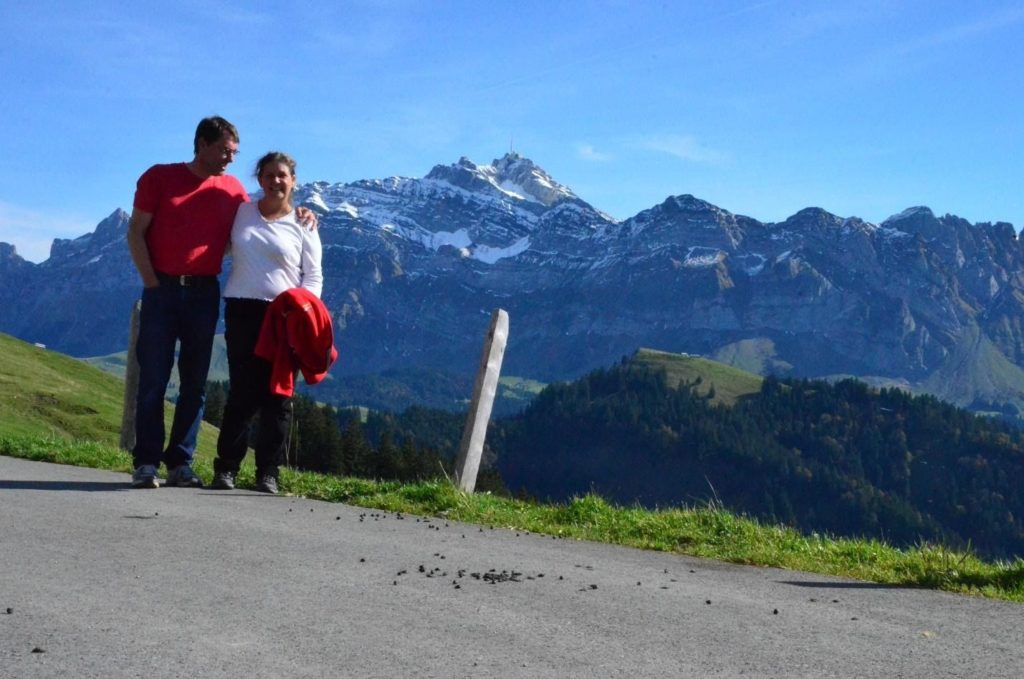 See a ​panorama of the view from the Hochalp summit​.
Looking for more of a stroll than a hike?
If you think this hike might be too tough for you and your family, then head over to the Schwägalp. You can park near the hotel restaurant or reach it by public transportation. There is a Post bus that runs regularly. You can walk around the Schwägalp pass and even buy cheese from the local cheesemaker and take a cable car up to the summit of the Säntis Mountain. The ​Säntis cable car​ and restaurant will be​ open on June 6​ .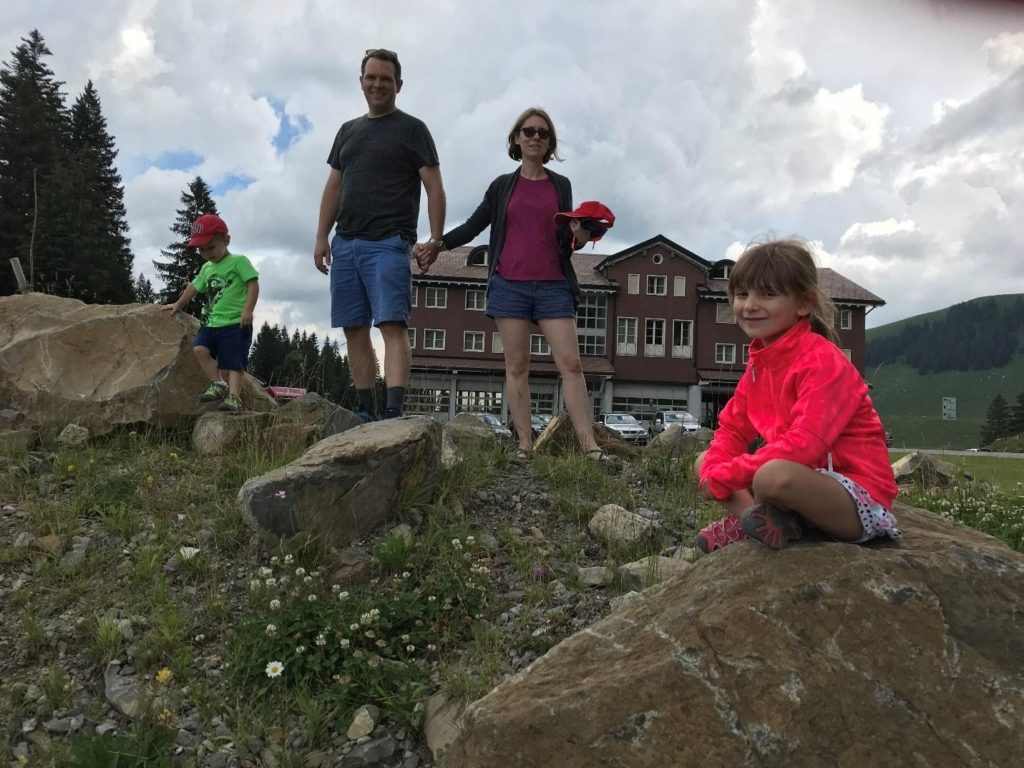 Looking for a hiking challenge and mountain ascent?
For those with older children who are in very good physical condition and experienced in the mountains, you can set off to reach the Säntis peak, as long as you start early and the weather is excellent (no forecast of rain or storms or high wind). For such a trip, you need reliable hiking boots, safety supplies, and plenty of water and snacks. The ascent is steep through a number of intervals, and we would not recommend it for novices. Toward the end of the ascent there is a climbing section (about 50 meters) in which you must use a three-point climbing technique to reach the peak: metal rods extend into the rock wall; in general, there are lead ropes. Many Swiss families climb this mountain with their young children attached on a rope, in case they slip. And I suppose if you are experienced and grow up in mountains this is fine. As geologists, both my husband and I have ascended the Säntis; this is an incredibly beautiful mountain. Nevertheless, we have also both lost colleagues to the Swiss mountains; the Alpstein mountain chain, to which the Säntis belongs, is a limestone massif known for its steep and often vertical rock faces: it is always possible to slip. One should never forget that one mistake in the mountains can cost a life. So even though you do find suggestions online for excursions to climb the Säntis with young children in tow, we feel that such an excursion would be ill-advised. If you are comfortable in the mountains and decide to take the journey, then we suggest you use an official trail: this site has reputable links to routes and you can download a map: ​Swisstopo: the official Swiss map site​.
Article and photos by Teresa and Daniel Müller
Teresa is an earth scientist who has worked as a researcher, educator and project manager. She now works as a writer, editor and educator. She has three adult children, ages 38, 24 and 21 and two adorable grandchildren ages four and seven.
More Out & About tips in canton Appenzell:
Ebenalp: Family Adventure in the Appenzell Mountains
Swiss Herdsmen Traditions: Cheesemaking and Silvesterclauses in Stein, Appenzell