Teriyaki Skewers with Garlic Bread
To be honest, I haven't been cooking regularly for very long. It all started about a year or two ago with a discovery. My father had invited me for dinner to the most amazing restaurant he knew in Rapperswil-Jona (Villa Aurum). The second course was a duck liver pâté with dried pears and melted chocolate. The flavors were subtle, smooth, and beautifully combined. Ever since, I've been hooked on the subtleties of flavor and cooking. I even went back to that restaurant recently to take a cooking course.
When I got home that evening after eating there, I started scanning Pinterest for the most gourmet recipes I could find. If I wanted to keep discovering new, exciting flavors, I would have to start cooking for myself.
Apart from the excitement, there's also an ever-growing necessity in my life to learn how to cook well. Who will do the cooking for me when I move out of my parents' house? Exactly: nobody. This means that for me, cooking is a means of independence, and as such, I'm absolutely in love with it. When I have kids one day, I'll be as prepared as I can be to feed them the best, most nutritious food possible.
Over time I've made myself a list of the best go-to recipes. So now that barbeque season is upon us, what could be a more heart-warming meal to an avid foodie than seasonal, colorful, tender skewers with an exotic marinade and a warm, crispy side dish? Mouth-watering. (The photo shows both vegetarian and non-vegetarian versions and a simple tomato mozzarella salad on the side.)
Teriyaki Skewers
Ingredients to serve 4 people:
For the kabobs:
1 lb. (500g) pre-cut veal strips or chunks of sirloin steak OR smoked or regular tofu, in chunks
2 medium bell peppers (any color), in large dice
2 medium red onions, cut into eighths with the layers pried apart
1 can (300-400g) pineapple, cut into chunks
For the marinade:
3 Tbs. soy sauce
1 Tbs. brown sugar
2 Tbs. sunflower (or other neutral) oil
1 tsp. toasted sesame seed oil
1 Tbs. grated fresh ginger
1 large clove of garlic, pressed or minced
1 Tbs. lemon juice (important, as it tenderizes the meat)
Instructions:
Put the chopped meat or tofu into a medium bowl and add the marinade ingredients one by one, tossing after adding each one until your meat/tofu is coated. When using tofu, toss carefully so you don't break it up. Set aside.
Chop the veggies. Build your skewers: I usually do veggies-pineapple-meat/tofu.
Grill the skewers on an outdoor grill or indoors in a grill pan until cooked to your liking.
Tip: When using a grill pan (a regular nonstick pan would work as well), don't start at the highest heat since the meat/tofu will be cooked quickly but the veggies, especially the onion, will stay too raw if you do this. You may even want to make "deconstructed" skewers when using a pan, meaning you wouldn't use skewers at all and make a kind of stir-fry instead. This also goes nicely with basmati rice. Which brings us to our side dish: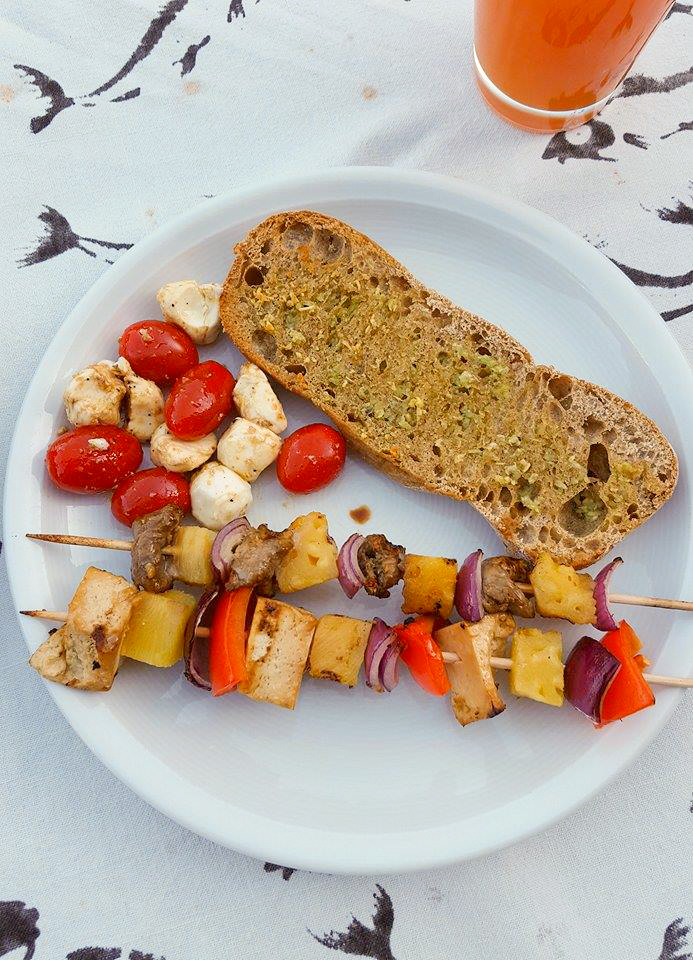 The Garlic Bread
Ingredients for 10 pieces:
1 loaf of fresh bread or 5 mini baguettes
1 bulb of garlic cloves, pressed/minced/grated
3 Tbs. softened butter
3 Tbs. olive oil
Salt to taste
Italian seasoning to taste (basil, oregano, rosemary, parsley, etc.)
Instructions:
Preheat the oven to 200°C or 400°F.
Slice your loaf or halve your baguettes lengthwise.
Mix together all remaining ingredients, beginning by whipping the butter to soften it. Spoon the mixture over the bread.
Put the garlic bread on a baking tray and cover with aluminum foil. Bake for 10 minutes.
Remove the foil and bake for another 5 minutes right under the broiler until slightly browned and crisp.
Text and photo by Lara Friedrich
Lara has been a freelance illustrator for Mothering Matters since early 2013. She is in her third year of University (majoring in psychology) where she's currently working as an assistant in a research project in pedagogy. Lara is also an assistant translator from German to English for various fiction books and works as a demo singer for the songwriter Kate Northrop. Lara's Instagram  has occasional food posts.
Skewers recipe adapted from: Laura in the Kitchen
Garlic bread from: Courtney's Sweets