Technorama for Girls and Boys of All Ages
Let's face it – negative stereotypes still abound regarding girls in science and math and boys in language arts. Combined with gender-based marketing strategies for toys and activities, you as a parent might begin to think that this stereotype is correct. But it isn't! So how can parents give their children – boys and girls – the freedom to develop their true interests and abilities? One surefire way to negate stereotyping is to take your children to the Technorama Science Center in Winterthur, as we did recently.
Not only were my grown male children and grandson having a ball, but my granddaughter, age six, actively experienced everything with joy and awe. The number of hands-on science-based experiments for young and old is unprecedented in Switzerland; we spent four hours there and could have easily stayed longer. That evening my granddaughter asked if we could go again the next day!
The center is divided according to science topics. You can experience Newtonian mechanics and electromagnetics, my personal favorite. My granddaughter particularly liked Newton's cradle and double pendulums, and my three-year-old grandson loved all experiments involving springs. The exhibits are generally self-explanatory, without the need to understand higher-level math or read detailed descriptions. Yet this information is provided for each station, and in English!
There are live shows in German; we saw one about lightning, but there is also one about the nature of gas, which sounded interesting. Naturally, the demonstrations are loud and spectacular, and spectators are chosen to actively participate.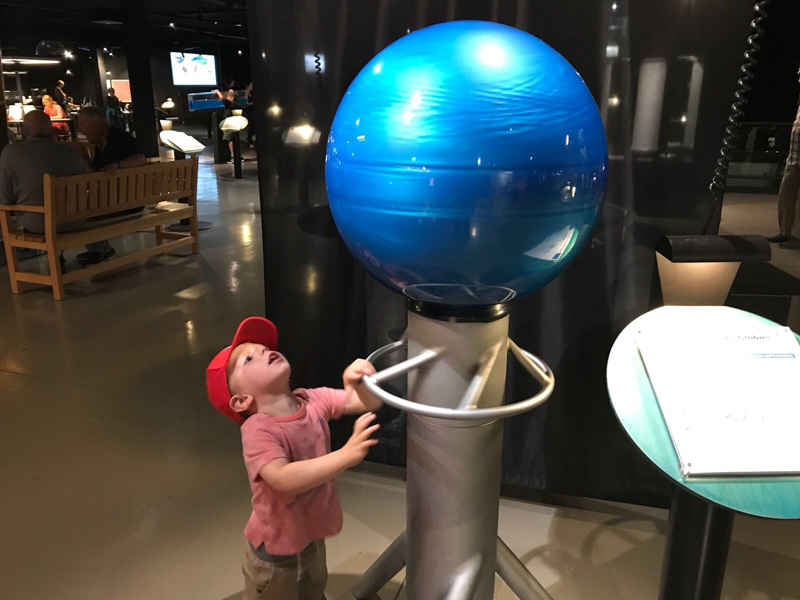 There is a floor is devoted to light and natural phenomena. The kids can create waterspouts, make smoke signals, generate erosion, mix colors, make light appear as particles, etc. The hit for us was the huge bubbles! There is also a lab where kids can perform experiments and an inventors' workshop where you can build machines, under supervision (by appointment). Technorama has workshops available for adults as well. There is a small fee for these.
There is a hands-on math puzzle-solving area, which my adult children enjoyed, and an area with an array of wooden machines, including a huge wooden marble/ball run. This is a marvelous area where you can pedal and step your way up to transfer your own physical kinetic energy to potential energy, literally!  Of course there are many more areas and topics to explore. Go and experience it with your family.
The center is open from 10:00 to 17:00 every day, and you can reach it by car or public transportation. Costs are reasonable, with children under 6 free; children ages 6-15 pay SFr. 18. Adults and young adults pay SFr. 29, with discounts available for students and apprentices and seniors, so bring your ID cards.
Technorama can be reached by public transport or car: see the website for details.
There is a picnic area inside and a cafeteria with pricey drinks (so bring your own). There is a gift shop near the exit that is supplied with a variety of cool kits and experiment-type items, which we visited at the end of our stay. One thing stuck in my mind though: my granddaughter asked, "Where is the girl's department of the gift shop?" There was nothing pink there! Fortunately it had never occurred to her during our visit in Technorama that the lack of pink exhibits meant that we were doing "boy" things, and rightly so! The scientific nature of the world we live in has nothing to do with gender. Toy and experiment manufacturers should certainly address this.
Text and photos by Dr. Teresa Bingham-Müller
Teresa is a geologist and educator who currently works as an instructor and science editor. She has three sons ages 18, 21, and 34, and two grandchildren.