Sunny Cinque Terre on Our Own Two Feet (Mostly)
Spring is here, and it is time to welcome warmer temperatures back into our lives, or maybe not! As of this writing, Switzerland has again delivered extremely wild weather and given us good reason to journey off to another land during the spring break.
We drove south this year to Italy and visited the Cinque Terre area. Although the first two days were rainy, the remaining three offered clear blue skies and it felt like summer. Meanwhile, it snowed some 20-30 centimeters in the Zurich area.
I admit that traveling stresses me out a bit. I really hate places that are crawling with thousands of tourists, and having three small children in tow doesn't help things at all. Cinque Terre is a bit like Venice – everyone has heard of it. April is not considered the high season, yet the train stations and village centers were mobbed with people armed with selfie sticks.
The good news is that this area offers a lot of beautiful hikes, and the more adventurous you are, the fewer people you see. The first hike we did was straight uphill for about two hours and then back down on the same path. It was very quiet on trail, and there were beautiful vistas along the way.
Our youngest is only four years old. Beside the steep and constant climb of this hike, he was our biggest challenge of the day. He started out strong, but naturally became tired and whiny early on. We tried our best to keep him occupied by playing "I Spy," searching for the perfect hiking stick or hunting for lizards, but that only helps so much.
Several times along the way, he stopped and refused to move. I'm pretty tough on the kids compared to their mother. I am completely fine taking breaks, going slow and holding their hands to help them along the way, but I rarely give rides. His mother is quicker to give in, so we had to make sure she stayed ahead with our two older daughters, otherwise he would never do it on his own. Eventually, his desperate pleas paid off and my wife caved. She gave him a piggyback ride for the final 30 minutes or so.
At the top, we celebrated our accomplishment with stunning views of the ocean and the absence of crowds. We had some refreshments to refuel and made the downhill trek back to town. We all made it down on our own two feet.
We decided to take an easier route the next day, and we set out with that plan in mind. However, things didn't start out so smoothly. I forgot to validate tickets for a portion of our train journey, and I knew from the day before that security checked for this. I didn't want to give the "stupid tourist" excuse because, well, I've been in Switzerland too long.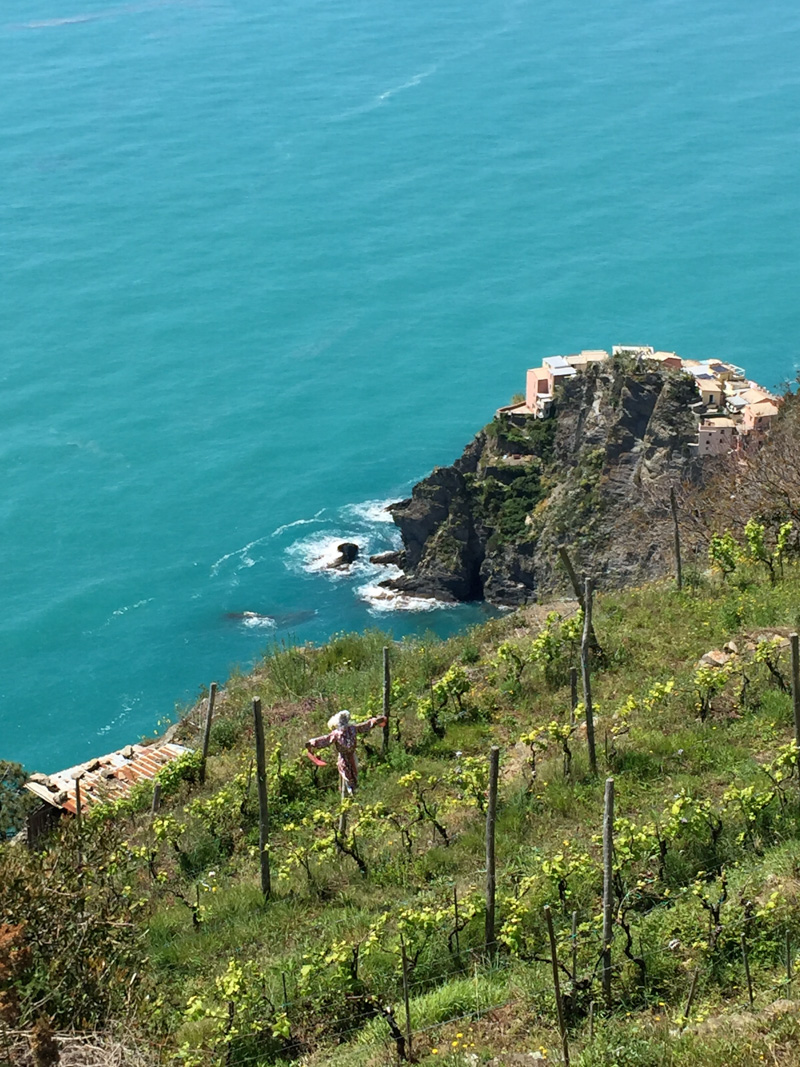 There was one station to go before we would all become illegal, so I left my family on the train and made a mad dash for the ticket stamper down the stairs. Did the machine work? Not really. I tried about ten times only to get one ticket stamped. Then I spotted another machine, nearly took a few people out on my way getting to it, and stamped the others. I sprinted back up the stairs and onto the train. Sweating and swearing, I found my seat and we continued the journey.
Once we arrived at our destination (one of the five villages), there was, of course, nobody checking tickets. So, we went on our way to check out the town, and I calmed myself down with fried seafood. The town was beautiful and the sun was shining. As we set off to enjoy the leisurely stroll along the ocean to the next village, we discovered that the trail had been closed due to a wall collapse. Luckily, there was an alternative route!
It took us a while to be sure where to go, but after consulting with fellow tourists who happened to be from our hometown in the U.S., we confirmed the route. The steady stream of people we saw in the distance ascending the steep vineyard marked our new plan. We contemplated going back to the train, but decided to go for it.
This route was steeper than the one we had done the day before. It had a steady trail of stairs going up one side and down the other. Most steps came up to my son's knees. The extremely vertical pitch actually aided me in helping my son do the stairs himself, and with some exposure to cliffs, it was exciting, too! He made it all the way to the next village on his own two feet.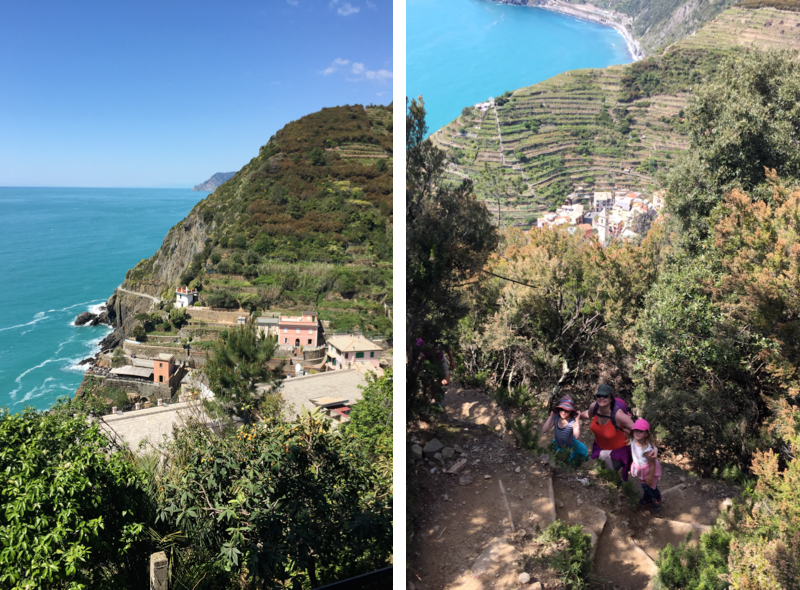 All in all, it was a nice hike that led us to another awesome village. It wasn't part of the original plan, but it was a good adventure. We were happy that we decided on the steep and scary route, and also very grateful that Ice cream or a beer is never far away in Cinque Terre.
Patience on family trips is generally not one of my strengths. I loathe huge crowds, long lines, unpleasant bus rides, traffic jams and Italian drivers who set their own speed limit and comfortably settle themselves in the middle of two lanes. I am in constant fear that I'm going to see one of my kids step into a giant "doggy log" on the street. I'm not a big fan of bickering kids fighting over beds, etc.. But, that is life. This is parenting.
There were a few proud moments for me on the trip. My daughter said my Italian was very good after hearing me order pizza. It was just a few pizza names and how much we wanted, but hey, she thought it was pretty cool and it made me feel good. She and I were tasked with finding takeout that evening, and all of the obvious options were overflowing. We went back to a smaller place that I thought seemed popular with local residents and sure enough, it was great.
My wife and I had a nice parenting moment while waiting on one of the sunny train station platforms. We pointed out the tuna and shrimp sandwich sitting in the vending machine with a "best by" period spanning some two weeks, and let the kids know that it might be a bad idea to choose that for lunch.
We do not often get the chance to talk about little things like this in our day-to-day lives. A trip away helps us slow down and take in life's little subtleties.
Text and photos by Brian Wilson
Brian is the father of three children. He teaches golf and coordinates a Zurich Dads' group in his spare time. Email: bwilsoniag@gmail.com