Rocketbook Brought Me Back to "Basics"
Handwriting. For as long as I can remember, I have always loved to write on paper and shop for stationery items: pens and pencils, erasers and highlighters, nibs and notebooks. In fact, I would spend more time beautifying my handwriting than concentrating on the content. A vivid memory from my childhood is when my dad was so put off by this behavior that he refused to teach me any more trigonometry. My focus was more on the new pen he was using than solving the math problem. It was only after a week of time-out that we got back to our books again!
Another time, during one of my summer holidays, my cousin and I read a horror story together, but she had to leave before we could finish the book. So I narrated the rest of the story to her in a letter, writing out nearly two-thirds of the book! As an Indian student and pre-technology kid, I spent a lot of time writing – taking notes from blackboard, letters to family around India, and making grocery and other shopping lists.
The first time I saw my uncle use a computer keyboard, I informed him that I could really write at the speed that he typed and thought to myself that typing would be the most difficult thing to do! But over the years, even though I had always enjoyed writing in a notebook, thanks to technology and work demands, I, too, switched from writing on paper to using MS Word on a desktop and then a laptop. Writing was then limited to a quick travel or a grocery list, minutes of a meeting at work, or using a planner each year. And even that changed over the years thanks to smartphones and apps.
Recently, when I started going to German classes, I got back to writing on paper, taking class notes. The first day, out of habit, I carried my laptop. But soon I realized it's better to use pen and paper. It was OK while making small grammar notes but to write a letter in German or an essay, it took time. I had lost speed. With the German classes and a year of self-study, I have lots of notebooks piled up on my shelf. But what if all of this could be divided into different folders and one notebook is reused again and again? I don't have to keep flipping pages from 10 notebooks to search my notes on dative prepositions for instance. I needed to find a way to better organize my notes.
Disclaimer: This isn't an advertorial for Rocketbook and I am not associated with the company. This is just my review of a product that helped me get back to writing with my favourite instruments: pen and paper.
It was only when I was exploring options to cloud-save all my notes that I chanced upon the "Everlast" notebook from Rocketbook. After using it for a few months regularly for classes and other writing-related work, I really got back to using pen and paper regularly and saving my work at the same time.
Rocketbook is a notebook that works with Frixion pens and is easily erasable with the pen's eraser and also with any moist cloth. Inside the notebook there are symbols that you can assign to particular topics; this helps with scanning and sending your notes to the right drive. The book works with Google Drive, Evernote, Dropbox, OneDrive, OneNote, Slack, Box, iCloud, iMessage, or Email.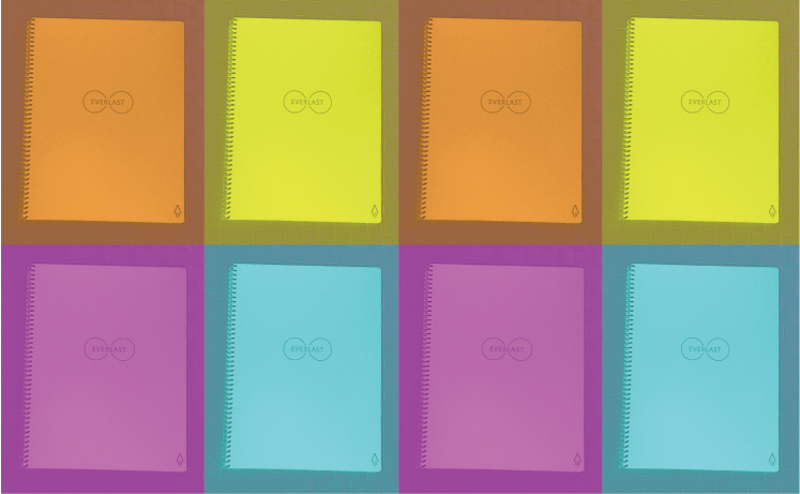 There are three types of Rocketbook notebooks available: One is a single-use book. Wave can be reused five times, and you can erase all your writing after cloud-saving it by simply putting it in your microwave. Everlast can be used be used infinite times. (I bought Everlast, as I found it more useful than the other kinds.)
Pros of taking notes with a Rocketbook notebook:
I got back to using pen and paper regularly. I use it for making German grammar notes, working on exercises, carry it for my editorial meetings and even to teach English to my girls. Like my smartphone and laptop, I use it every day.
My husband, who usually carries his laptop for all his meetings, also got back to using just a pen and this notebook.
All your writing is more or less searchable. For instance, if I am working on an exercise on German dative prepositions, and I want to refer to my class notes, I don't have to look though all the notebooks but simply do a keyword search in my Google drive.
There are other similar products available but this is the least expensive at Sfr40.- for the notebook and another 5 for the pen.
Cons of using a Rocketbook:
You have to always remember to use only Frixion pens and nothing else even by mistake, as then it is not erasable.
The app attached to the notebook still needs a lot of improvement. Though it scans all your work, you need to keep it at a certain angle to get the good scan of your writing. Use scanangle.jpg
The JPEG format of the scan is quite clear, but if you have saved a PDF version then it's not even readable. Use germannote.pdf
Since the book uses a special kind of paper, it can be difficult initially to adapt to writing on this notebook. It feels like writing on a very thin whiteboard book.
There's also a kids' colour version of the notebook available that can be used with Crayola pens and pencils for writing and drawing. Hubby and I have decided not to buy it for our girls, however, as they are only six and four, and we want them to experience real paper. But more than that, it's difficult to restrict kids to using only the Crayola brand of colours.
Overall, this is a good product that is worth the money for those of you who, like me, are keen on using pen and paper regularly. For me it has been a switch similar to using Kindle for books. At first with the Kindle, it was difficult not to have the tactile experience of holding a book while reading, but as I used it more and more, I was just happy to be reading again; with all my books saved in a device, it was easier to spend time with them, instead of letting them gather dust. Rocketbook brought a similar, welcome change for me: it allowed me to get back to using my beloved pen and paper.
By Keerthana Nagarajan
Keerthana is a freelance journalist and lives with her husband and two little girls in Zurich. In March 2017, along with her friends she launched Namaste Switzerland, an online magazine for all Indian residents in Switzerland, or all those who are Indian at heart. She is also currently working on improving her German – her daily conversation classes are with her kindergarten girls who patiently teach her that fast in German isn't the same as fast in English! She's written articles for Swissinfo.ch and previously worked with Radio Netherlands Worldwide in the Netherlands, covering South Asia news, and at CNN's sister concern in India, CNN-IBN.
Photo credits
Top photo by Laura Munteanu. Lower photo by Keerthana Nagarajan with overlay and composition by Andrea Snashall.