Review: "Raising Boys" by Steve Biddulph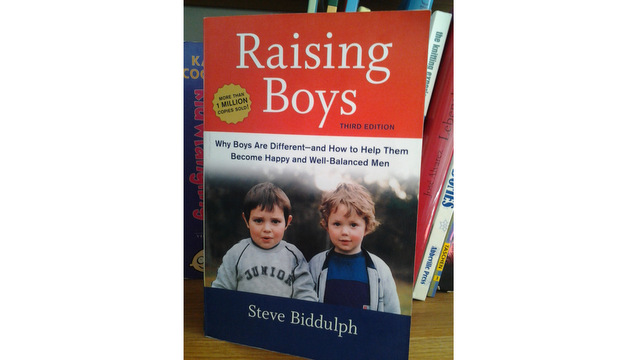 I am truly sorry for boys: they start life at a disadvantage. We adults don't always realize how different they are from girls – physically, mentally, and emotionally; even their hearing and sight are different. And the tragedy is that too often they are brought up in the same way as girls, treated in the same way, judged by the same standards and expected to fit into the same mould.
Author Steve Biddulph started life in the U.K. before moving to Australia. He is one of the world's best-known parenting authors, with books in four million homes and 31 languages. He was a family psychologist for more than 30 years and teaches at the Cairnmillar Institute in Melbourne. He is also the father of a boy.
In this excellent book, Biddulph explains "why boys are different and how to help them become happy and well-balanced men." He urges us to understand their psychology, their stages of development, their hormones and their hard-wired natures. Then we will have the tools to raise them to be fine young men, safe, caring, passionate and purposeful. He lifts the lid off the unfairness dealt to boys versus girls, explaining how they suffer. Boys are often seen as a problem – too noisy, too energetic, slow learners, poor communicators, and a danger to everyone. Is this true? I am sure it is. Raising Boys, now in its third edition, has been a best seller since it was first printed in 1998. Reading it now, I feel guilty about the many mistakes I must have made with my son. This book would have helped the whole family.
The book tells us about the three basic stages of a boy's life and why it is important to respond to their specific needs. They are Mother's boys from ages 1 – 7. From 7 -14 they switch to Dad and crave his active involvement with them. At around 14, they have a need for outside mentors – like sports teachers and trainers and scout leaders. Biddulph explains how a boy benefits when we can meet these specific age-related needs. He also clarifies why boys have an intense need for physical affection and the rough-and-tumble games with their fathers. Studies show that the wayward and troublesome teenagers were often those who saw little of their fathers.
We read about other problems and difficulties: porn addiction, bullying, the effect of intense testosterone levels in the early teens, boys' intellectual stages, their strong need for affection and tenderness at all times, and their inferior communication skills. Raising boys can be so much easier and – dare I say it? – so much more enjoyable if one understands how they tick instead of expecting them to fit into the same developmental stages as girls.
The sexually maturing boy needs guidance about the differences among liking, loving and lusting. Biddulph advises parents to help a nervous son to approach girls in a respectful, not a controlling way. A parent can teach a son to keep his head on when he takes off his clothes. Also, the author emphasizes that boys should not be taught to be ashamed of masturbation, which is so normal, and even good for the body.
Steve Biddulph explains the reasons for some boys' learning difficulties and attention deficiency. He writes how accomplishing housework raises a boy's self esteem, and how caring for others can suppress a boy's tendencies for violence and aggression.
A short review such as this cannot do justice to the amount of wisdom, warmth and humanity which Steve Biddulph has packed into Raising Boys. This book is a valuable asset for all parents, not only those blessed with boys.
Raising Boys (Third Edition), by Steve Biddulph. Ten Speed Press (2013).
By Joanna Koch
Joanna has been a member of the Mothering Matters team since its beginning 20 years ago. She is a La Leche League leader and is involved with the Anglican Church in Zurich as well as the British Residents' Association of Switzerland. Joanna is a mother of three and loves her eight grandchildren.