Popsicles to Beat the Summer Heat
Picky eating is an all-too common stumbling block in the parenting journey. After he turned two, my toddler went from eating everything that was laid on out on a plate before him to refusing to eat anything green. I resorted to disguising his greens by creatively combining them with his favorite potatoes, lentils and meat. Some experimentation with various combinations of fruit, greens, and yoghurt paved the way for a new favorite, smoothies, and their close cousin, popsicles.
With the warmer months approaching, the requests for ice cream treats are inevitable. Popsicles are a great alternative to ice creams and are as simple as making a smoothie. Swap your straw for a stick and your glass or cup for a mold and you have a nutritious, tasty summer treat.
A smoothie can be made with literally any combination of fruit you have at hand. While juice can be substituted for pureed fruit, using the whole fruit has several benefits, primary among these being its high fiber content. Retain the skin of the fruit you use, as these are rich in fiber. Use a blender to blend together your fruit or vegetables. Preferably opt for fresh or frozen fruit over canned and processed fruit, which are sometimes heat treated and usually preserved in sugar syrup.
Yoghurt and fruit is a match made in popsicle heaven. Throw in a few spinach leaves (or frozen spinach cubes), some vanilla essence for that extra flavor, and blend. Substitute yoghurt with coconut milk for a vegan option. The flavor combinations are limitless. My son and I have our own favorite, a combination of banana, Ovomaltine, peanut butter, milk and a dash of vanilla essence. We call it a "monkey milkshake" popsicle, and it's as fun to snack on as its name suggests!
Here are some of our other favorite flavor combinations:
Multicolored Popsicles
This is a great way to sneak in some spinach and different varieties of berries. You will need:
½ c. strawberries
Yoghurt
½ c. blueberries
2 tsp. honey (optional)
1 tsp. lemon juice
A handful of baby spinach leaves (or 1 cube frozen spinach)
A small piece of cucumber
Blend together the strawberries and yoghurt. Pour the blended mixture into popsicle molds and stop at the 1/3 mark. Blend together the blueberries, 1 teaspoon of the honey and lemon juice. Pour this up to the 2/3mark. Finally, blend the spinach leaves, cucumber and the remaining teaspoon of honey and add the puree to the mold till it is full. It's okay if the layers blend a little. For clearly defined layers, you can freeze each layer before you add the next. Pop in sticks and freeze for at least two hours. Unmold by placing the popsicle molds in a bowl of room-temperature water for a minute.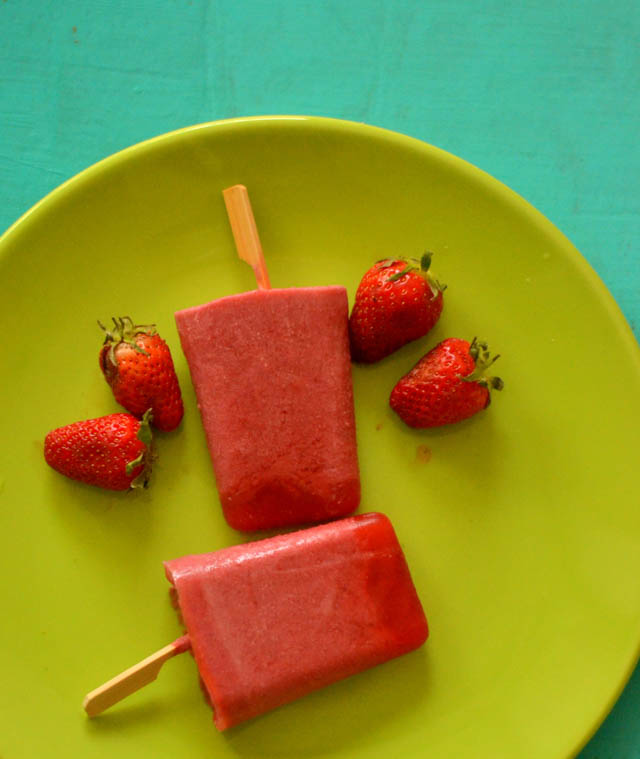 Strawberry-Coconut Milk Popsicles
A great lactose-free or vegan option. You will need:
1 c. strawberries
½ c. coconut milk
1 tsp. honey (optional)
Vanilla essence (½ tsp.)
Blend all of the ingredients together until smooth. Pour into popsicle molds and freeze for at least two hours. Unmold by placing the popsicle molds in a bowl of room temperature water for a minute.
Tip: Substitute yoghurt for the coconut milk if dairy is not a dietary concern.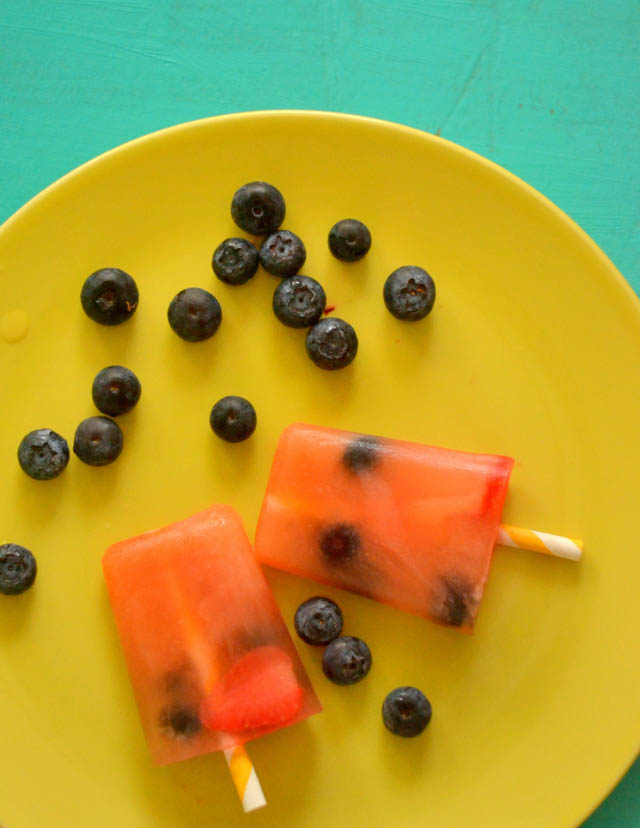 Berry-Lemonade Popsicles
This is a refreshing popsicle with suspended fruit that adds to its fun. You will need:
½ c. sliced strawberries
A handful of blueberries
Lemon juice (I used pink grapefruit juice instead)
2 tsp. honey
Mix together the juice and honey, using a blender or a hand whisk. Place the blueberries and sliced strawberries in the mold. Pour in the blended juice and freeze for at least two hours. Unmold by placing the popsicle molds in a bowl of room-temperature water for a minute.
Ingredient measurements mentioned in each recipe are good for approximately four popsicles. You can be as creative as you want to, experiment with all the colors of the rainbow, or use popsicles as a means to ensure your children get at least one of their "five a day"!
Text and photos by Shinta Simon
Shinta is a full-time mother to her toddler boy and in her "previous life" as a marketing professional lived in Bangalore, India and the Netherlands. She is passionate about baking and writing. Shinta chronicles her baking adventures on Facebook as Sugar Rush and her daily adventures on Instagram and Twitter under the handle voteforfishcurryrice.