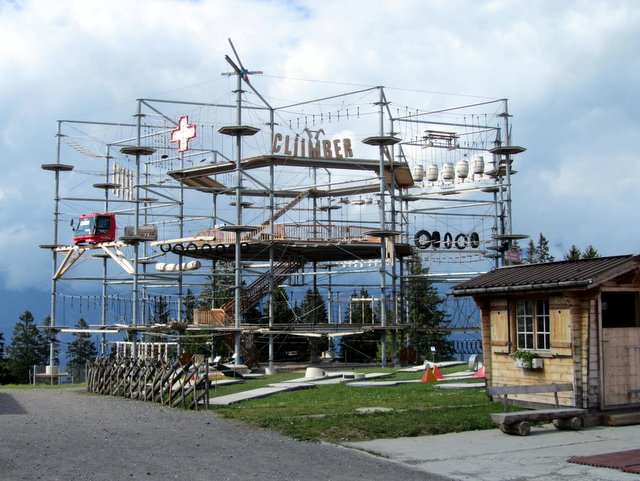 "Those who say it can't be done should get out of the way of those who are doing it."
– Joel A. Barker
Switzerland is an amazing country! I got another proof of that when my friend took us to the Flumserberg Cliimber Tower. When I looked at her wide-eyed and wordless, she exclaimed: "You do not know the Cliimber Tower?"
So, on a Sunday morning, we drove with a bunch of boys to the foot of Flumserberg in Canton St Gallen and boarded the gondolas en route for Prodalp. On the way, we could see cows and horses below grazing freely on the mountain track.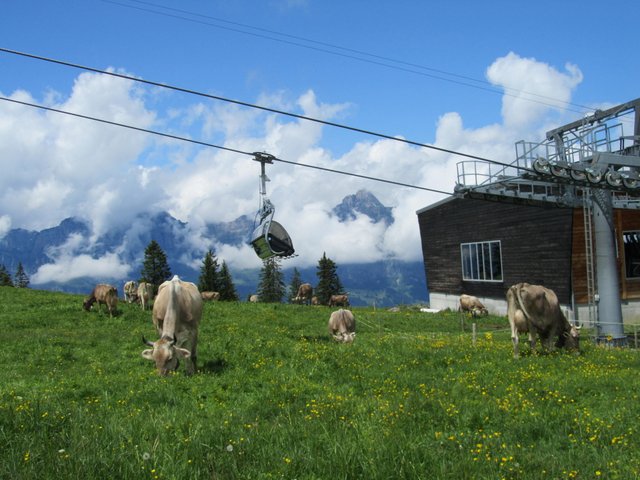 Once we arrived, we took in the sight: a three-storey structure with uncountable climbing stations. We saw wooden bikes hanging, a picnic table, fixed gondolas, a motorbike etc… The boys were ecstatic.
We set up for a fast picnic in a nearby field, surrounded by cows who seemed very interested by our food but managed to stay away for the most part. The cows walk close by around and are entertaining with their huge bells around their necks, so it is always a good idea to remind children they should not run around the cows… One never knows.
We went to the office and registered to get an instructor. She explained to the boys how to put the safety gear on, and she took them for an introductory session on the lowest level of the tower. The most important part of the quick training was the understanding that both cable clips should always be snapped on a guiding cable.
Where else in the world would you find a picnic table hanging 15 meters from the ground, overlooking the mountains and accessible by carefully placing your foot on a tangling rope?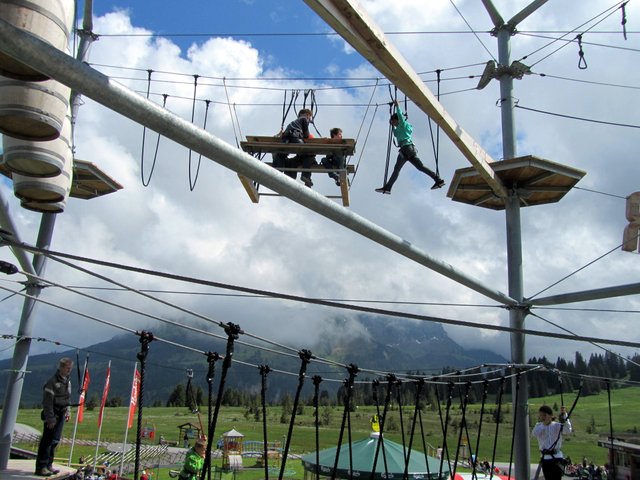 Children must be over 140 cm in height to climb all of the tower. Children between 130-140 cm must be accompanied by an adult. Smaller climbers can also enjoy the tower, as there is a lower round set up for them with just about enough attractions for our young adventurers (shown below). This is for children over four years of age but under 140 cm in height.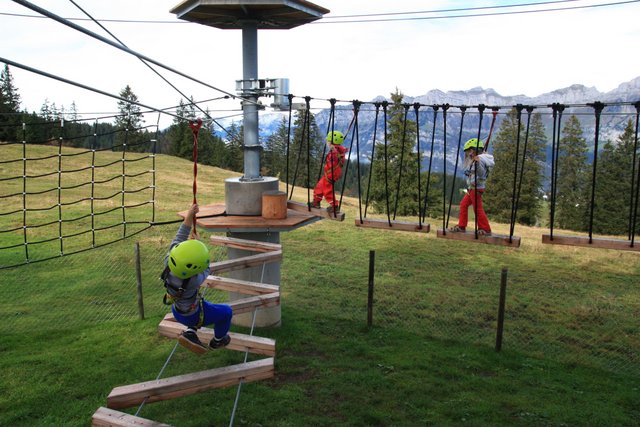 The younger ones can also have a go at the entertaining playground, complete with slides, trampoline, giant jumping bubble, climbing frames (really?) and see-saw… and an adjacent mini-golf! There is even a summer toboggan called Floomzer. More details can be found in English on their website.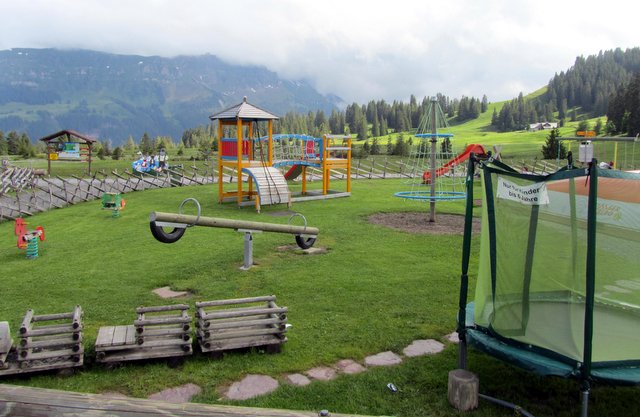 Once you have had your share of watching the kids and want to relax while enjoying a cup of hot chocolate, go and sit on the terrace of the guesthouse to watch over your adrenaline-driven children. They will certainly be the last ones to leave the tower.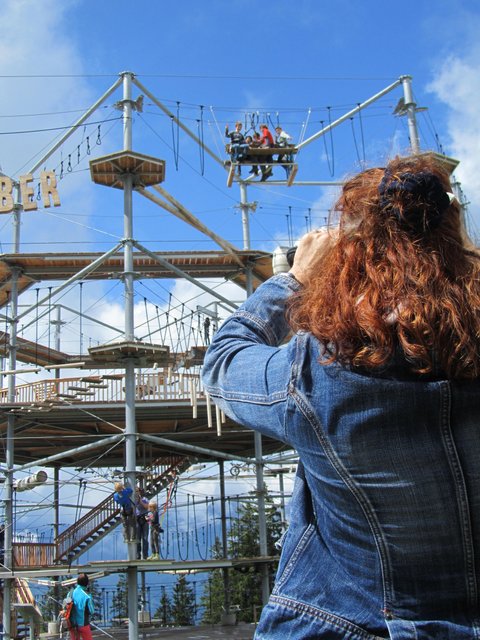 On the practical side:
Park your car for free at the Tannenboden gondola station
Kids under 12 do not pay for the gondola ride
Links:
Text and photos by April Thursday
April Thursday is a single Mum who settled in Zurich with her small family in 2007. Since then, she enjoys discovering new places suitable for families. Beside her activities as a freelance journalist, April is also a writer, see her website (http://isadanton.weebly.com) for more information about her books.