Resilience is toughness or the ability to recover quickly from difficulties. This is true even if the difficulties were of our own making! We all have some kind of phobia. Sometimes we can ignore them, and other times when they knock on our door, we let them in.
My husband and I were invited to spend a weekend in Flims, at a friend's place. I remember that it was Saturday afternoon when the men were sitting on the balcony after a nice barbecue, talking about an awesome thing they were planning to do, looking at pictures and a map. I was expected to stay back and spend the day with the lady of the house and their two-year-old boy.
I joined the discussion, as I was really curious to hear what they were going to do.
They were talking about getting up early the next day, driving to the village centre and renting "gear." They would then need to catch the bus to get to the right location.
"We are doing the Pinut Via Ferrata!" my husband exclaimed.
He had to explain this, of course, as I had no clue what he was talking about.
The Pinut is the oldest existing via ferrata (German: Klettersteig) in Switzerland. It was mentioned in writing as early as 1739. Around 1800, the trail was used by the Fiazer farmers to get to the Wildhüte.
At first I said, "Oh, cool, have fun," but as the chat went on, I started asking questions: "How far is the route? Is it dangerous? How high? Is it crowded?" Without thinking much about it, I said I would join them.
Me climbing rocks? Looking down on sheer drops? Surely my strong fear of heights will not prevent me from completing this simple challenge.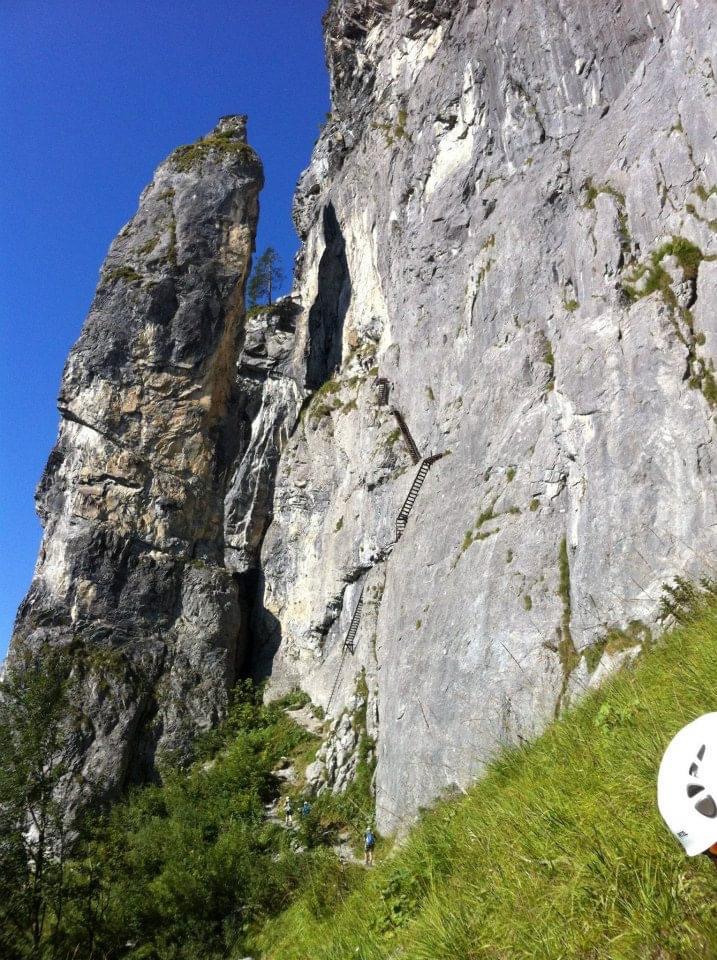 Having hired the necessary gear and reached the starting point, I looked up at the metal ladder that was pinned to the rock; that was the first step. As I looked further up, my heart started racing, and my knees felt as if they were melting.
My husband looked at me as if asking, "Are you sure? There's still time to head back to base. You don't need to do it."
Blocking out the possible obstacles ahead, the next thing I remember was clipping up the two safety harnesses, strapping on the helmet and reaching for the first step on the vertical ladder.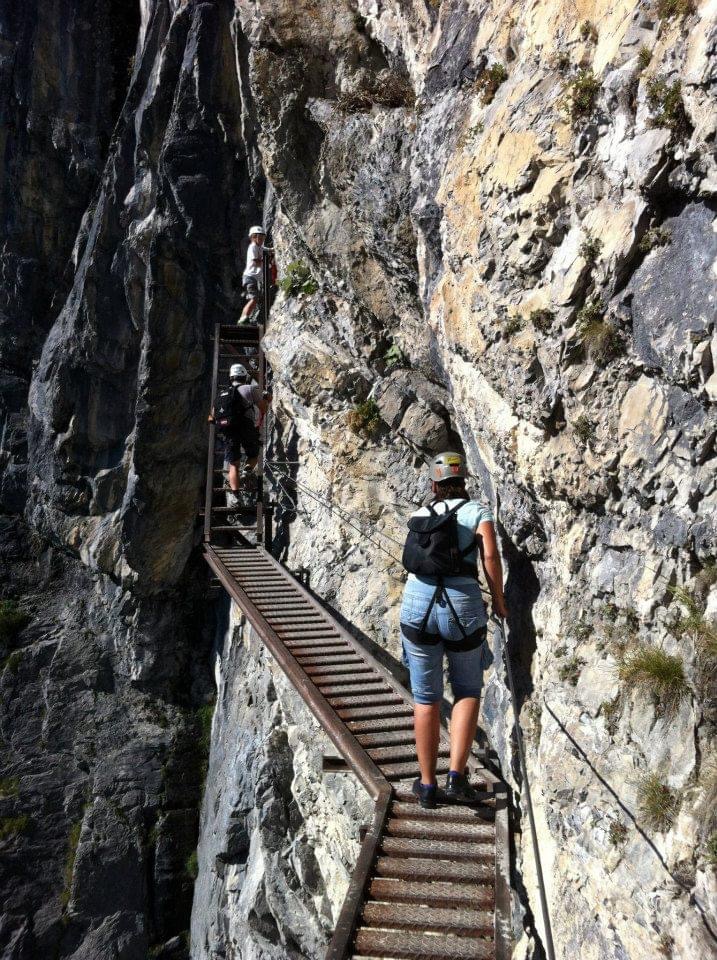 One rule to remember while climbing: always be clipped to at least one wire. Clip one harness ahead, unclip the second one. Move forward. Clip the free harness ahead, unclip, move forward, etc.
As we went further and further up the side of the side of the sheer face of the mountain, I refused to look down anymore… The only way forward was up!
We reached the end of the first period of climbing and had to walk along a narrow platform, one behind another at a safe distance. Then I had to look forward and down to see where I was going. It felt like walking on air.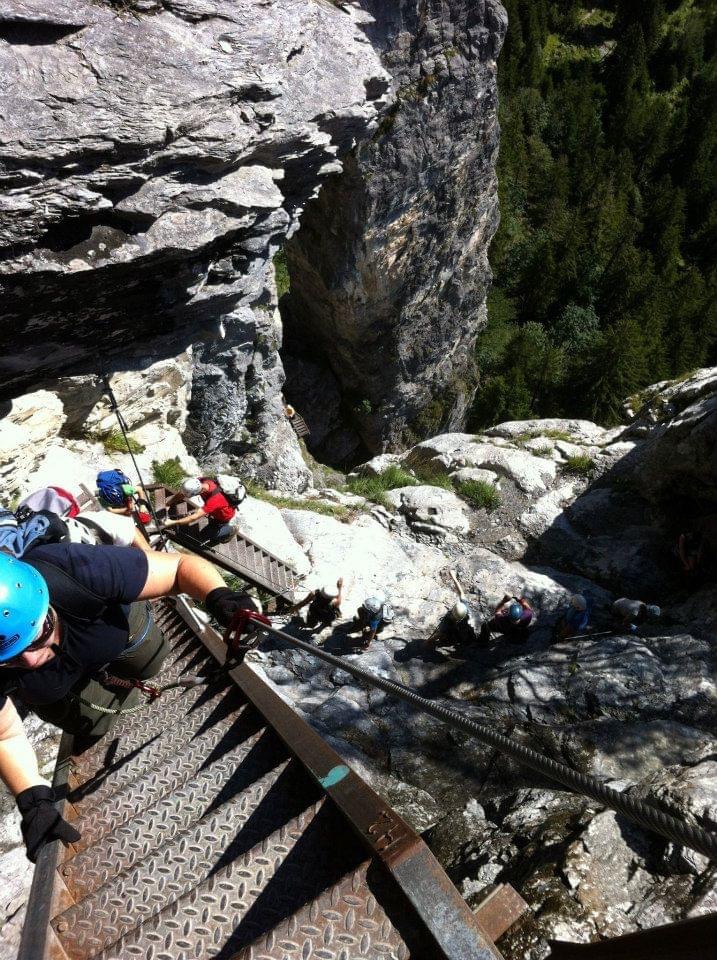 I kept clutching the side rail along the rocky surface of the mountain, while moving the attached harnesses along with me. The view was breathtaking – not because my heart was about to explode, but because it was so beautiful. Tiny village landscapes on our left, cowbells sounding in the distance. So peaceful, so serene and so much in contrast to my churning stomach. 
We continued along the platform and through some rock formations that looked like giant toothpicks sitting upright. We went through a dark cave and then climbed some shorter ladder- looking constructions to take us further up.
I'm not going to lie and say that I didn't peek to my left to enjoy the gorgeous views, although my head was always facing either forward or towards the mountain side on my right. I never let the rail go. It was my rock, my guiding light in a sea of heady emotions.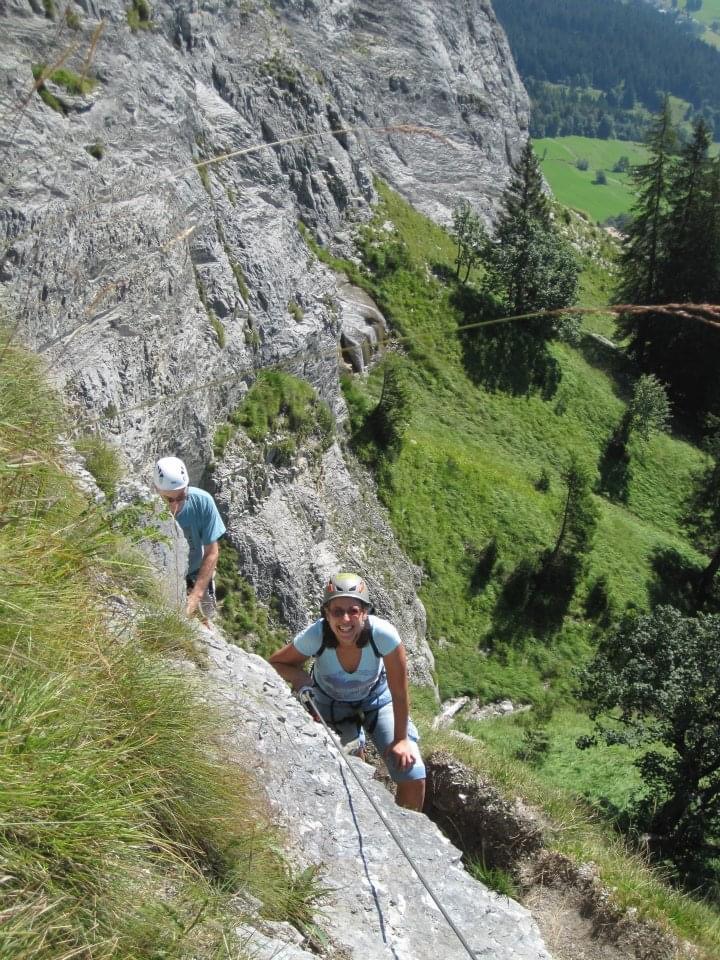 Luckily, part of the route was on solid (although very narrow) paths. Safety rail always present, pinned on the surface of the mountain. Clip, move, unclip…
I don't know how long it took to reach the top at 2054m, but each step was a challenge not of endurance but rather of faith and focus, and I do remember how much my arms and legs ached. I think I may have cried for a few seconds, too, happy to be up there safe and sound. Most of all, it felt awesome to have won the battle against my anxiety.
Having gone through this experience, I told myself: NEVER AGAIN.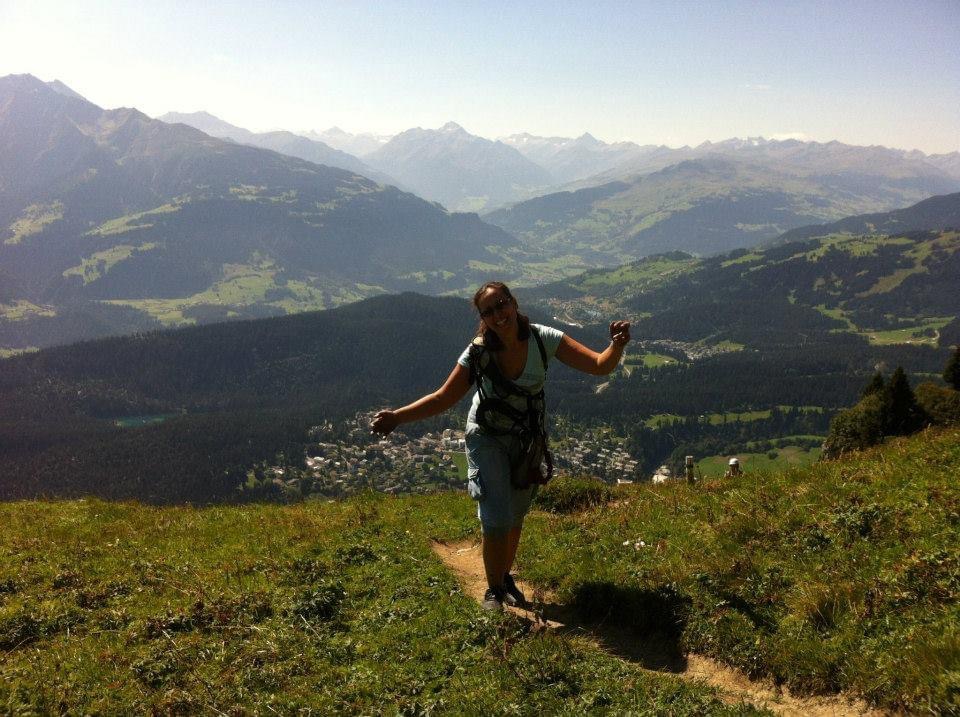 Of course, a few years later I went on a different adventure, which included walking along a high and narrow ridge of the Tongariro Alpine Crossing in New Zealand. But that's a story for another day! 
Story and photos by Eva Kala Harvison
Eva comes from Piraeus Greece and has been living in Switzerland since 2001. She has worked for over a decade in the Consulting field as a Project Manager, until she stepped down to focus on her family. She is a keen baker and loves to travel. She lives in Volketswil ZH with her husband and five-year-old son.