Nana Dolly's Korma was always a Sunday lunch or a special-occasion meal.
I was a pre-teen when my love affair with cooking began. I would watch my Nana like a hawk as she made her way through her kitchen, no recipe book in sight and a sure hand. A fistful of fresh coriander and mint, some fresh chillies and tomatoes from the garden, red onions from the basket… Ginger, garlic, coconut milk, yogurt.  An hour or two later we had a pot full of magic!
Years later, I think back and realise how lucky I was to have a grandmother who passed on recipes to me that she learnt from her mother.
I am adamant to have my binational children appreciate a good curry as much as a raclette. Living in a country other than your own makes it all the more important to pass on inherited knowledge and food customs to future generations.
When I'm in the kitchen I try to involve my four-year-old and familiarise him with ingredients I'm using. Cardamom… Turmeric… Curry leaves and so on. He's picked up so much and I'm so proud of him. He can walk in through our front door and say, "Mmmm, Mama… Is that a biriyani I can smell for dinner?."
My Nana's lamb korma is a celebration curry. It is delicious and bursting with flavours from fresh peppermint and coriander, tartness from yogurt and rich goodness from coconut cream. Make it instead of a Sunday roast, serve it to your guests, or just make a big pot of it on a cold day to comfort yourself. I like to use meat on the bone as it adds depth to the curry.
This curry goes best with basmati rice and a bowl of raita. A raita is a fresh raw vegetable and yogurt salad and is normally made with minced onions, tomatoes and cucumber. However, I like to make a raw beetroot and onion raita. It adds a burst of colour at the dining table.
Lamb Korma
Ingredients
1 kg boneless lamb or 4 pre-cut lamb shanks
5 large potatoes, halved
2 medium onions
1 big tomato, chopped
3 garlic cloves
1 thumb-size bit of fresh ginger
1 green chilli (optional for some heat)
1 packet fresh coriander leaves (found at Migros or Coop)
1 packet fresh Moroccan mint leaves (found at Migros or Coop)
2 Tbs cumin powder
1 Tbs coriander powder
2 tsp paprika (depending on your taste more or less)
1 tsp turmeric powder
4 cardamom pods
1 long stick of cinnamon
1 bay leaf
5 whole cloves
5 peppercorns
1 teaspoon salt or to taste
½ c. yogurt
1 c. coconut cream
Method
Blend together the coriander, mint, chilli, ginger, garlic, onions and tomato. Set aside.
I like to use a heavy bottom pan or cast iron pot to slow cook the korma. Put 3 Tbs of oil in the pot and brown the cut pieces of lamb. Set aside.
In the same pot you used to brown the meat, add a bit of oil if necessary and throw in the cardamoms, cinnamon, bay leaf, cloves and peppercorns. Fry for 30 seconds and then add the other onion, sliced. Reduce to medium heat.
Once the onions are translucent and golden, add the wet blended ingredients. Fry on low heat for 15 minutes, stirring occasionally. Now add the paprika, turmeric, cumin and coriander powder. Stir-fry on medium heat for 10 minutes or so or until you see the oil separating from the curry paste. If the curry base sticks you can add a glug of water. Yes, a good curry needs a lot of patience and slow cooking.
Add the lamb, potatoes and yogurt. Give it a good mix and turn the heat down on the hob. Now slow-cook your lamb as long as it takes to have the meat falling off the bone. I let it slow-cook for an hour or so.
Finally, finish off the curry by adding the coconut cream and cooking for another five minutes. Serve with rice and raita.
This recipe is great for a vegetarian korma too. Just replace the meat with whatever seasonal vegetable you like. I like to use root vegetables, chickpeas, potatoes and beans for the vegetarian version.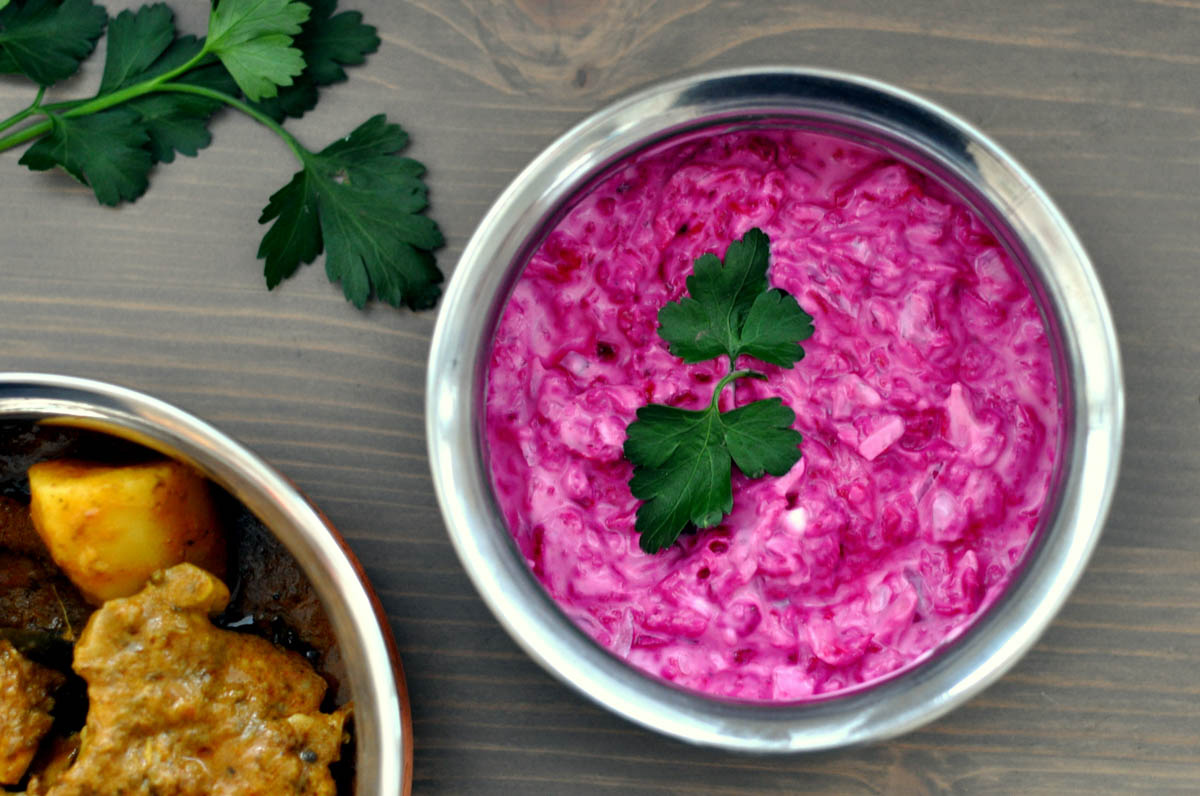 Beetroot Raita
Ingredients
1 beetroot, grated (raw or cooked, your choice)
1 red onion, minced
1 green chilli (optional for some heat)
2 c natural Greek yogurt (300 grams)
1 pinch cumin powder
Method
Mix everything together in a bowl and add salt to taste. You can garnish the salad with chopped fresh coriander and mint optionally.
Text and photos by Maria de Conceicao Wittwer
Maria is a mother of two and lives in the Baden region of Aargau. Between looking after her tiny humans and working as a freelance copy editor, she is also pursuing her two passions: cooking and photography. Her life in pictures can be found here: Amissinswiss. And her culinary creations over at Curry On Cooking.