Interview with Scarlett Rollinson, Child Author
Scarlett Rollinson, then aged six, received the third place prize in the age-6-to-8 category for Mothering Matters – Switzerland's 2014 Autumn Writing Contest. Scarlett, who lives in canton Zurich, has now written a novel. She felt inspired after doing well in the contest and so continued to write. Mothering Matters interviewed Scarlett via email to ask her about her delightful book, called Rex and Rafe.
Mothering Matters: Scarlett, could you tell our readers a little bit about yourself?
Scarlett Rollinson: My name is Scarlett and I am nine years old. I have an older brother who is almost in fifth grade. I am very excited to be in the fourth grade from August.
I like all my lessons, and really like to learn new things. My favourite lessons are writing, reading and science. When it's writing lessons, I am always looking forward to getting to the publishing stage.
MM: What do you like to do in your free time?
Scarlett: In my free time, I play piano and I even got third place in a Swiss National competition this year. I love tennis and I've won a few tournaments; also, I play chess, soccer, swim and do ballet. Last week we had big performance and I was part of it.
Most of all I like reading, because I think all books are interesting, unless they are books for kids younger than me. I like challenging myself with things.
After school, I like to go to the library, my favourite books are:
Matilda (Roald Dahl)
Famous Five (Enid Blyton)
The Naughtiest Girl series (Enid Blyton)
Wayside School series (Louis Sachar)
Flora and Ulysses (Kate DiCamillo)
Crenshaw (Katherine Applegate)
The Lord of the Rings (J.R.R. Tolkien)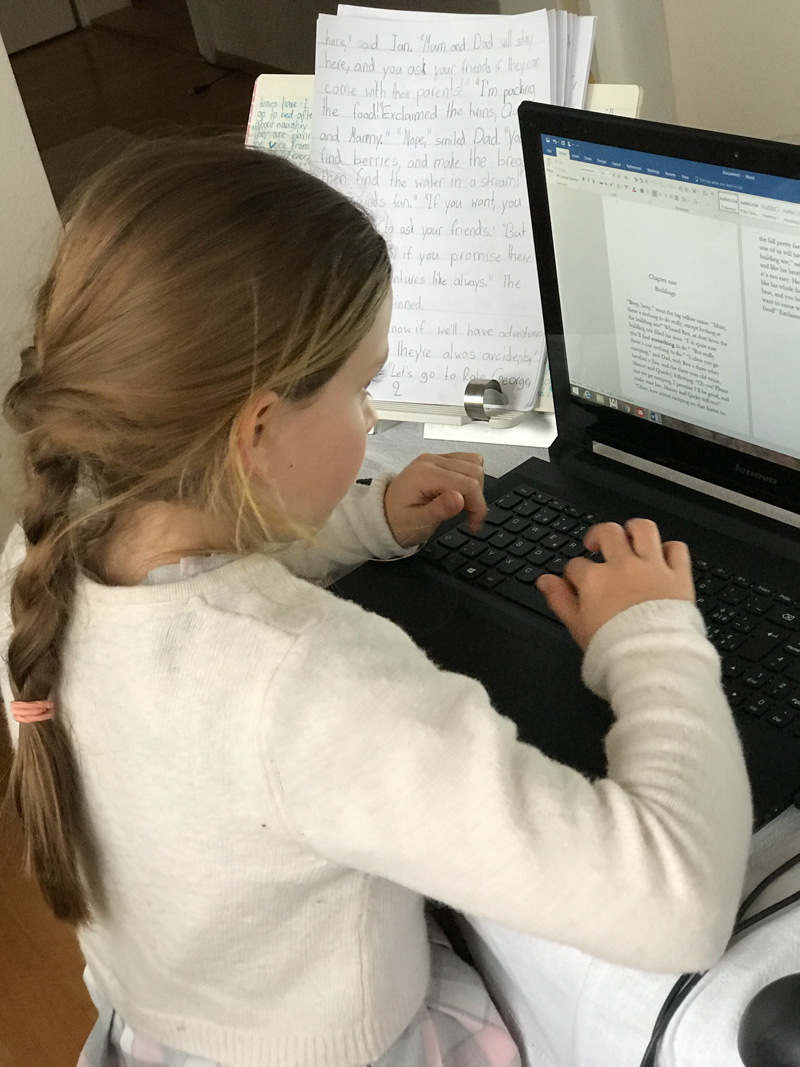 MM: How did you get the idea to write Rex and Rafe?
Scarlett: I decided to write this book, because my favourite author is Enid Blyton. She usually writes mystery books so I wanted to write one too.
MM: Without giving away the ending, what is the story about?
Scarlett: The story is about Rex and his friends who must catch three robbers. They get trapped, find a secret passage full of valuable treasures and play tricks.
MM: Who are Rex and Rafe; are they real?
Scarlett: No, they are not real. First, I created the characters, then I thought of a crime, and after it the good guys should succeed.
MM: Who helped you with your book?
Scarlett: A librarian called Christina in the school library helped me with my book. Every Thursday during break-time I went to the library to work on it.
My teacher Miss Rowe helped me with grammar and she also introduced to the class a very good idea, which is a game called "Book Bingo."
MM: What do your friends think about you having written a book?
Scarlett: My friends think it's amazing that I wrote a book. On my school trip, I brought it with me and all kids from my class wanted to see it.
MM: Do you want to write another book? If so, do you already have an idea for it?
Scarlett: I want to write more books and I have many ideas for them. When I want to write book, I think of a genre and three random words. That way I can think of a long story. I have also thought of a second book that belongs to the same series. So, look out for it!
MM: Is there anything else you want to add?
Scarlett: My very first book, which wasn't published, was called I really like bananas and I wrote it in the summer holidays when I had just turned four, to encourage my brother to read. When I was six years old I won the third prize in a Mothering Matters competition. The category was for 6- to 8-year-olds. I was very excited, and never stopped writing since then.
Thanks, Scarlett, for sharing a bit about yourself and your book!
Read Scarlett's story from the Mothering Matters 2014 writing contest here. The drawing above is from that story.
Find out more about Scarlett's book here.
Scarlet Rollinson was interviewed by Andrea Snashall.
Photos by Ian Rollinson.