Homemade "American-Style" Pancakes
One thing I want to establish in my family is fun little traditions that we can look back on and remember the fun times we had together. Not just special traditions on holidays, but making the everyday just as fun! I imagine in the future, my son remembering these silly traditions and looking back with fondness at all those "taco Tuesdays" or Sunday morning breakfasts together. Food can be a great way to bring people together, and I think mastering some favorite recipes can help with establishing these family traditions.
One recipe I'd like to master is the art of making the perfect pancake. Pancakes are a staple in American breakfast cuisine and what's better than a nice fluffy pancake with your Sunday morning breakfast? You can use store bought pancake mix, but nothing beats homemade! I've tried several pancake recipes, because I hate it when they taste "eggy," and this basic recipe is perfectly fluffy and tasty!
Pancakes are also fun to make together with your kids. They can do the sifting, measuring and stirring. When they're older, they can help with the cooking step as well! Cooking with your kids is not only a fun activity to do together, but it also helps teach them important skills they can use the rest of their lives!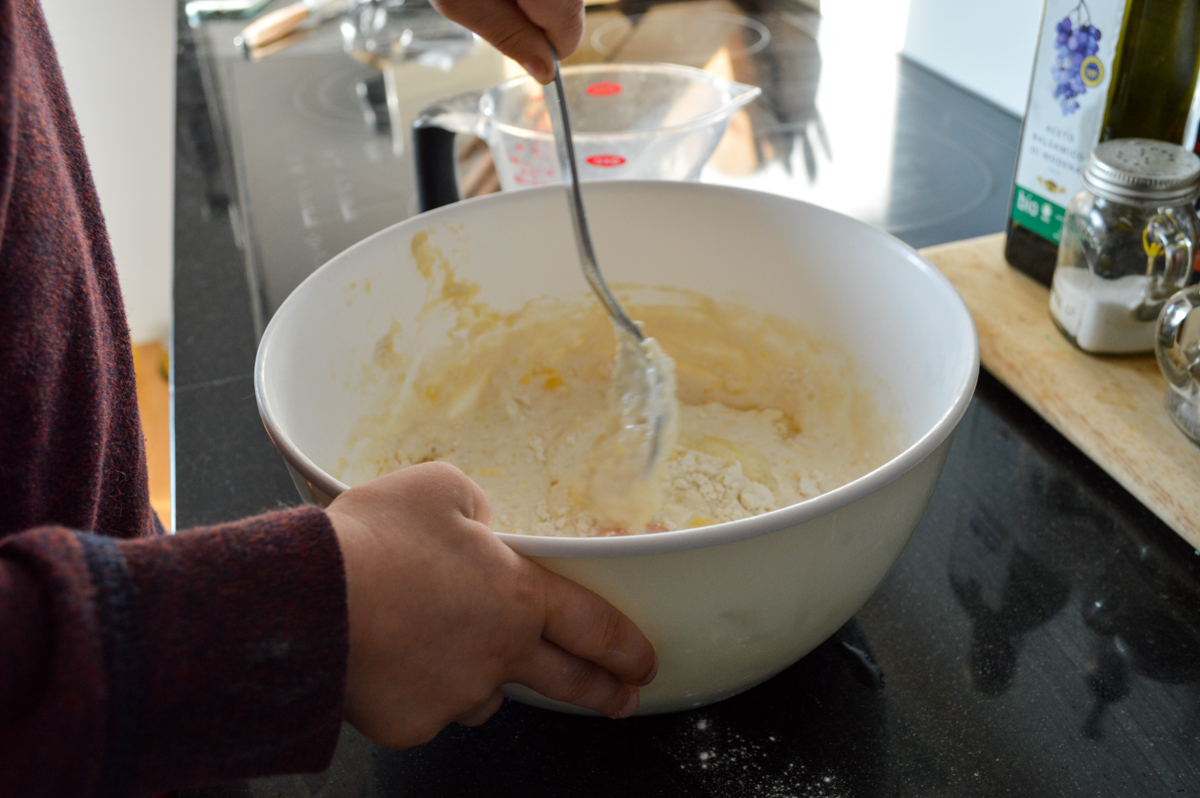 Homemade Pancakes Recipe:
Ingredients:
1 ½ c. (225 g) flour
3 tsp. (1 Tbs.) baking powder
dash of salt
1 Tbs. sugar
1 ¼ c. (300 ml) milk
½ tsp. vanilla extract (or half a 7g packet of vanilla sugar)
1 egg
3 Tbs. melted butter (or 45 g butter, melted) (but not too hot!)
Extra butter, or oil, for cooking. I prefer butter because the flavor is better.
Directions:
Sift together all dry ingredients into a large bowl. To make the pancakes extra fluffy you can even sift twice. We do it once and it turns out just fine.
Stir in wet ingredients, adding butter last. Slowly add the butter and stir so it doesn't overheat the eggs. Stir batter until it's smooth with no big lumps.
Heat a large frying pan and add butter or oil to coat. Scoop batter into pan to make pancakes, about ¼ cup for each one. Allow to cook a few minutes and then flip, cooking for a few minutes on the other side. Continue until all the batter is used up, adding a little more butter each time so the pancakes don't stick.
Serve warm and enjoy!
We prefer our pancakes with maple syrup and butter. You can also serve them with whipped cream and fruit, or honey as a topping. To customize even more, add fresh blueberries or chocolate chips to the batter for a special surprise! For a birthday treat add sprinkles to the pancakes and serve topped with whipped cream and a cherry!
What's your favorite pancake topping? What food traditions do you have in your family that you hope to continue in the future?
Text and photos by Rachel Blate.
Rachel is a lifestyle blogger with a blog focused on travel, kids' activities and life as an expat. Originally from the U.S., she currently lives in Zurich with her husband and four-year-old son. Find her blog at My Mini Adventurer and follow her on Facebook and Instagram.