Grittibänz – Christmas Bread Man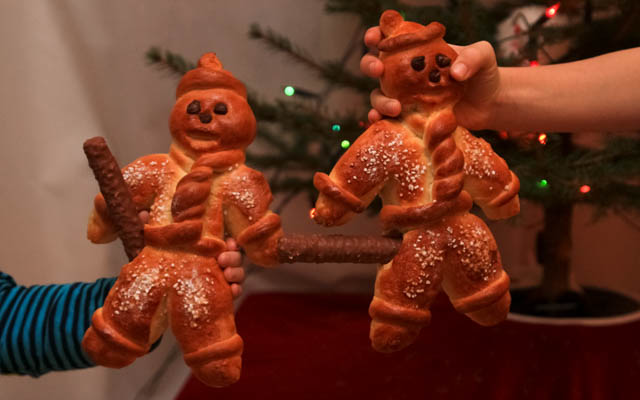 Now that Christmas season is here, you are sure to see the traditional  Grittibänz or Christmas bread man all around town. Every bakery and grocery around town has their own Grittibänz style and it's fun to go on a little walking tour to see the variety. Many children will receive a Grittibänz from Samichlaus when they visit him in the woods or on December 6th, when he leaves a bag of goodies. But it's also fun to make your own any time during the holiday season. Below is a super easy recipe to get you started. For technique, Swissmilk.ch has a great video demonstrating how to form Grittibänz. You can also see all sorts of crazy Grittibänz on Google Images to fuel your imagination.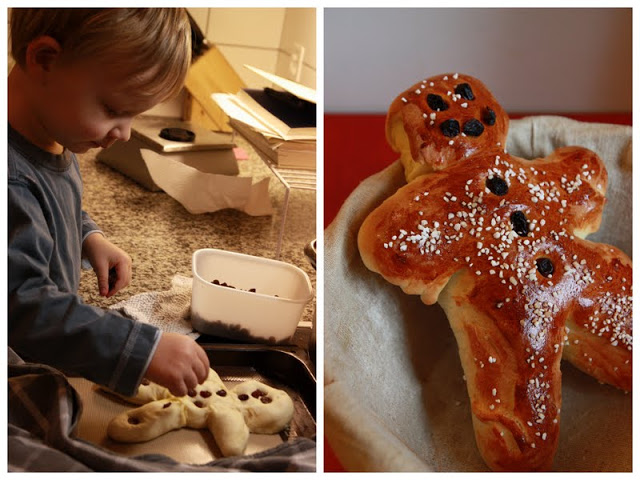 Zopfteig (aka bread dough for Grittbänz, etc)

This is a simple, quick Butterzopf dough recipe I got from my Swiss friend. It works great for Grittibänz but also good for regular Zopf bread and little rolls (aka Zöpfli) covered with pearl sugar (aka Hagelzucker). I was suspicious of this recipe because it only rises 15 minutes. But it totally works and is great for kids that can't wait very long.
The full recipe make about 4 small men, 2 big braided Zopf or a couple dozen little rolls. I usually make a half recipe.
1. Heat 600 ml (2.5 cups) milk to slightly warm (not above 110F/40C or you will kill that yeast).
2. Melt 120g (4.25oz) butter. Combine with warm milk and set aside.
3. In a stand mixer bowl (or large bowl), combine:
1 kg flour (2.2 lb)
3 tsp salt
2-3 TB sugar
2 pkg powdered yeast (about 4.5 tsp)
4. Add the milk/butter mixture to the flour mixture and start your kitchen machine. Knead for 15 minutes. Then cover it with a towel. The mixture will be a little wet.
5. Let it rise for 15 minutes or until it has grown bigger. You can let it rise longer, about an hour, if you have more time.
6. Form your dough into whatever shape you like. Put the dough on a baking pan lined with baking paper. Optionally, brush the bread with egg wash to give it a shiny finish and help the sugar stick. Sprinkle with Hagelzucker (pearl sugar).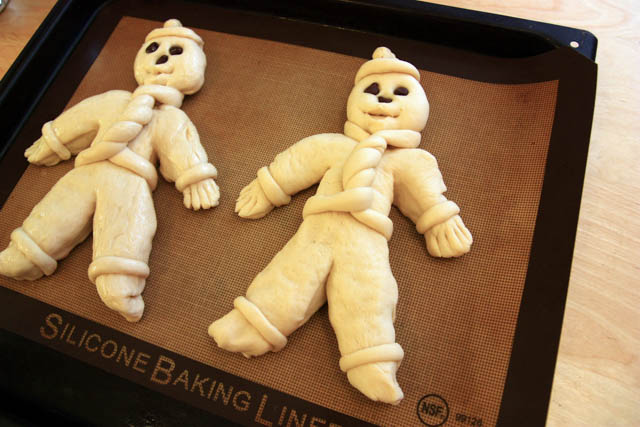 7. (Optional) Let the shaped bread rise about 30 minutes. The original recipe has you bake the dough right away without rising, which also works fine.
8. Bake in a preheated oven 200°C (400°F) for 20-30 minutes until it is done. A Zopf loaf will take longer, about 35-45 minutes depending on how big it is.
Text and photos by Tanya Deans. A version of this article originally appeared on Moms:Tots:Zurich.
Originally from San Francisco, Tanya has made Zurich her home for the past nine years with her husband and two growing boys. She writes for Moms:Tots:Zurich, which is all about hiking with kids in Switzerland and other family-friendly outings in and around Zurich.