Donating Used or New School Supplies for Children in Ethiopia
Are you planning a spring-clean of your kids' stuff? The Zurich-based charity Ethiopian Enterprises (EE) supports two government schools in Mehoni, Ethiopia. They are currently looking for classroom resources such as:
Pencil sharpeners
Craft materials such as pipe cleaners, wrapping paper, paints, stickers, A4-size cardboard
Lead and coloured pencils, new or used but not too short, please
Blue ink pens – new. Quality click-down plastic or cardboard pens are sought instead of metal, due to recycling options there. Caran D'Ache pens are preferred, if possible.
Colouring books – used (with unused pages) or new
Pencil cases
Notebooks
Erasers
English books/ board books, new or used in good condition for reading levels 4 – 10 years. The school children are beginner-level English learners.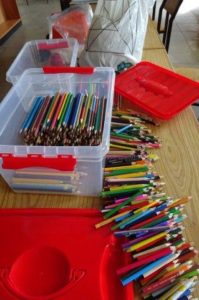 If you are planning a clear-out, Ethiopian Enterprises would greatly appreciate your donation. Items can be dropped off in Langnau ZH or, if you're in the Sihltal area, pick-up can be arranged. Contact EE board member Lesley Stephenson for details: info@ethiopianenterprises.org
Website: www.ethiopianenterprises.org
Facebook: https://www.facebook.com/ethiopianenterprises/
Family Matters Switzerland has been providing support to Ethiopian Enterprises since 2014. In case you are wondering what will happen to your donation, we can confirm that all items will reach the pupils at these schools in northern Ethiopia. When you visit the EE website, you will see how much work EE does to enhance the lives of these children and their families, as well as helping the community in general.
By Andrea Snashall
Andrea has been a Family Matters Switzerland Team Member since 2004.
Photos by Ethiopian Enterprises
The photos show the school students with the donations from the last collection of school resources.
If you'd like to read more about Ethiopian Enterprises, here are some links:
Introducing Mothering Matters Charity: Ethiopian Enterprises
Sponsorships for Successful Secondary Students in Ethiopia
Good News from Lemlem Baro School