Things to Do: Canton Zurich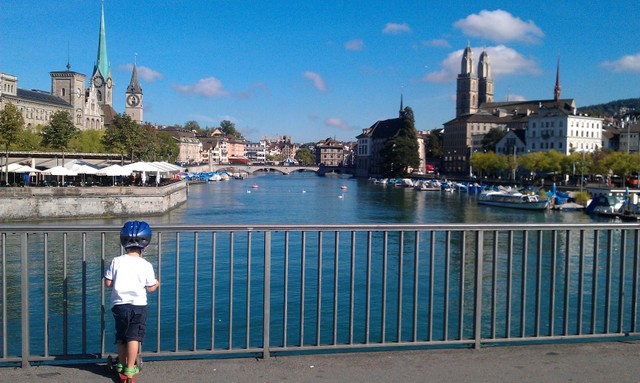 Outdoor
Greifensee: Things to do there such as the nature centre, fishing, courses and more are listed here.
GZ Bachwiesen in 8047 Zurich is a community centre with a playground, café, animals, courses and more. Website
GZ Heuried in 8055 Zurich is a community centre with a playground, café, courses, library and more. Website
Jucker Farm are farms with a café and special exhibitions located at Aathal-Seegräben and Jona. Website
Outdoor swimming areas (Badis). Click here for a comprehensive list.
Park im Grüene at Alsenstrasse 40, 8803 Rüschlikon is a park with outdoor and indoor playgrounds and a Migros restaurant. On Wednesday and Sunday afternoons in the warmer months there are train and donkey rides. Website
Playgrounds. This is a list of 152 playgrounds in Canton Zurich. Website
Pony Hof in 8903 Birmensdorf is a place for children over 3 to learn to ride. Website
Ropes course at the Seilpark Zurich in Kloten has twelve trails over 1.5 km with entrance to the outdoor pool included in the ticket.
Succulent and cactus collection is at Mythenquai 88, 8002 Zürich and has free entry. Opening times including Sundays and public holidays, 9am – 4.30pm. Website
Wildpark Langenberg has a variety of wild animals in an open parkland setting. Entrance is free. Website There is also the Naturmuseum. Website
Zurich Airport www.zurich-airport.com/passengers-and-visitors/shopping-and-attractions/excursions-at-the-airport/observation-decks
The Zurich Botanical Gardens are set in lovely parkland with glasshouse domes housing exotic plants. It's worth visiting the domes in winter for a dose of greenery. Entry to the gardens is free. Address: Botanischer Garten Universität Zürich, Zollikerstr. 107, 8008 Zürich. Opening hours click here.
Zurich Zoo is open 365 days per year. Website in English.
Indoor
Dinosaur Museum (Sauriermuseum Aathal) is filled with dinosaurs and all things dinosaur. It also has a playground and café. Website in English.
ETH Zurich's Treffpunkt Science City
This is a science programme designed for everyone. The programme includes a range of events aimed at adults, young people and children. Check the website to see what workshops and events are coming up. Website
Lindt Factory Outlet
Get some delicious chocolate at Lindt in Kilchberg. Website
Technorama www.technorama.ch
Tram Museum Zurich
Forchstrasse 260, 8008 Zürich Telefon 044 380 21 62. Website
Umwelt Arena
Browse around the 45 interactive sites to learn more about renewable energy, preservation of natural resources and our environment. Website
Zoological Museum www.zm.uzh.ch/index.html Reviewed here.
Soft Play
Kindercity www.kindercity.ch
Spielzanti www.spielzaenti.ch
Trampolinos www.trampolino.info
Starbies www.starbie.ch
Wunderland in Winterthur http://www.wunderland.ch/de/
Family Friendly Restaurants
Café Bambam http://www.bambam.ch/
Fork & Bottle is a restaurant and bar with a large outdoor area. Website in English.
Hiltl is a famous vegetarian restaurant founded in 1898. Website in English.
Pizza Pastaciao http://www.pizzaciao.ch/
Compiled by Claire Petersen & Andrea Snashall