Teens & Social Media – What You Need to Know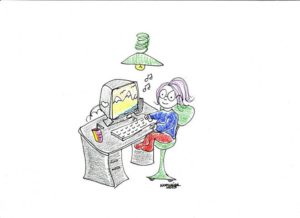 Social media are a powerful presence in our daily lives, and even more invasive for our teens, a generation growing up with more media choices than any generation before them. It's hard to believe, isn't it, that before 2004 Facebook didn't exist? Here I am going to share some statistics to get you thinking and then reflect a little on how these changes have affected life with my own teens.
The Statistics
One third of U.S. teens aged 12 to 17 text more than 100 times per day. Half send more than 50 per day. Older girls are the biggest texters.
Around half of all parents limit the time kids can use their mobile phones. In an American study, 64 percent of parents regularly look at what is on their kids' phones.
Most schools now ban the use of phones during school time.
75 percent of 13- to 17-year-olds have a profile on a social networking site. Facebook is the most popular. One study found that girls are much more likely than boys to feel "left out" after seeing photos of others, and to get stressed about how they look.
In 2012, nearly half of teens questioned in a survey had encountered racist, homophobic or sexist content online.
Reflections
Phew! There's a lot to think about and consider here. From my own experience, I would say to keep a watchful eye on your teen without being intrusive. Try to embrace the new technology; don't back away from it. Knowing more about apps and androids, iTunes and iPhones and understanding how they work is power to you. Regarding Facebook, several people I know with teens have struck a deal, somewhere along the lines of, "You can go on Facebook, but only if I am able to be one of your friends." This seems to work. You can be there in the background, unobtrusively keeping an eye on things. Tip: Do NOT tag your children in family photos, however tempting. Chances are you that will find you have been un-friended!
An important thing that I have only recently learnt to watch out for is nighttime texting and phone usage. One of my sons has to get up at 6:00 every morning to get to school in Zürich. He always got to bed by about 21:00, yet often seemed tired. One night, going to bed myself at around 23:30, I heard a noise and found that he was fully awake watching the end of a movie on his iPhone. I have also found him texting late at night. The problem is, the phone is also his alarm clock, so confiscation is a risky tool. "Mum, I don't hear the other alarm clock when it goes off." What's a mum to do?
I believe mobile phones have many positives, too – it is great for your teen to be able to ring you if he is stuck somewhere (or vice versa). My two are allowed to take their phones to school with them for this reason. However, Swiss schools will inform you of their policies regarding phones, and it is best to adhere to them. One son has to hand his phone in when he gets to school; all the phones are then locked in a locker until it's time to leave. A child who needs to contact his or her parents is encouraged to use the school's phone. In other schools, children are encouraged to take more responsibility and are told to turn their phones off. The trouble is that they occasionally forget.
Anyway, I would love to hear your own experiences and views on this topic. Is there anyone who has a teen who has been affected by cyber-bullying? Do you have any good advice or tips on any of the issues raised here? Please do get in touch!
By Heidi at Teen City
Heidi is a forty-something mother of 3 boys aged 17, 15 and 8. She hails from Wales but has lived on the edge of Lake Zurich for 17 years and has now become Swiss too! Heidi loves music, travelling and family life with her boys.