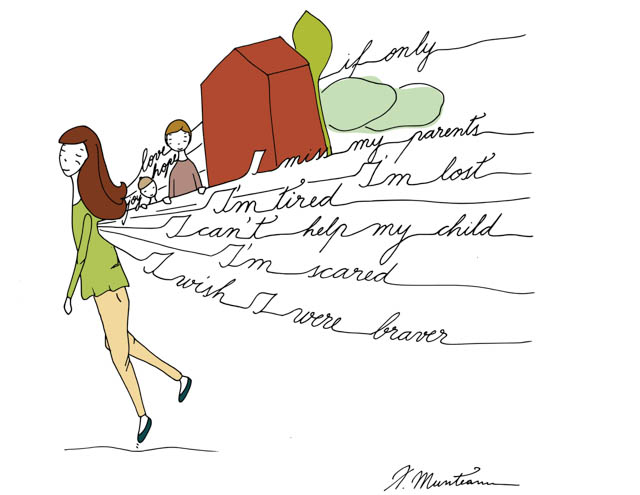 Life is a journey.
Our road consists of joys, hardships, heartaches, celebrations and special moments. We face challenges that test our courage and bring up our strengths and weaknesses, forcing us to reconsider everything.
In this October Issue, five brave women bare their souls and share their stories with us. They recall the things that hurt them, motivated them, kept them down, and helped them bounce back when facing adversity and trauma.
Their resilience in the face of tragedy shows the amazing ability of the human spirit to transition successfully through the most difficult of circumstances and to find the inner strength to persevere, to endure, and to keep walking down the road.
Features
The Incredible Remedy of Slow Parenting by Rachael Soster-Smith
Acceptance by Karin Andersson Hagelin
The Maybe Baby by Michelle Seaton Witte
Story of Hope by Tammy Furey
"Who Am I?": Handling Kids' Challenging Questions by Aradhna Sethi
Life Transitions by Raluca Babota
Columns:
Crafty Kids | Paper Garland
Education Matters | Special Education Matters
Expat Corner | The Challenge of Being an Expat
Family Health | Let's Talk About Stress
Fathering | I Refuse to Grow Up
In the Kitchen | Jump on the Juicing Bandwagon!
La Leche League | Breastfeeding Is Challenged
Out & About | Napoleon Museum and Arenenberg
Recommended Reading |
Third Culture Matters | Planning a Holiday for Five
Twinville | I Will Survive
Don't forget to check out What's On for October and November 2015.
Illustration by Laura Munteanu
---
October 2015 Issue Contributors
Column and Feature Editors: Raluca Babota, Mary Bider, Dina El-Halaby, Carol McDonald, Andrea Snashall
Webmaster / Layout Designer: Tanya Deans
Chief Copyeditor: Carol McDonald. Assisted by Andrea Snashall.
Writers: Karin Andersson Hagelin, Raluca Babota, Tammy Furey, Dina El Halaby,  Dr Jahura Hossain,  Lisa Leutenegger, Karin Mohler, Teresa Mueller, Laura Munteanu, Michelle Seaton Witte, Aradhna Sethi, Rachael Soster Smith, Brian Wilson
Illustration Coordinator: Laura Munteanu
Illustrators: BVisual (Beth), Lara Friedrich, Susana Gutierrez, Ivy Hieber-Kwok, Lisa Leutenegger (photos), Sharanya Mageshwaran, Teresa Mueller (photos), Laura Munteanu, Albina Nogueira
Proofreaders: Andrea Snashall, Carol McDonald
Website / Facebook / Twitter / Pinterest Moderators: Andrea Snashall, Kate Prinsloo
Advertising Coordinator: Clare Ferrari
Finance: Iliana Eichholzer, Claire Petersen
Communications: Andrea Snashall
Logo: Suzanne Evans-Ackermann
Web Designer: Maximilian Wulf