Obstacle-free Swiss Hikes
Switzerland makes hiking easy with its abundant mountain transport and clearly marked and well-maintained trails. But did you know that Switzerland also has a network of obstacle-free trails, which enable those in wheelchairs to also enjoy the Swiss Alps? Not only useful for wheelchairs, these routes are good for anyone with mobility issues who might have trouble walking on uneven paths. They are also good for families using strollers for small children. I love that this country has something for everyone!
There are 67 official obstacle-free paths detailed on Wanderland.ch. These routes are marked with a wheelchair symbol as shown below.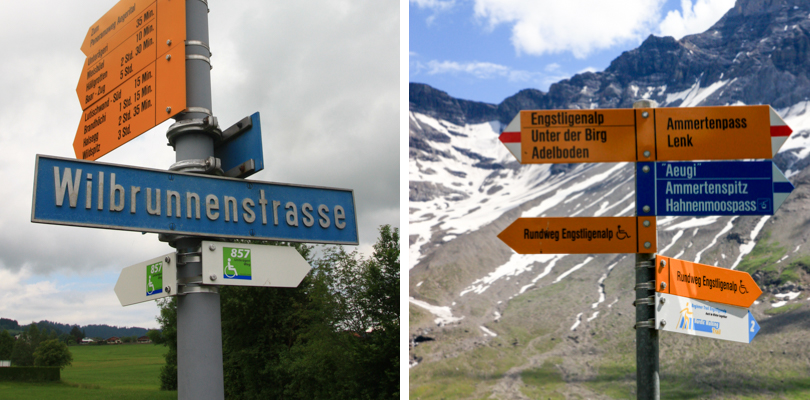 Many are paved pedestrian-only routes; some are smooth dirt or gravel paths. On Wanderland.ch, each path lists the elevation gain and descent and has a difficulty rating to help you determine if this route is suitable for your abilities. The routes vary in length from 2 km to 11 km. Most are accessible with public transportation.
Some of these hikes are reached by mountain transport, like cable cars or funiculars. Most can accommodate wheelchairs, and their staff can usually assist you in loading a wheelchair or stroller. However, it may be best to call ahead to make sure they can accommodate you to avoid any disappointment.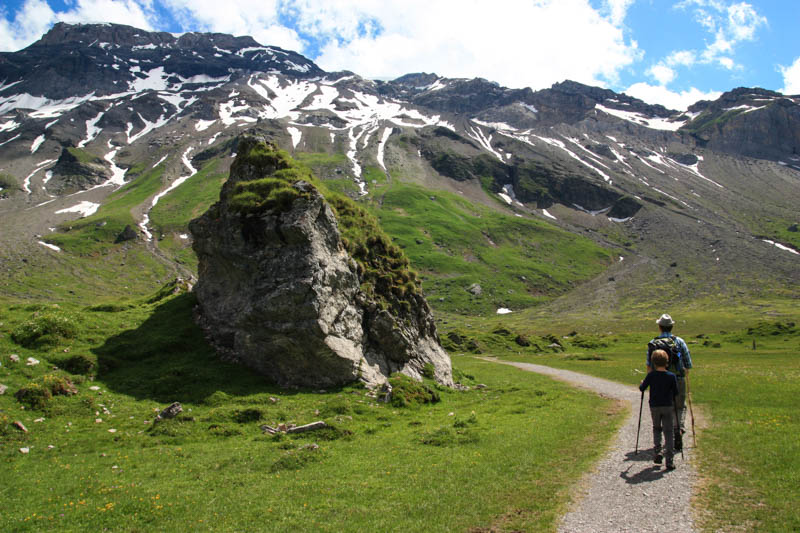 Obstacle-free path at Engstligenalp
One obstacle-free path I can recommend is the circular path, a.k.a. Rundweg, at Engstligenalp, which is specially marked as suitable for wheelchairs. A cable car whisks you up to a large, flat alpine valley. The wide gravel path loops around this valley for 4.5 km, partly following a little stream and winding through big boulders. It's an easy walk with beautiful snowcapped mountains and lush green fields to admire. See full details for this hike on Moms Tots Zurich.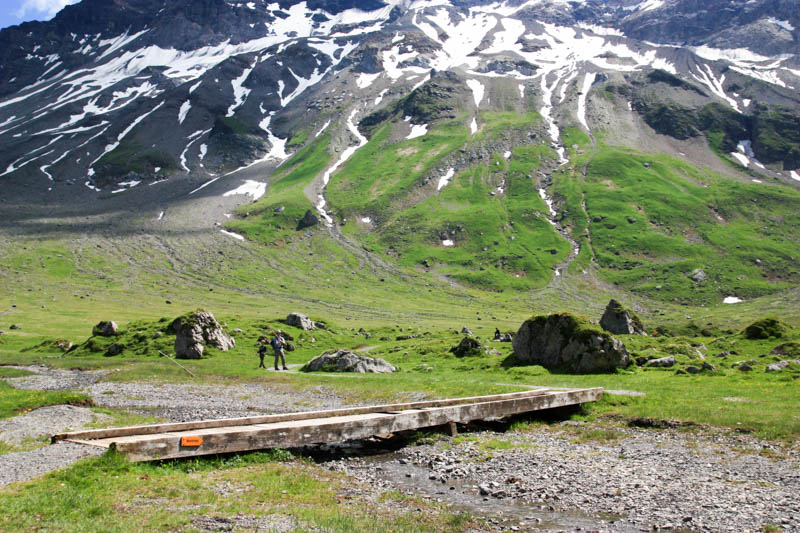 For reviews of many obstacle-free hikes that are suitable for strollers, most of which would also be suitable for wheelchairs, click here.
More information about people with disabilities in Switzerland can be found on Angloinfo.com.
Text and photos by Tanya Deans
Tanya is the mom behind Moms Tots Zurich, where she details Swiss hikes suitable for families. She also has a YouTube channel, Swiss Family Fun, where you can see videos of these hikes. Tanya grew up in California and has lived with her family in Zurich since 2005. Follow her on Facebook, Instagram, and Pinterest.