New Beginnings for Children, Parents and Teachers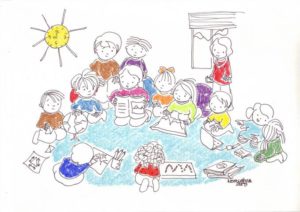 A new school or a new school year for your child marks a point in time for a new start. Parents are moulding attitudes towards new beginnings, and the phrases we use all voice anticipation, hope and excitement. Our buoyant encouragement might help our children overcome anxiety; our good wishes show them that we have also endured the feelings that accompany being in a new place.
As the children reveal their feelings about their classmates and teachers, our attention to their experiences expresses our desire to understand what they enjoy and endure as an individual, away from home. Meetings with teachers often lead us to see our children in a new light, and their work alongside that of others will convey how they manage and present their thinking in this independent setting.
The new school year for teachers holds many plans and possibilities that will gel in the daily developing rhythm of work and play. The younger the children are, the more flexibility is needed to adapt to the range of interests and abilities in each class. At the secondary stage, the teacher's plans can be seen clearly in the curriculum and timetable, whereas in kindergarten and primary schools, plans may not be delivered in a predictable timeframe. Depending on the concept and philosophy of the school, primary schools foster less competition in general in order not to de-motivate or shame particular children. Thus younger classes may produce a newsletter or update to allow parents to see what was actually done, rather than sharing the plans in advance. Each student brings different qualities and each, as we parents well know, has something to offer. Class displays may reflect what children have achieved, so keep alert for invitations to visit or observe lessons.
It is hard to know what our children really do in school unless they tell us voluntarily. Parents are reliant on feedback and reports designed by the teachers to suit different ages of children, not just at the end of each year but along the way, as the foundations of their learning are being laid. We need some idea of how the whole class or group responds to projects and lessons and ideally what sort of learning styles our own child is developing in that context.
There are great differences between how this feedback is given, if at all, and what arrangements are made to report progress. Parental expectations vary hugely too. Some of us respect and trust the school to monitor learning and only expect to be contacted if there is a problem. Such distance is more likely if we do not speak the school language. International parents opting for local or bilingual schools hope for a tangible outcome such as their child learning a new language. Yet a child's potential may not be realised for years in a new language, so it is important that her abilities and progress across many areas, including behaviour and social skills, are understood and recorded without lowering expectations because of prioritising language learning.
Age-old routines sweep us all up in the communal motions of attending a school – relating to rules, learning to communicate with lots of different people, and adapting to tradition at times without even understanding why. Parents attend to preparation for school and practical aspects such as journeys to and fro; teachers are responsible for class learning but also for individual happiness, and the physical separation of our different jobs can lead both sides to avoid what needs to happen at the interface of home and school. If we are not careful, a relationship between parents and teachers might be avoided.
When interviewing for my book Working With Parents, I heard a mother describe the strong emotions triggered by going to her child's school: before even greeting the teachers, most parents had been visited by childhood memories of their own schooldays. This mother had felt the sometimes negative and often intense imprint left by key events and teachers she herself had had. Many parents experience this.
If parents do not feel welcome in a school and do not learn over time how the chosen school works, they may not be motivated to overcome such psychological blocks. In some schools today, the old-fashioned sign from Victorian days "No parents allowed beyond this point" may as well still exist. In other schools – alternative, small or private – the parents' need for regular information is recognised. But despite information produced by schools about policies, events, and progress, there is inevitably a tendency to focus inwards on the careful hourly and daily work with the children rather than turning outwards to meet the demands of parents.
So make your checklist of questions for the school at the start of this school year, and ensure that you make efforts to get and to give the information you need to support your children in their learning.
Questions parents might want to ask their child's teachers, regarding parent-teacher/school communications:
Do I call, write an email, or send a message, and to whom?
Whom do I notify if my child is sick?
What should I do if I need to pick my child up early one day?
How will the school communicate about my child's happiness and progress throughout the year?
Is the school calendar/lunch menu/timetable posted on the website?
What is the school policy on vaccinations and contagious diseases in the family?
"New School Year" resolutions:
I will find a way to talk to the teacher in person if I have a question relevant to my child's happiness or learning.
I will learn enough German/French/Italian to greet the teachers and other staff.
I will join the Parents' Association to ensure I can create some goodwill and keep in touch on a human level with others in the school community.
I will go to look at my child's work regularly, even if life gets very busy.
I will inform the main teacher if there is an event such as the birth of a sibling or family bereavement, or an impending event that might impact my child's learning such as parental separation or divorce.
If my child travels and may be tired at school, I will inform the teacher.
By Monica Shah
Working with Parents was published in 2001 by Heinemann. Monica Shah moved to Switzerland in 2002. She founded Children First Association, an English nursery school and kindergarten for international families in Zurich in 2006. In May 2014 she was invited to speak in Guangzhou, China about starting up effective preschools. Her special area of interest remains working in partnership with parents to boost individual progress and child development.
Illustration by Albina Nogueira
Albina Nogueira has been a primary school teacher since 1992, and a writer and illustrator since 2006. She currently lives in Switzerland, but her homeland is Portugal. She is also the author of Letters to Grandparents  and Hairdresser. To find out more, like her on Facebook or see her books in Amazon.