Metamorphosis:
"Zoology (in an insect or amphibian) the process of transformation from an immature form to an adult form in two or more distinct stages." Oxford Dictionary (online).
When I was a little girl my parents took me to see a king. We were living in Libya and the king was King Idris, but when I saw his white beard and his long cloaks, three-year-old me waved back in glee shouting, "Look, Mami, Santiklaus!"
My little world was perfect; this was a great day indeed.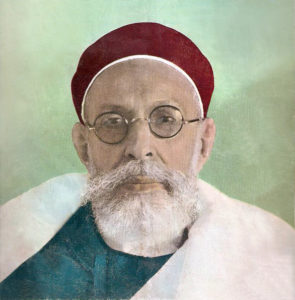 King Idris on the cover of the Libyan Al Iza'a magazine, 15 August 1965. Credit Wikimedia.
A few years later we moved to a country that is hard to surpass in natural beauty, Oman, and its capital, Muscat: a place which at the time was not yet developed. Petroleum Development Oman set up a camp for its employees with a club set on a dreamy beach, a pool for when the sea was too crowded with jellyfish, and one small commissary that sold Dutch and English products for a little taste of "home."
We swam every day; our mums and dads played tennis in the evenings, when the temperatures became a little more bearable; and once a week on Saturdays all of the parents and kids gathered to watch "Looney Tunes" on a projector in the Club Hall in true Cinema Paradiso style. For the weekends my parents took us on trips to see caves and large oases with bubbling streams and palm trees. Villages where dozens of boys in their white dish dashas chased our car and greeted us, waving play sticks and happy smiles. It was paradise for me as an eight-year-old, a paradise that my father cautiously reminded me was a "fool's paradise."
Flash forward forty years. I am standing on Ibri Street 1, looking up at my white bungalow, the one I had lived in for two and a half years, the one which explains why – and here I give my husband a nudge – I love bungalows. Only this time when I hear, "Mami, you look funny," it's not me talking to my Mum, it's my kids talking to me! It's fun; we run up to the front door, ring the door bell, find no one at home. We run around the back and then to the front, along the terrace overlooking the sea, kids following me as I click on video. We look through the windows of the house, which is obviously being renovated, waiting for a new family perhaps. "My bedroom, here, the living room, there, where we had an imported Christmas tree which lasted for less than a day – overnight all the needles fell off, 'cause of the heat."
It's all still there, just like I remember it, just like it has been all these years only it's not in my imagination; it's real.
And I'm amazed. Thrilled and strangely comforted. I have no idea why of all the houses in the camp, my house is one of the only ones that hasn't been torn down and replaced by a newer, more modern version, and even though it's a silly thought, I know it's because it has been waiting for me. Maybe it is here to tell me that it's OK for me to let go, to remember all the good times we had. Silly, I know, because it's only a house, really, isn't it?
Only it isn't. It's a magical house that symbolises a magical time, and gosh, it's good to see that it is real. It is also nice to show my family, and say,
"See, I have a history too, not just Papi, not just you. My stories are not all just fairy tales."
I feel a little more understood, a little closer to the kids, and it's fun to share this moment together as I run around like a two-year-old, sharing the memories as they flood back. Then my older daughter suddenly says,
"Mami, you realise that your phone's not filming?!"
So we have to run back around, on repeat but this time she's the one filming. It's like saying good-bye. But not at all in a bad way.
Feeling the wall under my hand as I bring it up to the Number 1 plate by the entrance makes my heart smile, and I wish that my sisters and parents could be here with me now. Even if we can't turn back time, we can bring back memories – photos and places help us do that; they give us a symbolic sense of existence. Remind us that our take on things is valid too, whatever our age. The familiar warmth transgresses time and I am myself both past and present. What a wonderfully dramatic moment.
"Come on, Mami, we've been here long enough," the kids shout from the car. My husband honks the horn and I take a deep breath, skip back down the stairs, inhale one last look and know that I'm ready to take it on, no matter what.
By Karin Mohler
Karin is a former expat, having settled down in her native Switzerland after a childhood abroad. She is challenged daily with balancing the peculiarities she picked up on her travels and integrating them in daily life in what is supposed to be her homeland. Her three children aged 16, 14 and 10 help her bridge the gap in understanding the culture she is now living in. Failing that, she gains insight and inspiration from the book Third Culture Kids: Growing Up Among Worlds, by D. C. Pollock and R. v. Reken (2009).
Illustration by Laura Munteanu
Laura has studied Journalism and Advertising, and has been working as a journalist and an illustrator. She has been illustrating for magazines, websites, charity and diverse campaigns. She lives in Zurich with her husband and ten-year-old daughter.