Teasing Out the Fun at Kinderfasnacht
As a child, I experienced Fasnacht (Carnival) through my father's tales. So when I moved to Basle, it was one of the events I anticipated the most.
I remember my very first Fasnacht after moving to Basle in my early twenties. I loved the idea of walking around the town, especially the old cobbled streets, with the drums drumming their rhythms, the confetti clouds of colour at every corner, and the bars open till all hours. However, I didn't realise the importance of the badge. At my first parade, I was standing there, watching, and suddenly I found myself being carried through the air by two huge Waggis (costumed Fasnachters). They brought me to their wagon where I was stuffed with Räppli (confetti) from head to toe and when they had finished, they warned me to get a badge – that they'd be on the lookout for me! To this day I have no idea who they were; as I found out later, they are not supposed to reveal their identity. I did get a huge handful of yellow Mimösli flowers as compensation, but the memory stayed. I make sure to always buy a badge now, also for my kids!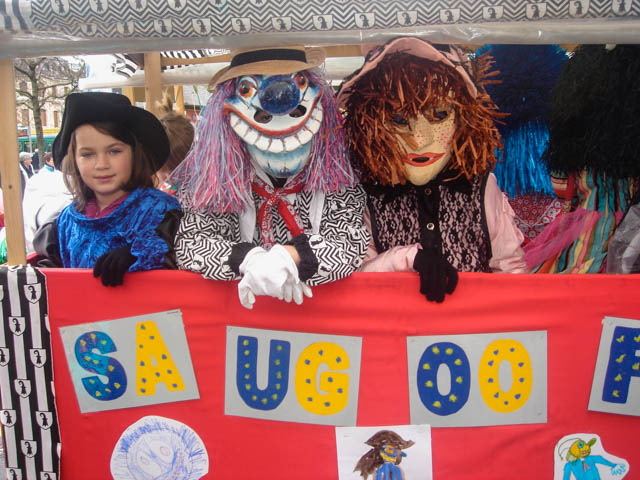 This year will be one of the last years that we'll be getting the kids, or our youngest, at least, ready for the Fasnachtswaage (Fasnacht wagon), where she can dress up and spend a whole afternoon throwing sweets and confetti at the kids in the crowd. I remember when my kids were very little, we'd drag them out in their costumes, stick them in a pull cart and park at the Mittlere Brücke – the best spot for collecting sweets, as all the wagons come and return via this bridge. Whenever one of the huge tractor-driven wagons came up with all the Waggis yelling and pointing and saying incomprehensible things, we'd hold up our kids high above our shoulders and hope they'd be noticed so that when they came back down their eyes would be gleaming and arms full of sweets and key rings or little soft toys. Sometimes an orange and sometimes a small bottle of liqueur, "für e Papi," ("for your Daddy"), who was doing all the lifting!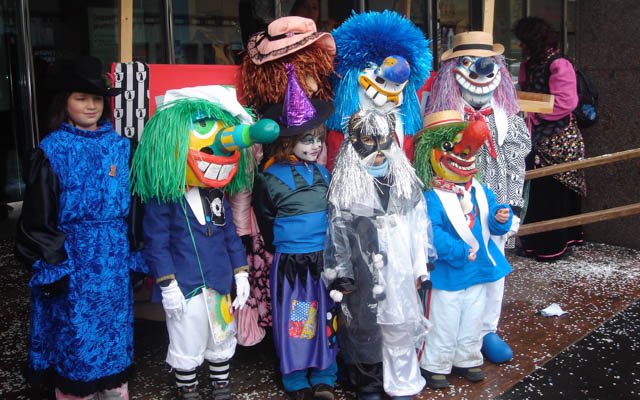 As they got older we got together with a group of Fasnacht friends who had a wagon, and we'd place all the kids inside it, with bags full of Sugus and lollipops, etc., and two of the fathers, dressed up in Fasnacht costumes, would pull the wagon all the way from the Aeschenplatz down to the Marktplatz. On any normal day this would take about seven minutes on foot. During Fasnacht, it takes three hours! I soon found out that walking alongside was very slow, but for that reason, there'd be endless stops and a good excuse for a glass of white wine. So that's how you get through Fasnacht, I thought. It certainly keeps you warm!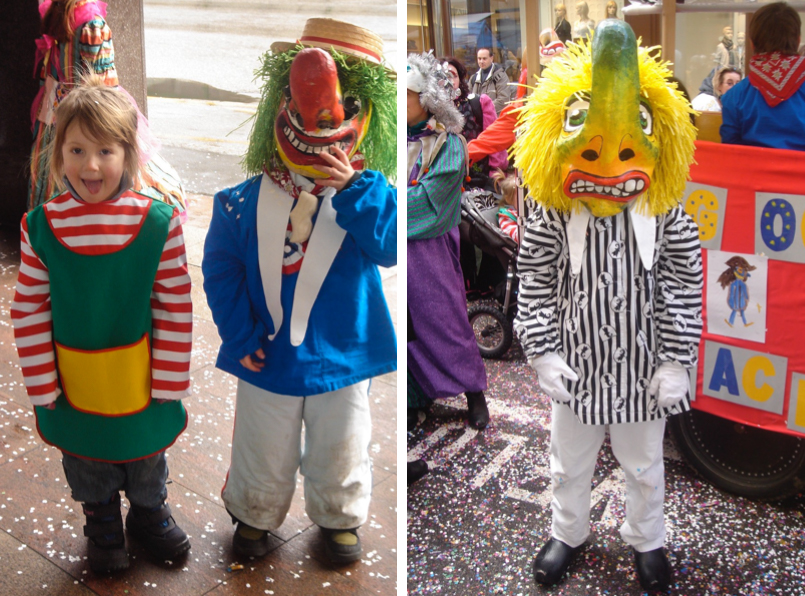 The first time I came with the kids I thought I'd do my bit, too, and I wore an old Pippi Longstocking wig with a homemade paper crown out of silver and gold cardboard, I thought it looked quite fun, but my Fasnacht friends were not at all impressed! After lots of sideway glances and one or two glasses of wine, I was told that this is not a German Fasching event, and only the active Fasnacht people or kids were supposed to dress up. We laughed about it, and so now I simply wear a different wig or one fancy dress item each year, just because – well, isn't Fasnacht supposed to be fun for everyone?
As they've got older, the kids now want to do Fasnacht on their own. This is new ground for me, because things seem to get pretty wild. After the official events, people can get very drunk, so I think we'll need to have a reasonable curfew. Although, truthfully, one of the best moments is wading home through the fields of confetti, exhausted after the Morgestraich, (the march that constitutes the offical beginning of Fasnacht at 4:00 on Monday morning), crossing paths with the first business people as they start their day…knowing that you can go home for a snooze and then return for it to start all over again.
Text and photos by Karin Mohler
Karin is a former expat, having settled down in her native Switzerland after a childhood abroad. She is challenged daily with balancing the peculiarities she picked up on her travels and integrating them into daily life in what is supposed to be her homeland. Her three children aged 15, 13 and 9 help her bridge the gap in understanding the culture she is now living in. Failing that, she gains insight and inspiration from the book: Third Culture Kids: Growing Up Among Worlds, by D. C. Pollock and R. v. Reken (2009).
Illustration by Laura Munteanu
Laura studied journalism and advertising, and has worked as a journalist and an illustrator. She has illustrated for magazines, websites, charity, and diverse campaigns. She lives in Zurich with her husband and nearly nine-year-old daughter.
Save
Save
Save