An Indian-Inspired Holiday Menu
The holiday season is the most treasured time of year; after all, celebrations are the time for making memories. Opening presents around the Christmas tree, carol singers in the neighborhood, or that familiar smell wafting from the oven – a roast recipe perfected over the years. These are some of the memories that last a lifetime.
Many of our memories from the holidays are associated with food. In my parents' home in India, no Christmas is complete without roast chicken and homemade gooseberry wine. While we love our family favorites, we also enjoy trying out new dishes to liven up our Christmas dinner every year. Adding interesting recipes from new cuisines to our Christmas table lets us appreciate food cultures from around the world.
Here are a couple of our family favorites – Indian recipes that we always enjoy during festivities. The butter chicken bites are hearty and delicious, and the amount of spice can be adjusted to suit your family's taste buds. Carrot fudge or carrot halwa is a deliciously comforting dessert, made with ingredients available at most local supermarkets; it can be made up to a week ahead and refrigerated.
Perhaps these recipes will inspire you to start a new food tradition with your loved ones!
Appetizer: Butter Chicken Bites
Butter chicken (Murgh makhni), a popular Indian curry from Punjab in North India, is made with mildly spiced chicken in a cream and tomato base. This version is served on a mini-flatbread (naan) and is an excellent party food. Butter chicken can be made ahead a day in advance and refrigerated.
Ingredients (to serve 8-10):
500g chicken breast, cut into small cubes
For the marinade:
½ c plain yoghurt (or Greek yoghurt)
½ tsp turmeric powder
1 tsp garam masala*
1 tsp ginger paste
1 tsp garlic paste
For the sauce/gravy:
75g butter
1 tsp dried fenugreek leaves*
½ tsp paprika powder
3-4 cardamom pods
1-inch stick cinnamon
½ teaspoon garam masala*
10-15 almonds, soaked, peeled and ground to a paste
1.5 c canned tomatoes or tomato puree
½ c honey
A few strands of saffron (optional)
½ c cream/Vollrahm
Salt to taste
*Dried fenugreek leaves (kasuri methi) add an earthy, mildly bitter taste that brings out the flavor of the butter chicken. Garam masala is a blend of roasted and ground whole spices, essential for adding flavor to a large variety of curries. Both fenugreek leaves and garam masala can be found at Indian stores.
Method:
Start by marinating the chicken. Mix together the chicken with all the ingredients for the marinade. Let this sit for at least 1 hour, or even overnight in the refrigerator if you can. Grill the marinated chicken on a grill or in a baking tray in the oven for 20 minutes, turning it over halfway through so the pieces are evenly cooked.
Prepare the sauce while the chicken is grilling. Add the butter to a heavy bottomed saucepan or pot, and once melted, add the fenugreek leaves, paprika powder, cardamom pods, cinnamon stick and garam masala. The spices will release their aromas once heated. Add the ground almond paste, canned tomatoes/tomato puree and stir. Let this come to a simmer. Add honey, saffron, cream and salt and cook for another 5 minutes. Add the grilled chicken and simmer on low heat for 5 minutes. Turn off the heat.
Naan (flatbread)
Ingredients:
½ c warm water
1 tsp yeast (Hefe)
1½ c all-purpose flour (Weissmehl)
1 tsp sugar
½ tsp salt
½ c vegetable oil
¼ c yoghurt
1 tsp butter
Method:
In a small cup, add water and sprinkle yeast on it. Let this sit for 10 minutes (until the yeast is frothy). In the meantime, mix together flour, sugar, and salt in a large bowl. Add in the oil and yogurt and mix until it forms a crumbly dough. Add in the water and yeast mixture and continue mixing until a smooth dough is formed. Place the dough back in the bowl, cover with a kitchen towel and let the dough rise for 2-3 hours.
Once the dough has risen, preheat the oven to 180°C (350°F). Knead the dough lightly and flatten it out with a rolling pin or with your hands. Using a round cookie cutter, cut out small cookie-sized discs of the flattened dough. Bake these in the oven for 5 minutes until the top is light brown. Remove from the oven and brush with butter.
To serve the butter chicken bites, top each mini-naan with a spoon of butter chicken. Garnish with crispy fried onions and a sprig of cilantro or parsley.
Dessert: Carrot Fudge (gajar halwa)
Gajar Halwa is a classic Indian dessert. Traditionally made with carrots slow-cooked in milk, it is a warm and delicious recipe, especially popular in the winter. This version is made with condensed milk, for a fudgier consistency.
Ingredients (to serve 6):
8 medium to large carrots, finely grated (you could also use your food processor to finely shred them)
1 can sweetened condensed milk
125g or 8 Tbs butter
¾ c chopped almonds
¾ c raisins
A few strands of saffron
1 tsp cardamom powder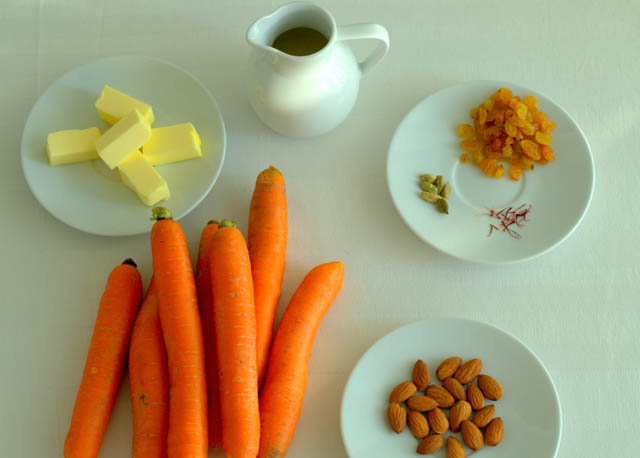 Method: Sauté the grated carrots with butter in a heavy-bottomed pan for around 10 minutes. At this stage, you can either transfer to a slow cooker if you have one, or continue cooking in the pan on low heat. Add saffron, powdered cardamom, condensed milk, chopped almonds, and raisins. If you are using a slow cooker, cook for 4 hours on low heat. If you are cooking on the stovetop, continue cooking on low heat for 3 to 4 hours, stirring every 20 minutes or so. Once the carrots have been reduced to a fudge-like consistency, turn off the heat. Garnish with slivered almonds and serve warm.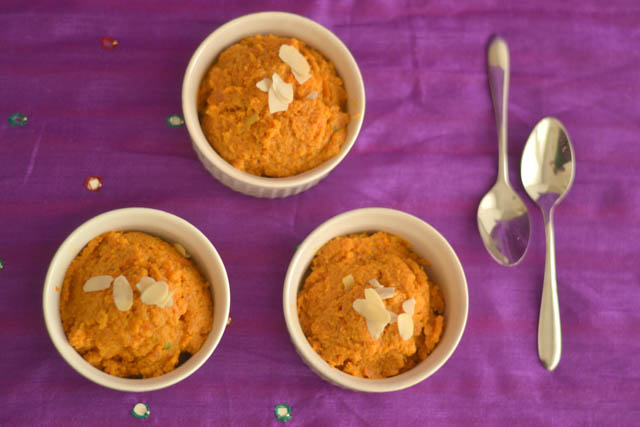 By Shinta Simon
Shinta is a blogger, part-time baker and mom to a three-year-old. She lives in Baden, Switzerland and in her "previous life" as a marketing professional was based in Bangalore, India. She shares her passion for food and recipes on her blog carameltintedlife.com and documents her baking adventures on her Facebook page Sugar Rush