Biking with Kids in Switzerland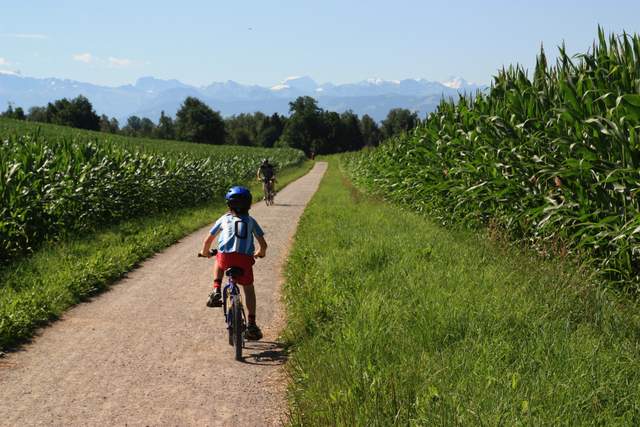 Biking is a popular pastime in Switzerland and there are hundreds of marked bike routes all over the country.  But it's not so easy to find routes appropriate for small kids.  I have a 9-year-old and 5-year-old, the latter on a bike attached to my bike.  Their criteria for a family bike ride are short, flat, and fun. I would add to that list: safe and pretty.  Happily, we've found a handful of rides that meet all these criteria.
Pfäffikersee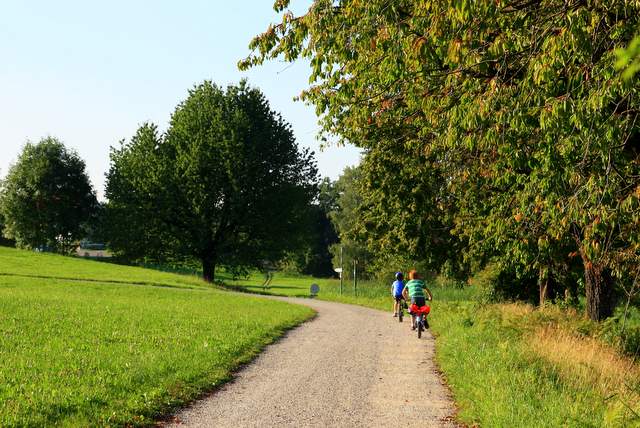 This is a lovely loop tour around a little lake near Zurich.  You will ride mostly through fields and grassy wetlands on a dirt path.  There are two stretches along paved roads, but it's relatively quiet and not difficult to manage with kids.  You can start at any point along the lake and simply follow the bike path signs that keep closest to the lake.  Around the lake, you'll pass by a few picnic spots with fire pits by the lake, a couple swimming areas, a campground, and a playground in Pfäffikon itself.  Also on this lake is Jucker Farm, a tourist farm with lots of distractions for the kids.  This would be a great stop for lunch or dinner in the middle of your ride.  The whole ride takes a little over an hour, but it could be a full day outing depending on which stops you make.
Sihl River
This path follows the Sihl River from Zurich toward Baar, mostly on a dirt path next to the river, weaving in and out of the forest, passing through a few small towns along the way.  There are several train stations along the way, so you can ride until your kids get tired and simply take the train back.  The path is mostly flat, with only a couple hills where we got off and walked our bikes.  The river is entertainment in itself, with lots of places to throw rocks, build rock towers, make a fire, and wade in the river.  We typically ride from Zurich to Adliswil, which is about 3km one-way.  But once we rode from Zurich to the Sihlwald Naturzentrum, about 6km, which was a fun little adventure.
Bodensee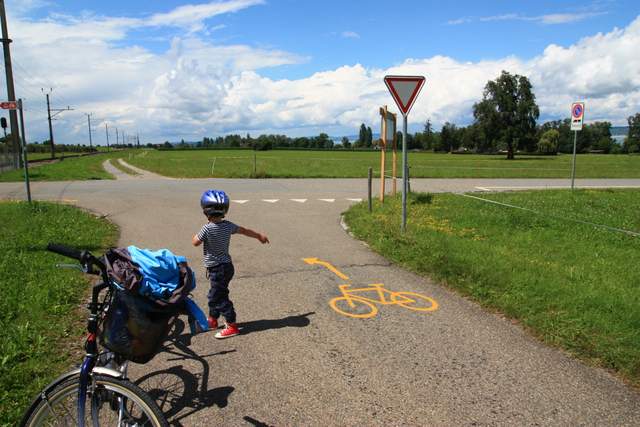 The Bodensee (Lake Constance)  is a popular touring bike route for all sorts, but particularly families.  You'll see lots of kids and families with bike trailers riding on this route.  It's flat and keeps mostly near the lake, with the path winding through farmland, nature reserves, quiet neighborhoods, and some busy streets.  Some parts are very pretty, but mostly it's a fun path with lots to see and do along the way: playgrounds, cafes, swimming areas, parks, etc.  If you fancy a multi-day tour, there are many B&Bs and campgrounds along the way catering especially to bikers.  You can ride around the whole lake, but we've only done two stretches so far, both nice, one from Kreuzlingen to Romanshorn (about 20km), then on another occasion from Romanshorn to Rorschach (about 16km).  You can easily return by train or ride back the way you came.
Ägerisee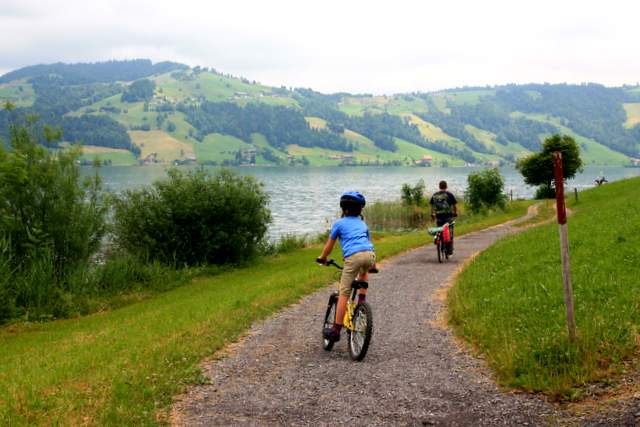 This is another loop tour around a small lake.  It's probably best to start near the town of Oberägeri and ride along the west side of the lake.  On the west side, it's a lovely dirt road hugging the shore, dipping in and out the forest.  On the east side, you have to ride on the main road without a bike lane.  We did the whole loop, but it might be more enjoyable to just ride down and back the west side of the lake, avoiding the main road.  Most of the land around the lake is private, but the west side has one fire pit next to a little public lake access area where kids can wade and swim.  There are at least three campgrounds on the lake and one developed swimming area.  In the towns, you can procure any supplies you might need for picnics and snacks.
And now a few general tips…
If you need bikes, you can find some good deals at the second-hand bike exchanges, aka Velo Börse, that take place in spring and fall.  You might also consider buying bikes over the border in Singen or Konstanz, Germany, where you can find better prices, more selection and you can get a VAT refund to save even more.
You don't have to only ride your bike near your home.  You can take bikes on public transportation all over Switzerland and beyond.  For short distances, you just purchase a half-fare ticket for your bike.  For longer distances, you purchase a bike ticket, which is 12CHF for the day.  Many trains have a separate section or car reserved for bikes and often personnel to help you load and unload your bike.  The SBB.ch website (in English) has more information about traveling with your bike.
You can also rent bikes at many train stations around Switzerland.  They have a wide selection including children's bikes, child seats for adult bikes, trailers, and special bikes for disabled persons.  You can often pick up at one station and drop off at another station.  See the SBB.ch website for more details.
You no longer need to purchase a vignette for your bike, but you do need to have personal accident insurance to cover accidents and homeowner's insurance to cover theft.
Text and photos by Tanya Deans
Tanya writes the blog momstotszurich.blogspot.com that has lots of ideas for hiking with kids in Switzerland and other family-friendly activities in and around Zurich. You can find more details and pictures of the bike rides mentioned above on her blog.