Dads, if you're looking for a way to spend some one-on-one time with your kids, there are plenty of options in and around Switzerland. The fall and spring breaks seem to be great times to make this tradition happen, because these "fringe" season breaks are usually not as pre-planned and busy as say the summer, New Year's and sport holiday breaks.
Some of our friends have a rotation going where each child gets their turn to have a weekend away with Dad. Others simply split up: Mom goes somewhere with Son, Dad goes with Daughter and then they switch for the next getaway. In our family, my wife does a girls' trip with our daughters during the fall break and I take a trip with my son. The format isn't so important, but I think the timing or consistency helps to form a tradition that happens every year, something the kids can count on and look forward to.
It can be nice to visit destinations during their low seasons. The "quiet" season helps ensure that you'll be able to enjoy each other's company, rather than hustling around in crowded chaos. You might also consider destinations that have a personal connection to you and your family, such as the homeland of your ancestors or places that connect with your children's (or your) hobbies and interests.
Here are some of my top getaway picks in and around Switzerland.
In Switzerland:
Camping is something I've always enjoyed but haven't had the chance to do here in Switzerland until recently. I finally made this happen during the fall break and took my son to the Lauterbrunnen valley, where we stayed at Breithorn. We brought our tent and gear and made camp in one of the few campgrounds that remain open year round. We were the only ones crazy enough to sleep in a tent with the frigid nighttime temperatures, so we had the whole place to ourselves. It was an adventure to bundle up and survive the cold nights, but we were rewarded with absolutely perfect daytime weather to explore the area.
The entire valley and surrounding areas are epic. The whole length of the valley is accessible by bicycle on a path that runs along streams and waterfalls. We saw skydivers in wing suits jumping out of helicopters and had base jumpers pulling their chutes right over our heads as we cruised along on our bikes. A visit to the Trümmelbach Falls takes you deep into a mountain gorge carved out by the raging waters that flow from the glaciers above.
A cable car up to Mürren offers a full day of outdoor activities. If you are into the 007 thing, you can continue up to the Schilthorn, but we took the funicular from Mürren to Allmendhubel where there is a huge mountain playground. From there, we hiked back down to Mürren, stopping along the way to pet cows and take in stunning views of the Eiger, Mönch and Jungfrau peaks.
Two nights was enough time for my five-year-old and me, but with older kids who might be more adventurous, this area offers a lot of options. If you have a brave teen with sure footing, set out on an overnight hut hike from Mürren. Gspaltenhornhütte, for example, is fantastic.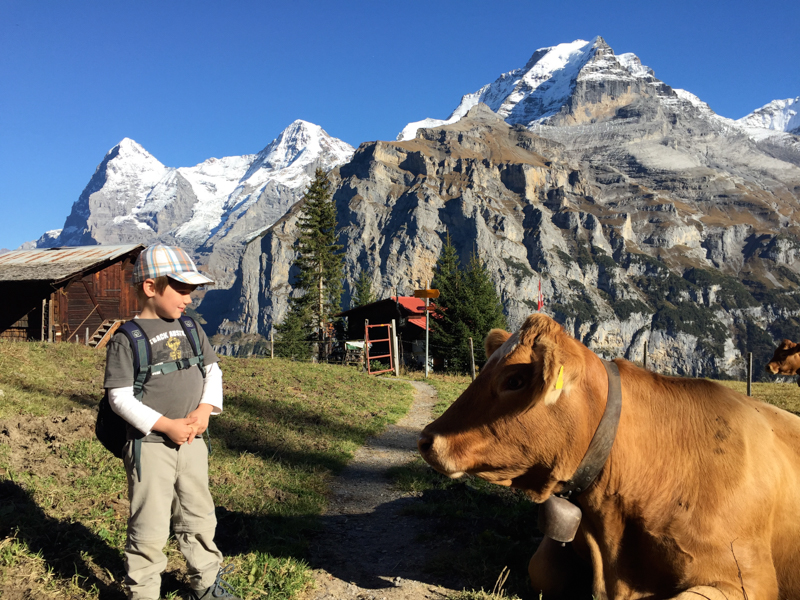 In Germany:
Germany has several destinations within a three-hour drive from the Zurich area. Many are well known, such as Legoland, Neuschwanstein castle, and Ravensburger and Europa Parks. I recently did the Porsche Museum in Stuttgart with my family, and everyone really enjoyed it. We did not visit the Mercedes Museum, but I hear that it is just as good or better.
If you are looking for something unique, family-friendly, but also really enjoyable for those of us who appreciate German beer culture, I highly recommend a day trip to Tettnang in August. The Tettnang region is a huge producer of hops, and there is an annual festival called Hopfenwandertag. The festival consists of five beer "villages" that are spread out among the hop fields. You can enjoy music, food, play areas, and lots of cold beer. It's a great day trip, as it's just across the Bodensee.
Another unique thing to do is visit Nuremberg at the end of July for a great outdoor music festival called Bardentreffen. It takes over Nuremberg's old town for three days, it's FREE, and the atmosphere is excellent. I love it because it attracts great bands and there is absolutely no need to deal with tickets. You can simply walk around the beautiful city and enjoy the great live music that's around every corner. It's not as close as the other places I've mentioned, so you might consider making a stop along the way.
In Italy:
Milan, Verona and the Dolomite region are destinations in northern Italy that we have visited for short trips of three to five days. The Lake Como area can easily be explored in just two or three days. If you only have time for a Friday-to-Sunday trip, check out Menaggio-Bellagio-Varenna.
I'm a beer geek, and northern Italy has become a hot spot for high-quality craft breweries, so I took my son on a short road trip to check it out. We went down to the area between Como and Milan and toured a couple of breweries. They were small breweries, but it was nonetheless cool to check out the giant tanks and other industrial gear.
We stayed at an agriturismo in a very small town. The local restaurant had a happy hour with free antipasti, so we enjoyed that until we had to give up our table to accommodate the patrons who had real dinner reservations. While giving us the boot, they recommended the pizza joint across the street, so we dropped into this tiny place with a wood-fired oven and picked up two delicious pizzas. All of €13 poorer, we headed back to enjoy dinner in our room.
My son had just learned to ride his bike a few days before, so I brought that along with us in case we found suitable paths to do some cruising. There wasn't much to do at the agriturismo, so we decided to head home early and detour through Bellagio to have a ride on the promenade. Since this beautiful place was on the way home, I figured we might as well do one of his first bike rides in style.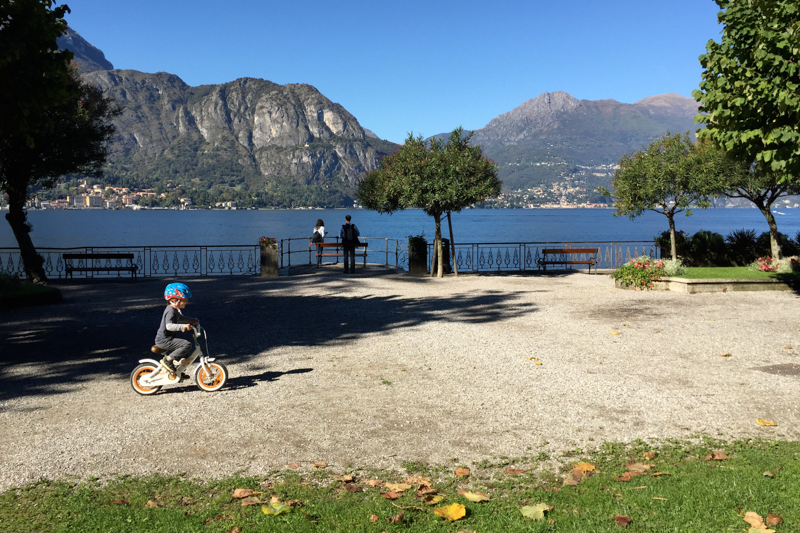 In Austria:
Salzburg is a great destination, especially if your kids are familiar with "The Sound of Music." My wife did this trip with our girls. They took the train there and had a great time. After going Dirndl shopping, they dressed up and went on the Sound of Music tour. They also visited a salt mine and spent a lot of time exploring the beautiful city. This is a great idea for a girls' weekend, but there's no reason why it wouldn't be a great thing to do with Dad as well.
These short getaways are great chances to bond with my kids and even to expose them to some things in life that I think are worthwhile.
Text and photos by Brian Wilson
Brian is the father of three children. He's a golf teacher, a beer brewer and coordinates a Zurich Dads' group.