Food Memories from the Indian Railways
The great Indian Railways network is the world's fourth largest railway network. A journey on the Indian Railways is quite different from the synthetic, sterile train journeys that one is used to in Europe. You get to see people from all over the country, chatting in one of approximately 880 Indian languages or dialects. Strangers become friends over a few hundred kilometres, and travellers make space for other travellers, many of whom happen to be travelling without a reservation. Families play card games, and some sing songs, too. At various times of the day, the train is filled with the aromas of spices, with people opening packages of food and sharing it.
A train journey in a sleeper coach could last for more than a day. The longest possible train journey is an 85-hour journey, where the train chugs its way through seven states along the country's eastern coast. This is the best way to experience the country's landscape. I remember train journeys to my grandparents' home, standing with my father at the open train door, watching as we whizzed past lush paddy fields, mountain gorges, and the occasional monsoon-fed waterfall cascading down a mountain. Personally, my favourite bit on rail journeys was always the night, when I would clamber into the highest berth, switch on the dim reading light and settle in to read, often lulled to sleep by the rocking carriage.
The charm of eating railway food on such a journey was an experience comparable to none. At each railway station, vendors would climb into the train, selling all kinds of snacks and meals, which would vary depending on the state or region you happened to be in. In South India, for instance, vendors sell deep-fried vadas (savoury doughnuts made of lentils) with sambar (vegetable stew made with lentils and sambar), or deep-fried banana fritters. In the Northern parts of the country, pooris (deep fried flatbread) with potato curry, samosas and potato vadas are more commonly available.
A couple of very popular items on the Indian Railways menu are vegetable cutlets and egg biryani. Vegetable cutlets are crumbed and deep-fried vegetable patties, served with a couple of slices of bread and a sachet of tomato ketchup. These vegetable cutlets are very often served quite a while after they are made, and to my memory were always soggy, their deep-fried crispness a thing of the past. The rice in the egg biryani was always rather bland, served with two hardboiled eggs. But as a child, minor details such as flavour weren't important! Tucking into these much-anticipated meals – cross-legged on my seat, gently jostled by the movement of the carriage – beat dining out at a restaurant any day.
I have recreated these vegetable cutlets and egg biryani recipes several times as an adult, and the versions I have shared here are what my family loves. They are special to me because they come with a side of nostalgia!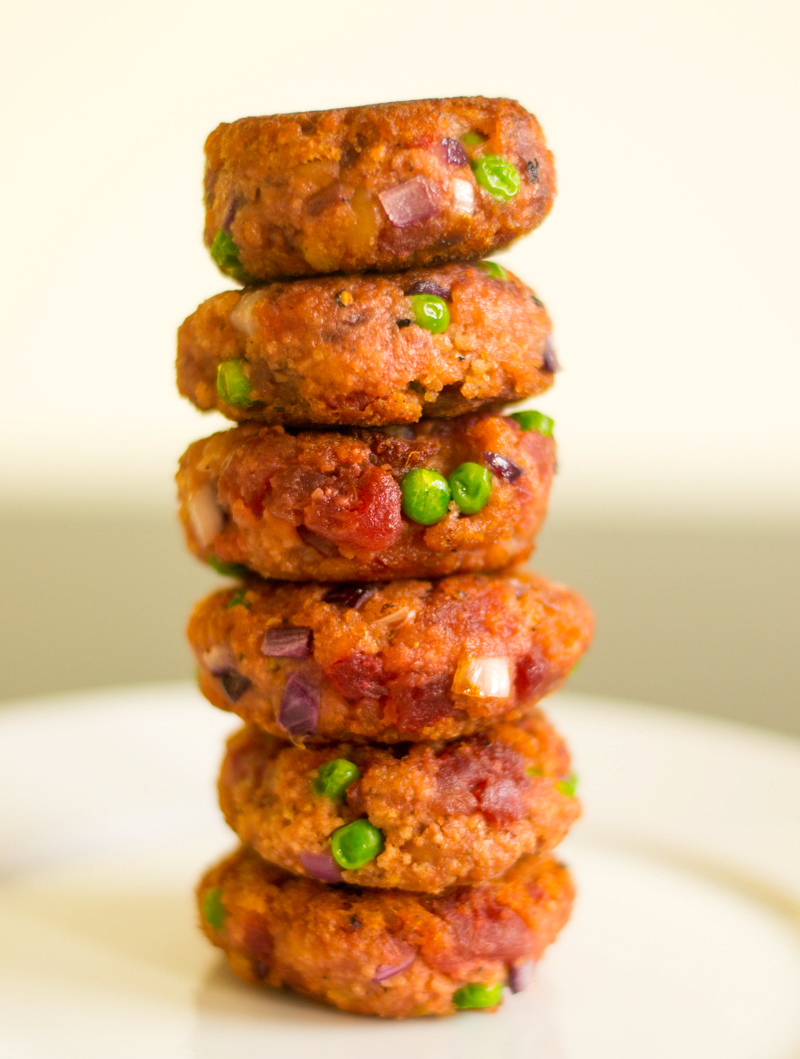 Beet, Potato, Pea Cutlets

These vegetable cutlets are traditionally crumbed and deep-fried. This version however, doesn't require deep-frying, and can be shallow fried or even baked.
Ingredients (for 8-10 patties)
1 medium sized beetroot, boiled, cooled and peeled
2 large potatoes, boiled, cooled and peeled
½ red onion, finely diced
1 tsp. garam masala (see notes)
1 tsp. dried ginger powder (or ½ tsp. freshly grated ginger)
1 tsp. chaat masala (see notes)
1 tsp. paprika powder or freshly ground black pepper (adjust this as per your spice tolerance)
1 c. bread crumbs
Salt to taste
½ c. of peas (I use frozen peas)
Instructions
Using a potato masher, mash together the potato and beetroot
To the mashed vegetables, add in the finely diced red onion, all the spices, bread crumbs and salt
Using your hands, mix this well, until the mixture is well combined, and can be easily shaped into patties.
Add the peas and gently mix them into the mixture
Shape the mixture into patties. I wet the palms of my hand before shaping the patties.
You can freeze the patties for later, once shaped, or fry them in a pan with a little vegetable oil
For a healthier, oil-free version, pop the patties into the oven and grill them at 180 C for 15 minutes, flipping them over midway through.Note: I make my own garam masala mix, which is a ground blend of dry-roasted cloves, cardamom, fennel, cinnamon and mace. Garam masala is also available in Indian stores and in Switzerland and is ideal for most Indian recipes. Dried ginger powder and chaat masala are also available in Indian stores in Switzerland.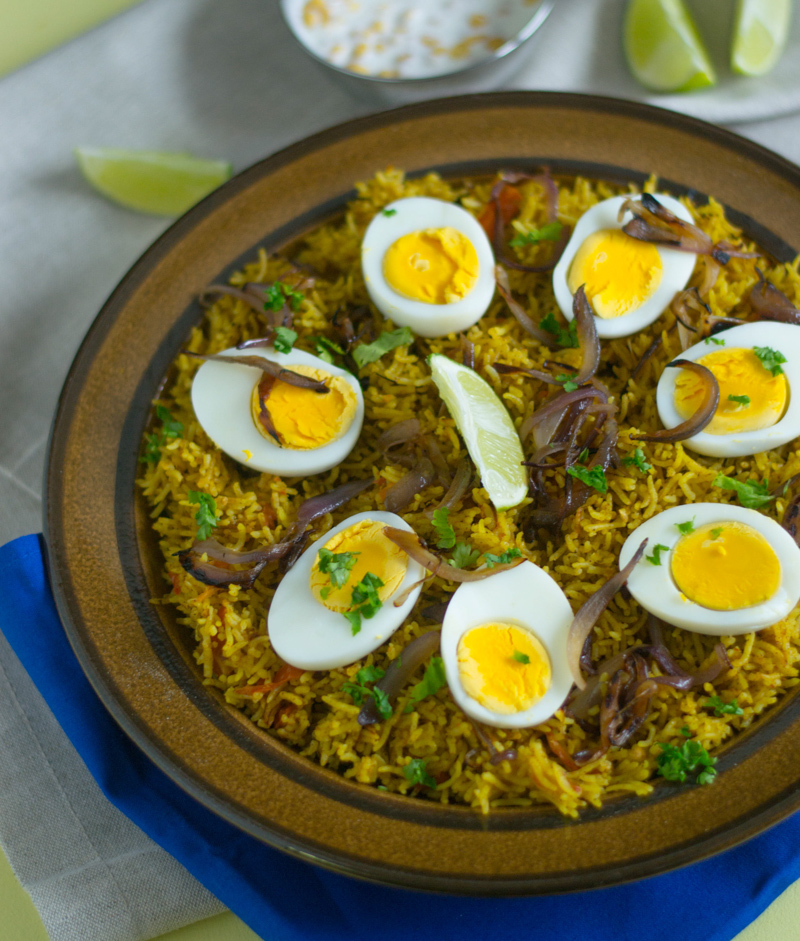 Egg Biryani
The humble Railway egg biryani gets a royal makeover, with whole spices and browned onions, making it ideal for an indulgent, leisurely lunch.
Ingredients (for 5-6 people)
4-5 hardboiled eggs
2 medium red onions, finely sliced
1 tsp. + 1 tsp. ghee (you can substitute butter for ghee)
2 bay leaves, 4 cloves, 4-6 peppercorns
1 tsp. ginger paste
½ tsp. garlic paste
1 tomato, diced
½ tsp. coriander powder
½ tsp. turmeric powder
2 c. basmati rice, soaked for 20 mins
Juice of ½ a lime
Approximately ½ c. coriander leaves, finely chopped
1 tsp. garam masala
1 c. coconut milk
1½  c. water
Raisins and cashew nuts (optional)
Instructions
In a frying pan, fry the sliced onions in 1 teaspoon ghee, until lightly browned
In a pressure cooker or rice cooker, heat 1 teaspoon ghee, and on a low heat, fry the whole spices – bay leaves, cloves and peppercorns
Once the spices begin to release their aromas, add the garlic and ginger paste, and sauté, stirring for a few minutes
Add the diced tomato and let this cook with the whole spices and ginger and garlic, until the tomatoes are softened. Add the coriander powder and turmeric powder and sauté this for a minute more
At this stage, add the pre-soaked rice, along with the coconut milk, garam masala, coriander leaves, lemon juice, water and salt. Give this a good stir, ensuring the rice is mixed well and evenly with all the other ingredients in the cooker or pot
Cook the rice mixture for around 7 minutes in the pressure cooker
If you are using a stove-top pot, cook the rice for around 15 minutes on medium heat, stirring the rice gently, a couple of times, check to see if the rice is sticking to the bottom. Turn off the heat and let the pot rest for at least 5 minutes before you open it.
The rice should be fluffy, and the grains should be intact
Once done, mix the browned onions into the rice and give it a gentle stir. Reserve some onions to sprinkle on the top. Optionally, you could also fry some cashew nuts and raisins in ghee and sprinkle these on top of the rice.
Peel the hard-boiled eggs, slice them in half, and keep aside
To serve, plate up the rice in a large serving bowl, garnish with extra browned onions, lime wedges, and top with the egg slices. Serve with a bowl of yogurt.
Text and Photos by Shinta Simon
Shinta is a blogger, part-time baker, and mom to a three-year-old. She lives in Baden, Switzerland and in her "previous life" as a marketing professional was based in Bangalore, India. She shares her passion for food on her blog carameltintedlife.com and documents her baking adventures on her Facebook page Sugar Rush.