Cooking with the Kids, Indian Style!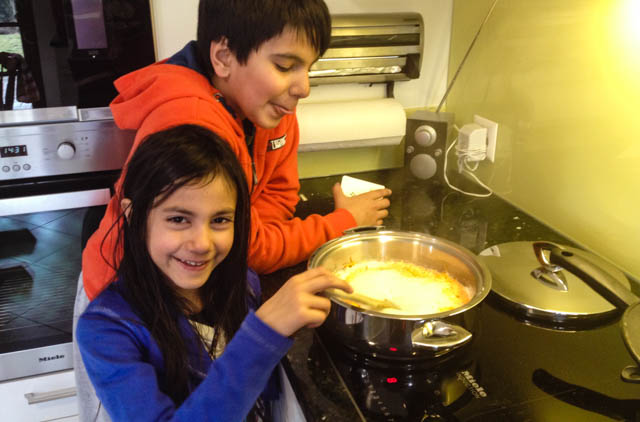 Learning to cook up a few fantastic dishes can help your kids read, do math, and hone their motor skills in a fun and productive way!
You simply need to make sure that the instructions are clearly typed in an easy-to-read size and format. See that you are equipped with the proper measuring and cutting gadgets and all the ingredients. If your kids are old enough to safely chop and shred the veggies, let them do it! Keep them involved in measuring, mashing, stirring, mixing. It will give them a sense of independent accomplishment.
Here's something sweet and something savoury with an Indian twist that kids can try out; there are no chillis or strong spices. These recipes are just right for the cold winter days that lie ahead. Adult supervision will be needed.
Recipe: Gram Flour Pancake
Gram flour (chickpea flour): 100 grams
3 Tbs of vegetables, your choice. For example: chopped spring onion, shredded carrots, shredded cabbage
½ tsp turmeric
½ tsp cumin
Salt: approximately ¾ tsp (or to taste)
Water: approximately 100 ml (or more depending on consistency)
Sunflower or vegetable oil: to lightly fry the pancake
Mix all the dry ingredients. Add 50 ml water. Stir the ingredients into a thick batter, ensuring there are no clumps of dough. Mix in the last 50 ml so that the batter is of pancake consistency (not too thick, and easy to ladle into the pan).
Heat a non-stick frying pan and brush it with oil. Add 2-3 tablespoons of the batter and spread it out in a circular form. Cook on medium heat for 4 minutes. Flip it over or fold it and cook till it is brown and crisp.
Your savory pancake with the veggies of your choice can be eaten with or without ketchup.
En guete!
Tip: If the kids don't like the flavour of gram flour, you can actually use any flour. Do away with cumin if they don't like the flavour, and replace it with a dash of black pepper. Adjust the quantities and try different vegetables. Play around and see what you fancy most!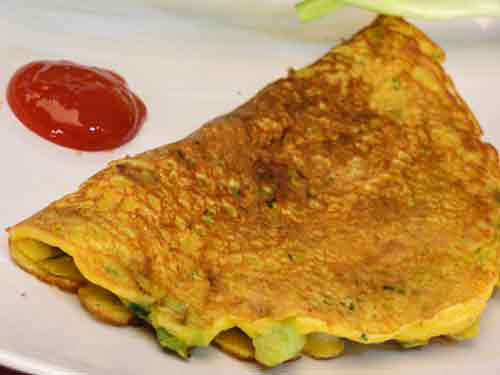 Recipe: The Fusion Samosa
1 Blatterteig or puff pastry
2 medium-sized boiled potatoes
30 g cooked peas
1 Tbs. finely chopped red onion
For a touch of meat – you can finely chop a cooked sausage (optional)
Salt to taste
Pinch of black pepper
½ tsp cumin (optional)
1-2 Tbs. chopped coriander leaves (optional)
Preheat the oven to 180° C. Mash the potatoes and mix in all the ingredients (other than the pastry). Cut the puff pastry into medium-sized squares. Add a tablespoon of the mix or filling slightly towards the lower half of the square. Fold over diagonally into a triangle and seal the sides tightly around the filling. Brush with oil. You can make 8 to 10 such triangular samosas.
Place them on the baking tray and bake for 15 minutes till the crust turns light brown.
Pack samosas off to school for Znüni (morning snack) or enjoy them as an after-school Zvieri!
Tip: You could do away with the potatoes and sausages and use cooked minced meat instead. Any filling that's healthy and delicious will keep the kids coming back for more. If the triangular pastry is difficult to handle or seems too fatty, leave it flat and make your own "pizza-like" version of samosas!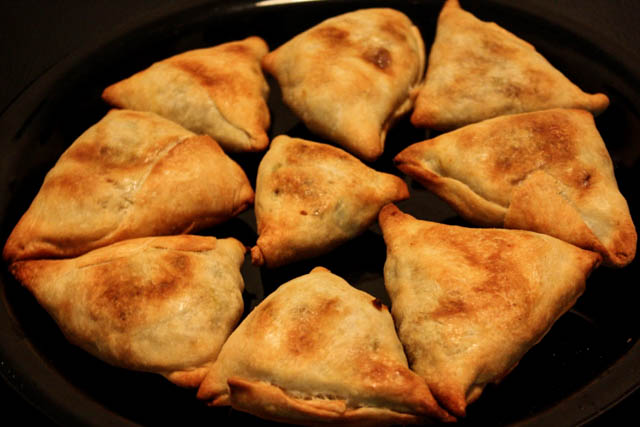 Recipe: Carrot Halwa
1 kg washed, peeled, and shredded carrots
1 Tbs. Bratbutter, or clarified butter
1 c. (240 ml) milk
50 g sugar
25 g chopped dates or raisins
1 tsp. crushed green cardamom
Other nuts of your choice: almonds, cashews (optional)
Heat the Bratbutter or clarified butter in a pan. Mix in the carrots and cover the pan. Let the carrots cook in their own juice for 10 minutes. Then, remove the lid and stir in the milk. Let it cook for 10 more minutes, stirring from time to time. Mix in the rest of the ingredients.  Continue to stir every few minutes until all the liquid has cooked off.
Enjoy the goodness of carrots, milk, and dry fruit! Eat hot!
Tip: You could use grated pumpkin or zucchini. Just ensure that the liquids have all evaporated. Adjust the sugar according to taste. Don't forget, raisins and dates add sweetness, too!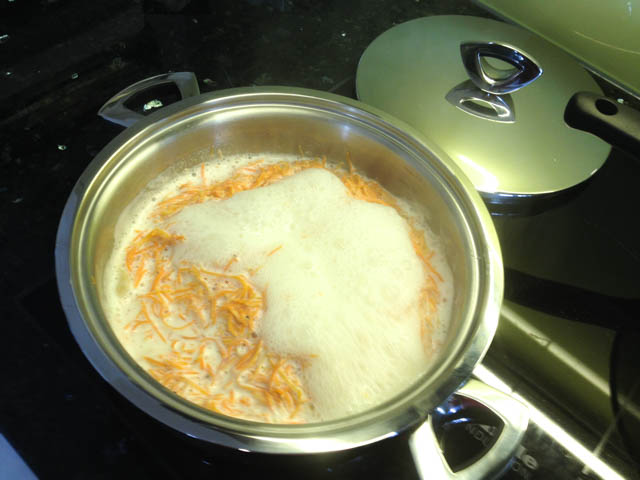 Text and photos by Aradhna Sethi
Aradhna is the former chief editor of Swiss News and has been a consulting editor for other English language publications. An aspiring author, she blogs and writes while balancing the demands of growing kids and her entrepreneurial husband. Read her at: aradhnasethi.wordpress.com. Follow her on Twitter: @AradhnaSethi.