Christmas Cookies the Swiss Way
Wiehnachtsguetzli (Christmas cookies) are a substantial part of a Swiss Christmas. Everyone makes them – parents with their children, young urbanites, elderly ladies – there's even an expression in Swiss German for the activity of making Christmas cookies: we call it guetzle, used as a verb, while Guetzli is the cookie itself. A fair share will be eaten by the bakers themselves, but we also love giving them away to friends and relatives. Bakers use their own family recipes and unique selections of cookies; hence it's always interesting to receive cookies from someone else. Personally, depending on how much time and motivation I have, I usually make 8-10 varieties. I always make sure it's as stress-free as possible, starting in early December already and storing the baked batches in the freezer until Christmas. The cookies I aim to bake every Christmas are: Schoggikugeln, Mailänderli, Spitzbuebe, Zimtsterne, Haselnussmakrönli, Kokosmakrönli, Vanillekipferl, Sables and Sandele. Below are recipes for the Schoggikugeln (chocolate almond balls) and the Sables. I'm publishing my favourite Swiss Christmas cookie recipes on my Little Zurich Kitchen blog throughout December this year.
Schokoladekugeln Myrta (chocolate almond balls)
This is an old Betty Bossi recipe from their bestselling book Guetzle mit Betty Bossi. It's a very popular Christmas cookie in Switzerland and seriously addictive. The raw chocolate balls are dried overnight and then baked only very shortly, which leaves them wonderfully soft inside. In my own recipe there's the added benefit of a dash of Kirsch, which makes the chocolate flavour even richer. I never fail to impress with this recipe, so I thought I would share this jewel with you all.
Ingredients:
300g caster sugar
3 eggs
3 Tbs corn starch
300g ground almonds
200g dark chocolate
2 Tbs Kirsch liqueur (optional)
Method:
In a large bowl, whisk the sugar and eggs until foamy. Melt the chocolate and add it to the mixture. Add all other ingredients and stir until combined. Then let the dough rest in the fridge for 2-3 hours until cold and firm.
Once firm, form balls the size of an unpeeled walnut and place them onto a baking tray covered in parchment. Let the uncooked dough balls dry overnight at room temperature. The next day, bake for 3-5 minutes at 250° Celsius. Watch them closely while they bake and take them out of the oven as soon as they're only just starting to build small cracks. This ensures that the dough is still soft inside.
Three tips:
1. If you're in a hurry, you can replace the drying overnight with an hour in the freezer.
2. To make sure the balls stay round and don't flatten out while baking, put them outside in the cold for an hour before baking.
3. You can replace the melted chocolate with 200g of cocoa powder (not cacao powder).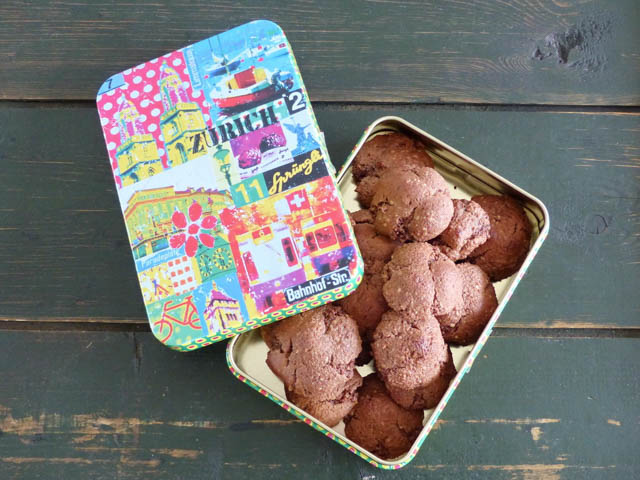 Sables
Sables, a kind of shortbread, is a firm favourite in my Christmas cookies selection. I like these buttery, sugary cookies best with a tangy lemon icing. But the most fun part of the Sables is that they're so versatile and therefore provide a perfect opportunity for bakers of all ages to go wild with flavours and toppings. You can add chocolate to the dough to make chocolate sables, or add chocolate to only half of the dough and make chocolate-vanilla snails or chess-patterned cookies, or you can colour the icing to make colourful sables and you can stick anything onto the icing to add extra flavour, from halved walnuts or chopped pistachio nuts to chopped dried fruit and colourful sprinkles. Or you can roll the dough in sugar or chopped fruit before cutting to add something special to their edges. So much fun!
Ingredients:
75g caster sugar
175g butter
Pinch of salt
1 tsp vanilla paste or vanilla sugar
1 Tbs milk
250g plain flour
Method:
In a bowl, stir the butter until soft. Add the sugar, vanilla sugar or vanilla paste, salt and milk and mix until the mixture is light in colour. Add the flour and stir until combined.
Form two rolls of 3-4 cm thickness each; wrap in kitchen foil and let the rolls rest in the fridge for 30 minutes, or for a shorter time in the freezer. Once the rolls are cold and firm, cut them into slices of 5mm thickness, place them on a baking tray and bake immediately at 200°C for 10-12 minutes.
Make an icing with icing sugar and a little lemon juice (just enough lemon juice to make the icing spreadable but not too runny). Use the icing as-is, or add some food colouring. Using a brush, spread the icing onto the still-warm cookies. Optionally, cover the warm icing with sprinkles, walnut halves, chopped dried fruit, candied fruit or any other topping.
Variations:
1. Chocolate sables: add 3 Tbs of cacao powder before adding the flour
2. Chocolate and vanilla sables: add 1-1½  Tbs of cacao powder to only half of the dough and combine the two colours to create a snail pattern, a chess pattern or any other pattern.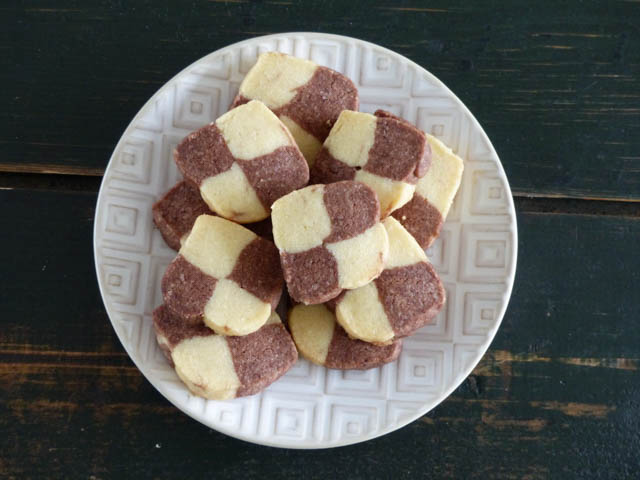 Photos and text by Franziska Wick
Originally from Switzerland, Franziska spent 10 years abroad, the longest stretch of it in London. She has always been passionate about food and has visited farmers' markets and attended cooking schools in China, large parts of Southeast Asia, Australia, North Africa and the UK. Now she's back in Zurich with her husband and two little girls and blogs about Swiss food and recipes on her blog called Little Zurich Kitchen.