Things to Do: Canton Schwyz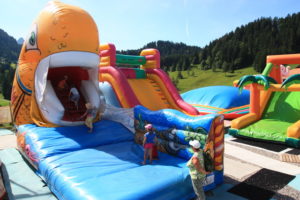 Great playgrounds in Canton Schwyz in English click here
Alpamare Pfäffikon
Is a water park with a variety of water slides, mostly indoors. Outdoors has heated pools. Suitable for children aged over 5. Young children need to be accompanied by adults on the slides. Website
Bowling-Billiard Center Schindellegi
A regular bowling alley! Chaltenbodenstrasse 10, 8834 Schindellegi. Website
Einsiedeln Abbey and Church
This Benedictine Abbey is a great place to take visitors. The church is very ornately decorated and is famed for the statue of the Black Madonna. Einsieldeln is part of the St James' pilgrimage route. Website
Erlenmoos Wollerau
Sihleggstrasse 4, 8832 Wollerau
This outdoor park has a big playground, outdoor fitness equipment, volleyball and basketball courts, a football pitch, skateboard ramp and a BMX track. Free parking and entrance. A restaurant is also on site. Website
Hoch-Ybrig
In summer the hiking is great and in winter it's a ski resort. There's a playground with trampolines and bouncy castles plus the longest flying fox in the world. Website
Lindt Factory Outlet
Get some delicious, bargain chocolates in Altendorf. Website
Mini Golf
Brunnen – 18 hole mini-golf course on the lakeside. Website
Kuessnacht am Rigi – 12 hole mini-golf on the lakeside in good weather. Pedalo boots available to hire over the summer. Website
Arth am Zugersee – Mini-golf open March until October. Website
Muotathal
Hiking in summer, and all winter sports in the snowy months. There are caves accessible only with a guide. Themed hiking paths include a joke trail and a weatherman's path. Website
National Museum Schwyz
Schweizerisches Nationalmuseum ,Forum Schweizer Geschichte,Schwyz; Hofmatt, Zeughausstrasse 5, 6430 Schwyz. With diverse exhibitions. Website
Paradisimo Indoor Play Centre
Located at Talstrasser 33, 8808 Pfäffikon, this is suitable for babies to children aged around 9 years. There's a café and Wi-Fi. Website
Sattel-Hochstuckli
Eummat, 6417 Sattel
Take a revolving gondola to the top where there's a playground with bouncy castles and trampoline bungee jumping. The Skywalk is a suspended bridge, there's a summer toboggan run and a tubing run. In winter it's a ski resort. Website (German)       Website (English)
Seilpark am Mythen
This ropes course is open in summer and closed in winter. Seilpark am Mythen,
8849 Alpthal. Website
Seilpark Rigi
This ropes course is located in Kuessnacht. Participants must be taller than 135cm. Website
Springding Indoor Play Centre
Located at Halle 3.5 -Glaenternstrasse, 8864 Reichenburg, there is a Bistro, WiFi and lots of fun things for kids Website
Swiss Holiday Park
There are many sporting activities here including squash, indoor climbing,  swimming, bowling, go-karting, mini-golf and more. Website
Tierpark Goldau
This big and spacious wildlife park has animals in enclosures as well as many walking freely. There are barbeque and picnic sites, a restaurant and playgrounds. website
Ufenau Island
This small island in the middle of Lake Zurich can be reached by ferry from Rapperswil in 10 minutes. In warmer months some ferries from Zurich, Pfäffikon (SZ) and other nearby lakeside locations travel to Ufenau. The island has a restaurant and two chapels to visit.
http://www.ufenau.ch/          http://www.zsg.ch/
Compiled by Andrea Snashall
Fasnacht (Carnival) Parades Canton Schwyz in January and February
Canton Schwyz is a Catholic canton with Fasnacht (Carnival)  being a time to celebrate and enjoy oneself before the austerity of Lent begins. Traditionally it also passes the time over the cold winter. Every year on Epiphany, 6 January, sees the commencement of Fasnacht in Canton Schwyz. As Lent gets closer the festivities increase, with Shrove Tuesday being the last and one of the biggest days to celebrate. By Ash Wednesday it's all over, except for the headaches of those who've partied hard the night before at a Fasnacht Ball.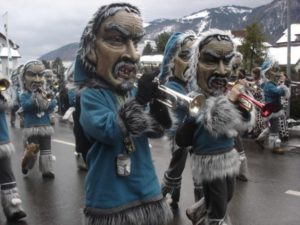 The Fasnacht traditions differ within the canton. Most villages have a parade for the children to participate in with prizes for the best costumes.There are also regional parades and balls, singing (Schnitzelbanksingen) and pranks played everywhere such as being woken early on Shrove Tuesday with loud noises.
Each village has its own Fasnacht group or groups which continue proud and long-standing cultural traditions. There are various witches' groups, chimney cleaners, market women, some fairly scary devils and others. A traditional costume and usually a carved wooden mask is worn, which provides anonymity for the wearer. When seen with the masks removed, many dress-wearing witches and market women are actually men.
The Schwyzer Fasnacht parade traditionally starts with the Einschellen – farmers carrying heavy cow bells and making a lot of noise. Bringing ear plugs or ear muffs for the kids is a good idea for the short bursts of noise. Guggemusik bands are also part of the Fasnacht tradition. They too are costumed and might sound slightly off-key, but are good to shake your legs to, especially for getting the blood to circulate when it's cold.
Kids might be slightly wary of some of these Fasnacht parade participants but to counter that, most distribute sweets, oranges, nuts, soup or even a Schnapps for the adults. Unlucky spectators might have a witch rub confetti in their hair or a devil might 'kidnap' someone for five minutes or so. Take some confetti to throw back and watch out if a devil walks behind you!
Fasnacht / Carnival Parades 
Wilen, SZ: Click here for more details.
Schwyz, SZ: Click here for more details.
Comprehensive list of diverse Fasnachts Jan – Mar, 2019: Click here for more details.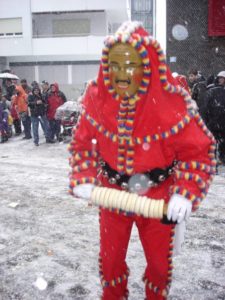 Text and photos by Andrea Snashall.