When I made my first move abroad, to Norway, it came as a bit of a surprise that the tastes and smells I associated with the festive season were different to those of the people around me. I had naively assumed that these associations were somehow universal. Not so.
The realisation crept up slowly, maybe around the time I noticed a strange odour in the supermarkets that, after some enquiring, I discovered was dried sheep ribs – to everyone else in town, this meant Christmas.
Over the years I became acquainted with the signs that the festive season was approaching, but from the comfortable vantage point of outsider. Then something shifted. I had a child, and I didn't want to be on the outside anymore; I wanted to share the experience with her.
With my mini native by my side, I tentatively took my first step toward festive integration and made some ginger biscuits, pepperkaker. When my neighbours lingered in the hallway a little longer than usual thanks to the scent wafting from our apartment, I took that as a sign of success and progressed to the next step of assimilation by turning my biscuits into decorations.
It dawned on me, though, that while I reminisced about mince pies, I probably hadn't eaten one for years because they weren't a "thing" where I was. I realised that if I was going to keep my traditions alive, I was going to have to find some recipes and make them myself.
One child became two, and we moved from Norway to Australia, where the food may have been familiar, but Christmas in summer confused things. I still made pepperkaker, but had to avoid thinking about the cockroaches feasting on our edible decorations as we slept. I made mince pies, too, to eat as we sang carols on the beach – fruit mince pies to the Aussies, not to be confused with their meaty counterpart.
Two children became three and we moved to Switzerland. If ever there is a place to feel a sense of magic at Christmas, it is Zurich. We arrived in time for the first flurry of snow and the start of the festive season, marked by the Christmas lights on Bahnhofstrasse being switched on. We waited in anticipation for the clock to turn six on the third Thursday in November, absorbing our new city, before darkness was replaced by the breath-taking sight of the lights glittering above us like stars. Experiencing the Swiss festive season has forever enhanced our celebrations. The Christmas period will no longer be complete without roasted chestnuts, fondue, grilled sausages, and the recollection of our children reciting a poem in German to Samichlaus and Schmutzli in front of the fire in a little hut in the forest.
This year will be the first time our kids experience Christmas in England as we celebrate in our new home. We have always had two celebrations: a Norwegian one on Christmas Eve, and a British one on Christmas Day, but that is not truly representative of our journey. If my partner and I have different associations of the festive season because we grew up in different countries, that is certainly the case for our children, who have lived in four countries. There will always be trips between England and Norway because of family ties, but that isn't the case for Switzerland and Australia now that we no longer live there. Yet it is important to keep our adopted traditions alive, because they are a part of our children's story, the part that includes childhood Christmas memories.
As a family we have experienced both snowy and sweltering Christmases, but one constant over the years has been my mince pies. I probably denied myself a season of mince pies because I looked at the list of ingredients and decided to wait until "next year." But making them yourself is actually pretty easy. This is the recipe I use. The mincemeat is adapted from a Margaret Fulton recipe, and the pastry recipe was shared by a lovely friend.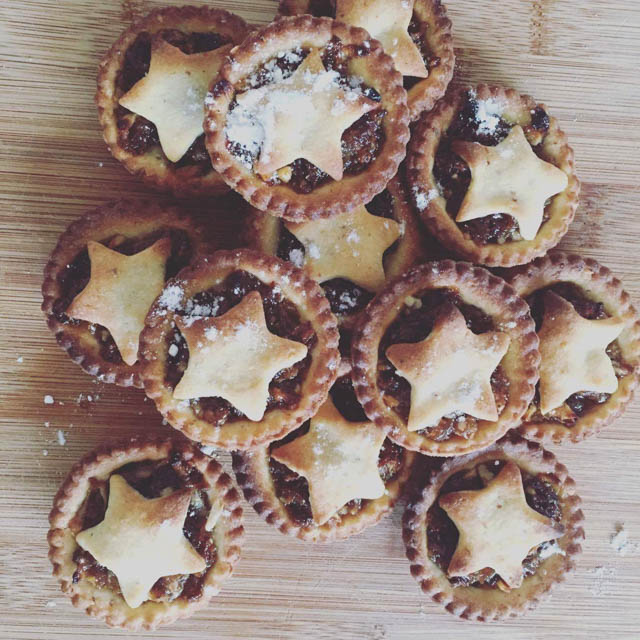 Mincemeat
375g raisins
350g currants
500g sultanas
110g blanched almonds, finely chopped
2 Granny Smith apples, peeled and grated
330g brown sugar
150g unsalted butter, melted
180ml brandy or rum
2 tsp mixed spice
Finely grated zest of 2 oranges, and their juice
Pastry
225g plain flour, plus extra to dust
1 large pinch of salt
50g ground almonds
75g golden icing sugar
175g unsalted butter, chilled and diced
2 medium egg yolks
Start making the mincemeat at least two days before you are going to use it. Pulse the fruit in a food processor, then put in a large bowl. Add the grated apple, chopped almonds, melted butter, brandy, orange juice, spices and orange zest. Stir well until combined. Cover and leave in the fridge for at least two days. Stir every couple of days until needed.
To assemble and bake:
Preheat oven to 190°C (170°C fan oven) or mark 5.
Sieve the flour, almonds and icing sugar into a food processor and pulse for 30 seconds. Add the butter and whiz until the mixture resembles fine crumbs. Add egg yolks and process until mixture just comes together (if a little dry, add 1-2 tsp cold water). Knead lightly on a floured surface to bring together. Wrap and chill for 1 hour.
On a floured surface, roll out pastry to a thickness of 2 mm. Cut out rounds using a 7.5cm fluted pastry cutter. Put in paper cases and prick the base with a fork. Chill for 10min. Fill each one with 1 Tbs mincemeat. Top with pastry stars or holly etc and brush with egg wash.
Bake for 12-15 minutes or until golden. Cool for 15 minutes, then put on a wire rack to cool completely.
Some things cross cultural boundaries even though the name may be a little different: mulled wine, Glühwein and glø￸gg all evoke memories of Christmas, and all go very nicely with mince pies.
Text and photo by Roz Bonomally
Roz is a mum of three, writer, and storyteller. She has recently returned to the UK after 16 years living in Norway, Australia and Switzerland. You can read about her thoughts on life as a nomadic family on her blog, reflections from a wandering mind.