Suggested Kids' Books – Eleven and Older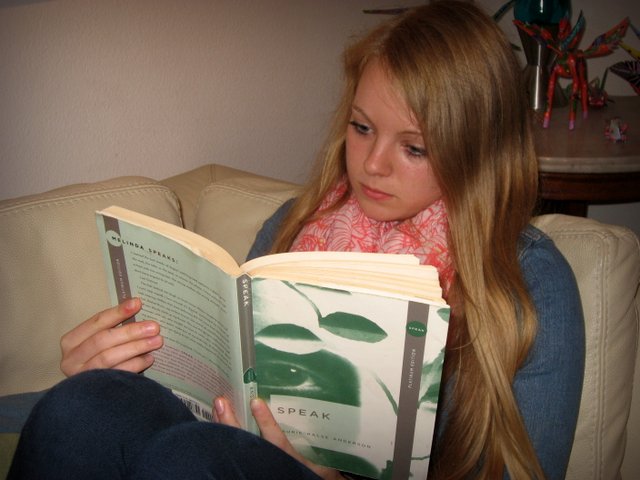 The 11+ kids are more than halfway through childhood, and this is reflected in what they read. The big themes like love, personal identity and growing up are popular. Kids show their developing tastes in preferring particular genres such as adventure, fantasy, sci-fi, humour or classics. Yet it's not all "deep and heavy," as many teens and pre-teens won't say no to The Guinness Book of Records or an Asterix comic book, for example. Then maybe at 13 or maybe at 17, you'll suddenly find your child avoiding the "Children's" section of the library and heading straight for "General Fiction" with you. Sigh, they've grown up already.
---
Unreal by Paul Jennings (A secondary teacher commented, "Paul Jennings' humour appeals to young teens.")
The Hobbit and Lord of the Rings by J.R.R.Tolkien
Boy and Going Solo, both by Roald Dahl ("Roald Dahl's memoirs feature great storytelling with a broad appeal. Going Solo tells of Dahl's adventures in Africa and his stint in the Royal Air Force during World War II.")
The Diary of a Young Girl by Anne Frank ("This affecting and insightful journal gives young people a look into the life of an Amsterdam teen who went into hiding from the Nazis just as she was reaching adolescence. Still fresh and meaningful today.")
Wildwood series by Colin Meloy ("Fantasy? Adventure? Fairytale?")
Lockie Leonard, Human Torpedo by Tim Winton ("Lockie Leonard's family has moved to a country town and he's just started high school. He's got no friends until the coolest girl in school chooses him as her boyfriend. But is he ready for love?")
The Mysterious Benedict Society by Trenton Lee Stewart
Holes by Louis Sachar
His Dark Materials trilogy by Philip Pullman (Amazon writes, "In the epic trilogy His Dark Materials, Philip Pullman unlocks the door to worlds parallel to our own.")
The Amber Amulet by Craig Silvey
The Gates by John Connolly
Can You Sue Your Parents for Malpractice? by Paula Danziger
Once; Now; Then; After, a series of four books by Morris Gleitzman ("Morris Gleitzman is one of Australia's most popular writers of young adult fiction. This series follows a young Jewish boy during World War II.")
Civil War at the Rectory by Kathleen Collison-Morley ("I loved this book as a teenage girl.")
The Chronicles of Prydain (five books) by Lloyd Alexander ("It's fantasy so appeals to both boys and girls.")
Watership Down by Richard Adams
Speak by Laurie Halse Anderson (ages 13+)
In the Teen City column, Heidi mentions some books her teens have enjoyed.
---
To see suggested kids' book in other age categories, see the main article: Suggested Kids' Books.