Suggested Kids' Books – Kindergarten (circa Four to Six Years)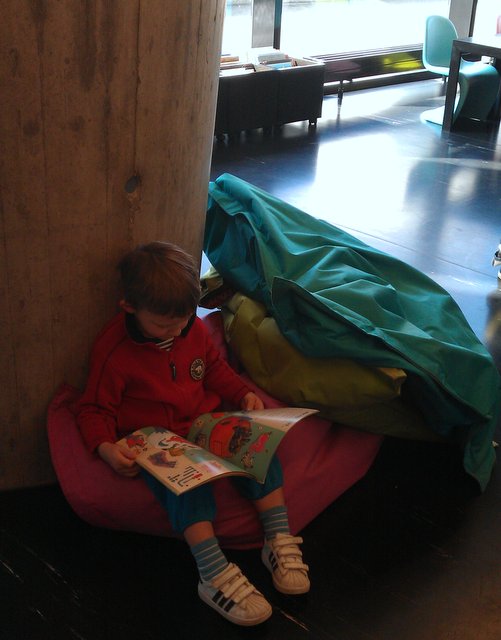 What do these big little people like in a book? Humour, rhyme, repetition, fascinating pictures and a great story. What do their parents like? Probably the same and if there's a nice message, so much the better. Get ready to read these favourite books over and over. Even when the children have grown up and almost forgotten their preschool faves, you won't have! And it's quite likely you'll be holding onto them "for the grandchildren."
---
Mr Men & Little Miss series by Roger Hargreaves ("My kids love the silliness of the characters and I like the voice of the author as he talks to the reader.")
Sylvester and the Magic Pebble by Willian Steig ("Unusual story, interesting illustrations.")
Goodnight Moon by Margaret Wise Brown ("A classic bedtime fave.")
We're Going on a Bear Hunt by Michael Rosen ("Lots of repetition, fun for the little ones.")
The Diary of a Wombat by Jackie French ("Don't let a wombat move into your garden or it'll eat out your vege patch and train you to give it other snacks. Great fun!")
Wanted: The Perfect Pet by Fiona Roberton (Little Henry is convinced that a dog is the perfect pet for him, but a clever duck he christens "Spot" makes him think again.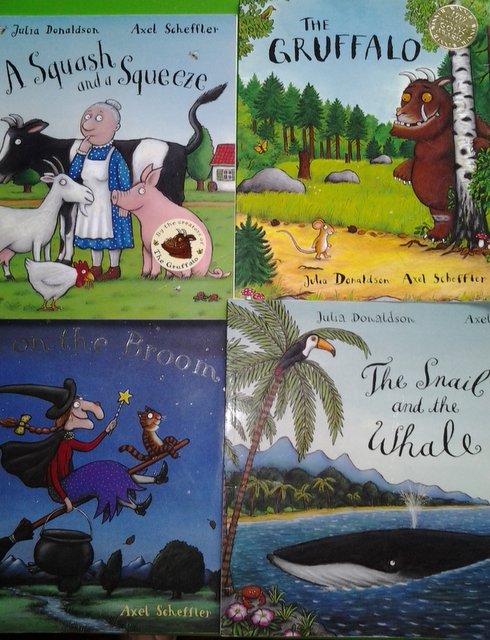 Books by Julia Donaldson:
– A Squash and a Squeeze ("In fact all of hers are a hit in our house!")
– The Snail and the Whale ("The theme is the power of one.")
– The Gruffalo ("Julia Donaldson and the illustrator Axel Sheffler are the Lennon & McCartney of the preschool world!")
– Tiddler
– Stick Man ("Repetition is where this book excels.")
– Room on the Broom by Julia Donaldson
– Peach and Blue by Sarah Kilborne ("Beautiful illustrations, lyrical text.")
Caps for Sale by Esphyr Slobodkina ("Simply a classic.")
Curious George by H. A. Rey ("Everyone loves George.")
Where the Wild Things Are by Maurice Sendak ("Wonderful illustrations and story.")
Chicka Chick Boom Boom by Bill Martin Jr and John Archambault ("The alphabet comes alive.")
Stellaluna by Janell Cannon ("A lovely learning story about a bat.")
Love You Forever by Robert Munsch ("For some reason kids go crazy for this book.")
The Small Miracle by Paul Gallico
The Perfect Present by Fiona Roberton ("This story follows on from Wanted: The Perfect Pet and joins Henry and Spot the night before Henry's birthday.")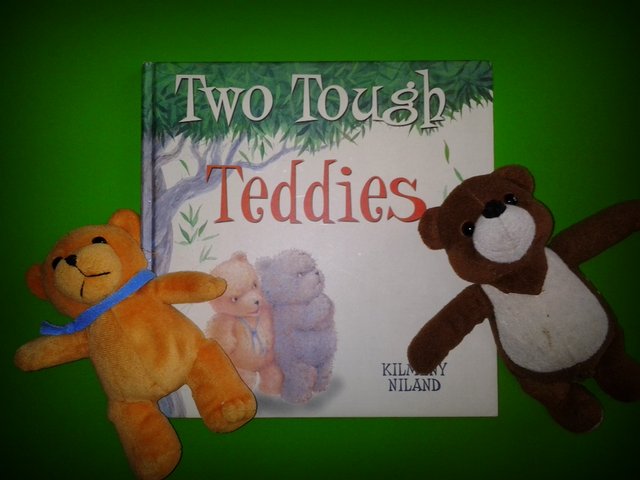 Two Tough Teddies by Kilmeny Niland ("Two teddy bears are thrown away and have nobody to love them. A story which still brings tears to my eyes but yes, there's a happy ending.")
Thomas the Tank Engine series by W H Auden ("The characters are trains but the themes are kindness, friendship, honesty, fairness and more. Yay for Thomas, Percy, Daisy, Clarabell, etc!")
Winnie the Witch series by Valerie Thomas and Korky Paul
Ziba Came on a Boat by Liz Lofthouse ("A moving story about a child refugee. Great for explaining this complex topic.")
The Magical Mrs Pepperpot by Alf Proysen ("We are delighted with this magical character who is a little old lady who can shrink to the size of a pepper-pot and then speak to animals. She has many adventures and the book is wonderfully illustrated.")
Winnie the Pooh by A.A. Milne ("Wonderful language." "What better stories are there about friendship?")
Peter Rabbit series by Beatrix Potter ("Delightful stories and illustrations with rabbits, badgers and foxes as the main characters.")
Aliens Love Underpants – Claire Freedman & Ben Court
Animal Boogie by Debbie Harter ("Such a lovely book with colourful illustrations. The accompanying CD is catchy and will get you dancing.")
Because A Little Bug Went Kachoo by Dr Seuss (under the name "Rosetta Stone")
Hairy Maclary series by Lynley Dodd ("Hairy Maclary is a dog who, with his dog friends, gets into mischief. A great read-aloud series.")
Charlie & Lola series ("The read-along versions accompanied by the CD are great.")
You Can't Eat a Princess by Gillian Rogerson and Sarah McIntyre ("The story is fun and the illustrations fantastic with bright and bold colours.")
You Can't Scare a Princess by Gillian Rogerson and Sarah McIntyre ("The illustrations are witty and delightful.")
Dashing Dog by Margaret Mahy ("Gorgeous rhyme about a dog who saves the day.")
Koala Lou by Mem Fox (Recommended as an earlier favourite by Molly, now aged 12.)
Possum Magic by Mem Fox (Possum Magic became and remains the best known picture book in Australia and the best selling picture book ever in that country.)
Mr McGee by Pamela Allen
Strega Nona by Tomie de Paola
Barbapapa series by Annette Tison & Talus Tayor ("My kids and I love these colourful, strangely shaped characters who love animals, the environment and helping each other.")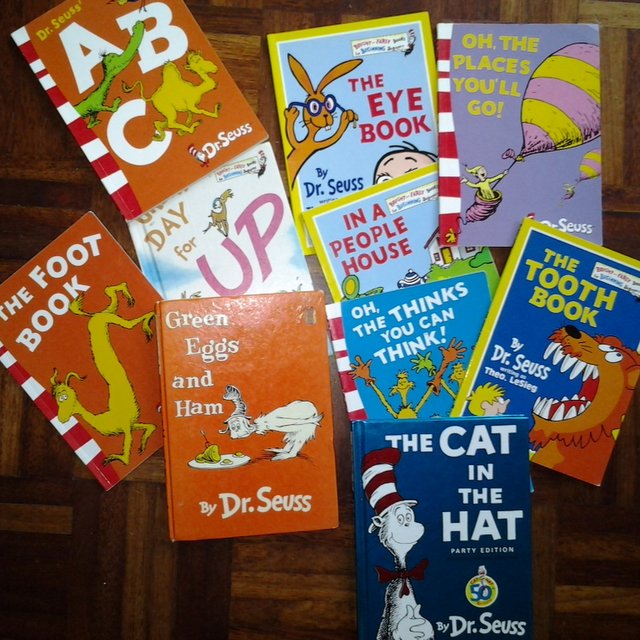 Books by Dr Seuss:
– The Sneetches
– Did I Ever Tell You How Lucky You Are?
– Green Eggs and Ham
– The Cat in the Hat ("This book is such a delight to read aloud, as are Dr Seuss' books in general.")
– One Fish, Two Fish, Red Fish, Blue Fish
The Princess and the Pig by Jonathan Emmett. ("Love this one. It is funny and the pictures are beautiful.")
Guess How Much I Love You by Sam McBratney
The Enormous Crocodile by Roald Dahl ("Most of Roald Dahl's stories are for slightly older readers but it's nice having one for the little ones.")
Zoom by Istvan Banyei
Knuffle Bunny by Mo Willems
Chicken Soup with Rice by Maurice Sendak
I Love You Little Monster by Giles Andreae and Jess Mikhail ("This book may actually have been written more for parents than children. It puts into words everything that parents would love to say to their children every day but are always too busy to actually do.")
Madeline by Ludwig Bemelmans
Animalia and The Water Hole by Graeme Base ("The Water Hole has a discreet environmental message with rich illustrations. We keep discovering new things in the pictures.")
Where's Wally? (a.k.a. Where's Waldo?) series by Martin Handford ("There is text in these books but spotlight is on the illustrations and finding Wally. This book encourages children to sit and focus.")
Pass the Jam, Jim by Kaye Umansky
Llama Llama books by Anna Dewdney
Flat Stanley books by Jeff Brown ("A great first chapter book." A primary teacher added, "Recommended by my students.")
Frederick by Leo Lionni
A Sick Day for Amos McGee by Philip C. Stead
Giraffes Can't Dance by Giles Andraea and Guy Parker-Rees ("This is a wonderful book about a giraffe who would love to dance but is too long and ungainly and never seems to get it right.")
The Book of Boys (for Girls) & The Book of Girls (for Boys) by David T. Greenberg ("It is a beautiful and funny rhyming book with lovely drawings.")
The Tiger Who Came to Tea by Judith Kerr
Dear Cinderella by Marian Moore & Mary Jane Kensington. ("It is two stories in one as Cinderella and Snow White are pen pals writing letters to each other. It is better if the children know the two stories, but if not they can still follow it well….and nice to see people writing letters.")
Funny Bones by Janet & Allan Ahlberg
---
To see suggested kids' book in other age categories, see the main article: Suggested Kids' Books.
A list of funny books That Make Kids (and Parents) Laugh can be found here.