Visiting Castles In This Ever-changing World of Politics
From the news, you might think we are living in an unprecedented time concerning world politics: the rise of populism, technological disruption, social unrest, and the inevitable changes can be frightening to parents and children alike. Switzerland and Germany and their amazing castles offer you and your family an opportunity to enter past worlds that were marked by dynamic political, social, and technological change, and to examine them in an entertaining way. Who knows – you might even find that the current upheaval is not that unprecedented after all.
Château de Chillon in canton Vaud and Schloss Neuschwanstein in Bavaria are the most visited castles in Switzerland and Germany, respectively. Not only are they beautiful castles, but they can also bring history and politics to life for young and old alike. Both are open year round, so why not visit them this autumn?
Château de Chillon
Château de Chillon (Chillon Castle) is located on a rocky island in Lake Geneva. The location is strategic and was used by the Counts of Savoy (1150 – 1536) to house wealth and control passage between northern and southern Europe. Later the Bernese (1536-1798) held the castle as an administrative center. In 1803, the canton of Vaud took over the castle and maintains it today.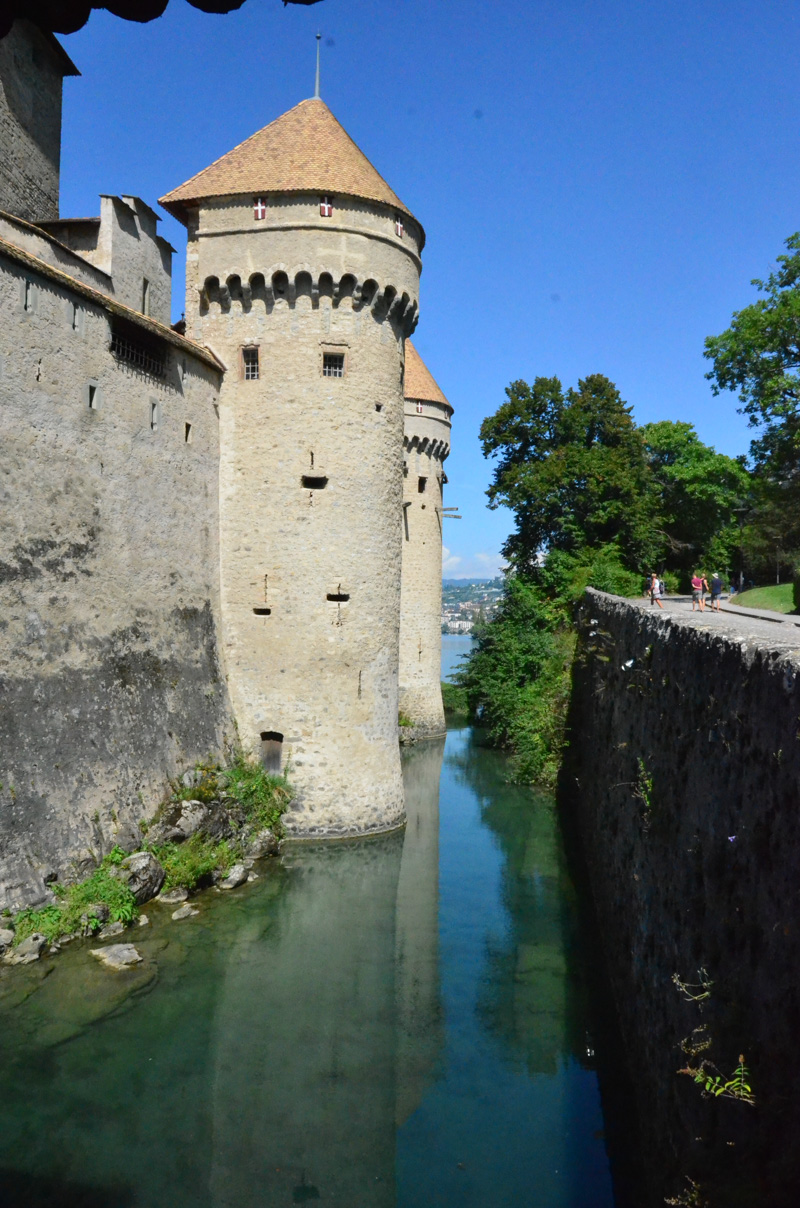 Used for weapon storage and as a prison over the centuries, the castle became famous because of the poem by Lord Byron, "The Prisoner of Chillon," about Fran￧ois Bonivard and his imprisonment. The castle is huge, with four courtyards and various buildings. You should plan an entire day at least for your visit. We toured the castle on our own with headphones (took us about three hours). There is abundant information in English as well. We truly enjoyed our hunt to find the dungeon and the column to which Bonivard was shackled in 1530. Wait until you hear about how Antione de Beaufort of Savoy, the officer in charge of the prison, fled the castle when it was overrun by the Bernese!
Young children will like to dress up in medieval costume, navigate a wooden boat model, and play medieval games while older children will love the many hands-on exhibits demonstrating the production of paper through the centuries, development of printing, and how the use of algebraic numeral systems revolutionized society, to name a few. Adults and teens will find the economic and political upheaval associated with the castle and its lords to be eerily familiar.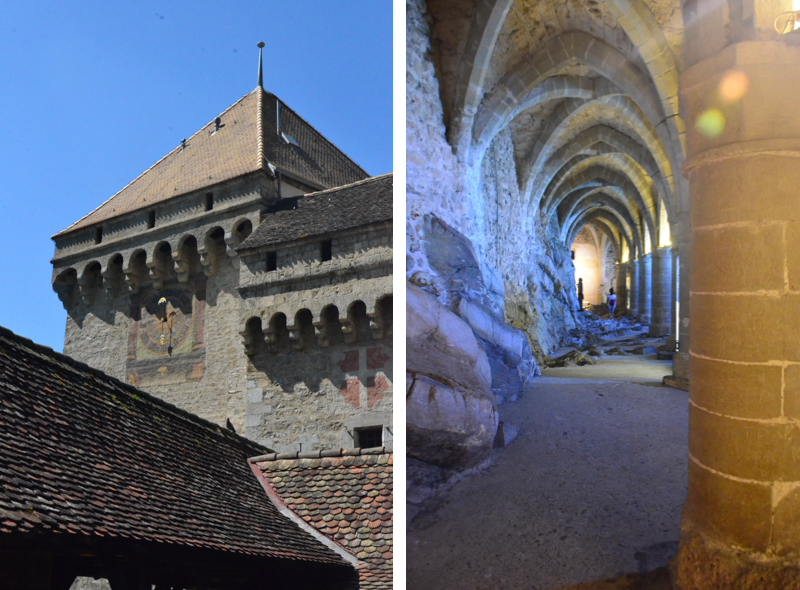 There are many activities to pursue, so check out the Chillon Castle museum website before you visit.
There is a good museum shop at the castle with books about Byron and his poetry and the political history of the various owners of the castle through the centuries. For children you can buy medieval swords, costumes, even armor. The chalet's surrounding lands even produce wine available for purchase.
Getting there: You can travel by car or train to the castle. The trip will take you two and a half hours by car or three hours by train depending on traffic, etc. If you plan to stay overnight you could stop in Gruyere (a lovely medieval village famous for its cheese) on your return trip home. Or spend time exploring the Lake Geneva region, with Montreux located nearby.
The political victim: François Bonivard
François Bonivard was a monk who was well versed in reformist writings and a Genevan patriot. This made him a political adversary of Charles III, Duke of Savoy and the Bishop of Geneva who were active removing liberties. So as a threat, he was held captive in Chillion's dark dungeons as the Savoy's grasp on power began to diminish. Fearful of betrayal at every corner the Savoy family unfairly imprisoned many political rivals. Does this sound familiar? In Byron's poem "The Prisoner of Chillon" lashed to a pillar in Chillon by civil authorities for his religious beliefs, a true hero.
Schloss Neuschwanstein
Schloss Neuschwanstein (Neuschwanstein Castle, or "New Swan-on-the-Rock" Castle), known to Disney connoisseurs as Cinderella's Castle, is a unique nineteenth-century Romanesque-style fortress located near Fuessen within the Bavarian Alps. King Ludwig II started construction of the castle in 1869; the construction continued for three decades, and yet the castle was never finished (see fact box). Nonetheless, the interior and exterior are breathtaking. I suggest you take a tour to get the full impact of opulence and style as well as the political and economic dynamics of the times. My children particularly relished the stories of political intrigue and mystery. In addition, my youngest boys were so impressed by the floor mosaics that they created their own geometric mosaics at home.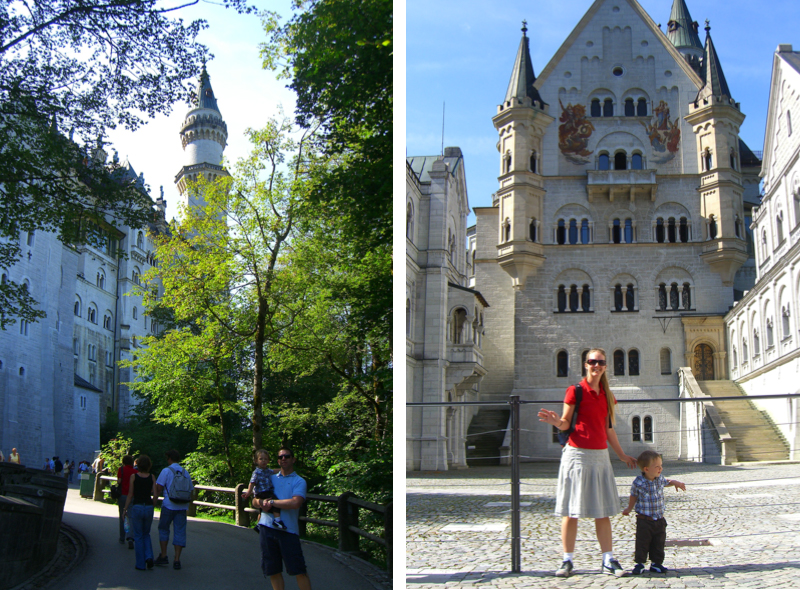 The hanging bridge Marienbrucke ("Maria's bridge"), located above the castle, is an impressive place to walk and take photos. From there you can view the steep P￶llat Gorge. While there you should also visit the Schloss Hohenschwangau ("High Swan-region castle") where Ludwig II grew up. The latter is a medieval knight's castle bought by Ludwig's parents. Nearby, the city of Hohenschwangau and the lovely Lake Alpsee are worth a visit. You can swim in summer and sled in winter. We have visited the region in late fall and summer and enjoyed both trips.
Getting there: You can easily visit by public transportation or car. Hohenschwangau is located 236 km from Zurich's main train station, requiring about two and a half hours to reach by car. I would suggest you stay for a weekend and enjoy some other local activities as well (hiking, for instance) or visiting other nearby sites; Legoland isn't far away in Gruenberg, Germany – about an hour and a half by car.
Fun board games:
A Crazy Leader: Ludwig II
The mad king Ludwig II, ruled Bavaria during tumultuous times from 1864 until his death (supposedly by drowning) in 1886. His reign was characterized by extravagance and debt. He used the royal coffers for his opulent castles and palaces while Bavaria suffered from the ever-increasing debt. When Ludwig decided to banish all his cabinet ministers for not agreeing to borrow more money from other European royal families they used constitutional means to depose him: he was declared insane! Three days later he was found together with his psychiatrist dead in a lake. Was it murder or an accident?
http://www.independent.co.uk/news/world/europe/murder-mystery-of-mad-king-ludwig-399742.html
Ticket information, opening hours and other details can be found in English on the Neuschwanstein Castle website.
Information for the Chillon Castle can be found here.
Photos and text by Dr. Teresa Bingham Mueller
Teresa is a geologist and educator who currently works as an instructor and science editor. She has three sons ages 18, 21, and 34, and two grandchildren.