The Taste of Happiness: Two Comforting Recipes
When I was asked to write a recipe for ​Family Matters Switzerland​, I thought about the food I was given when I was a child — the very same food I now call my comfort food. During these stressful times, I've needed my comfort foods to feel optimistic and to travel back to my childhood, when life was simpler. I was able to achieve this from my kitchen, so I didn't break the lockdown rules of "​Bleiben Sie zu Hause (stay home)​."
I am sharing two recipes. The first is a dessert my mom used to make and the second is a soup my granny made many, many times because it has an ingredient one can find all year round: garlic! Both recipes are easy to make, they don't take a lot of time, and kids can easily help.
Papanași (boiled)
A traditional Romanian dessert, pronounced "papanashi"
Serves 4
For the papanași:
250 g cow's milk cheese (my absolute favorite is Ludmila Laube Russischer Quark from Globus or Jelmoli, because this is the original taste and consistency) or unsalted cottage cheese or ricotta cheese
1 egg, lightly beaten
30 g semolina
30 g flour
pinch of salt
fresh lemon zest from half a lemon
1⁄4 tsp vanilla paste
For the golden brown breadcrumbs:
50 g butter
100 g breadcrumbs
1 Tbs brown sugar
Put the butter to melt in a large frying pan on medium heat. As soon as it starts to make small bubbles, sprinkle in the breadcrumbs. Keep stirring gently, and when it has a golden brown colour and a bit of a crunchy texture it is done. That should take about 6 to 8 minutes.
Let it cool down, not too far away from the hob. After about five minutes, sprinkle in the sugar and stir a few times to combine. Fill a large pot (a five-litre pot should work just fine) halfway with water. Add a pinch of salt to it. Put the pot on the hob on medium-high heat.
Meanwhile, in a bowl, mix the cheese, the lightly beaten egg, the semolina, the flour, the lemon zest, the vanilla paste, and the salt with a fork. Yes, a fork; no fancy, powerful kitchen mixer is needed for this job. Mix everything nicely until you have a homogeneous mixture. Dust a large platter lightly with flour.
Take small portions from the mixture with a teaspoon. With your hands lightly floured, make little balls and place them on the platter, next to each other. By this time the water should be boiling.
Drop the papanași one by one into the boiling water, carefully passing under each one with a slotted spoon so they won't stick to the bottom of the pot. When the water starts to boil again, set the heat on low and put the lid on. Let simmer for 8 to 10 minutes. Remove from the heat and let them sit for 10 more minutes. Keep the lid on. When the time is up, remove them with the slotted spoon, let them drain, and put them into the pan and to be coated by the crunchy breadcrumbs.
That's it! You can eat them immediately, or you can enjoy them cold, with or without sour cherry preserves.
Granny's Garlic Soup, or ​Zamă de Ai 
Serves 2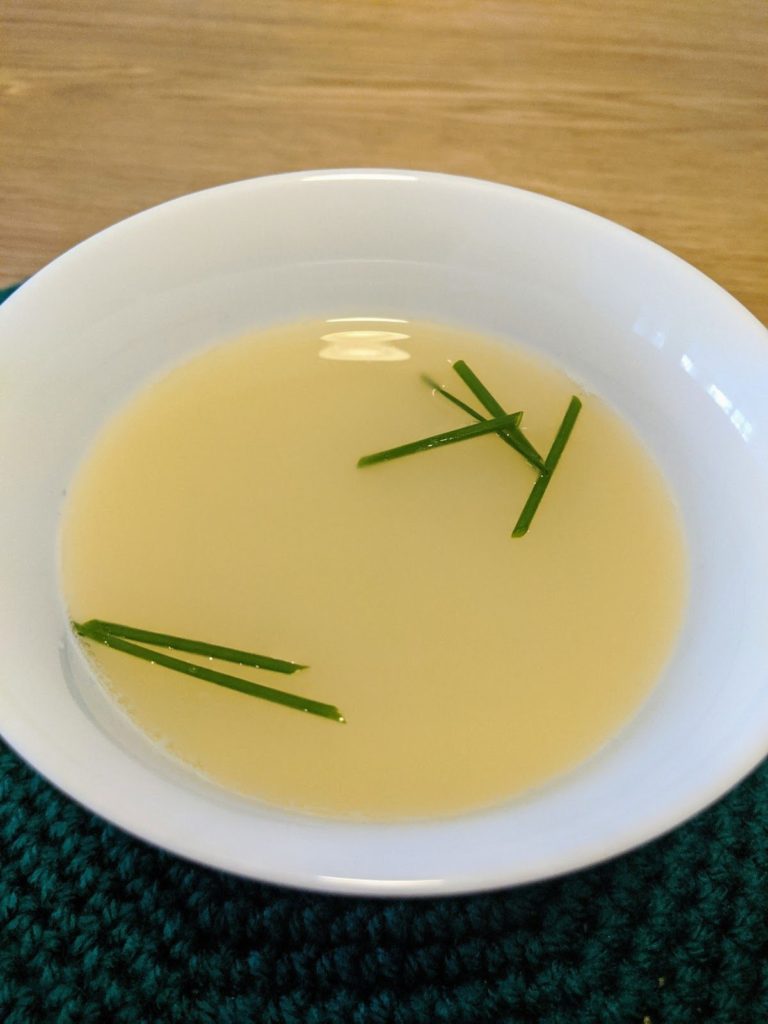 Ingredients:
1 litre water
1⁄2 tsp salt
5 crushed garlic cloves
1 small bay leaf
1 small thyme spring
1 egg yolk
pepper
2 slices of homemade bread
Bring the water to boil. Add the salt and the crushed garlic cloves. Boil for about 10 minutes, then add a small spring thyme and the bay leaf. Remove from the heat and leave to infuse for several minutes. Remove the herbs.
Now the fun begins! With a whisk, blend the egg yolk with a little of the cooled soup, and then stir it back into the soup to thicken it. The fun continues if the egg does not curdle and the soup looks velvety. Use as much pepper as you like and enjoy the soup with the best bread you can make or buy. My granny used to put one slice of bread in the bowl and pour the soup in and eat it. I hated that. I still do! I only eat the bread alongside the soup, nice and crusty.
Many years later, I was reading the ​Larousse Gastronomique,​ and there it was: my granny's garlic soup! Who knew that if you add one sprig of sage and a sixth garlic clove you get the famous ​Aïgo boulido​ from Provence?
Every time I make these special recipes, I think of my mother and my grandmother and I feel them watching over me; I feel happy. Food is not just food: it is a bond between generations. I hope you enjoy cooking and making memories with your family.
Recipes and photos by Carmen Scortaru
Carmen is an avid reader, a devoted volunteer, a passionate traveller (especially to places with castles, chocolatiers and good food), a keen researcher of history and traditions of Europe, (especially of Switzerland), and an enthusiastic cook. And she writes about it all, because she has "acute writing syndrome."