The More (Languages), the Merrier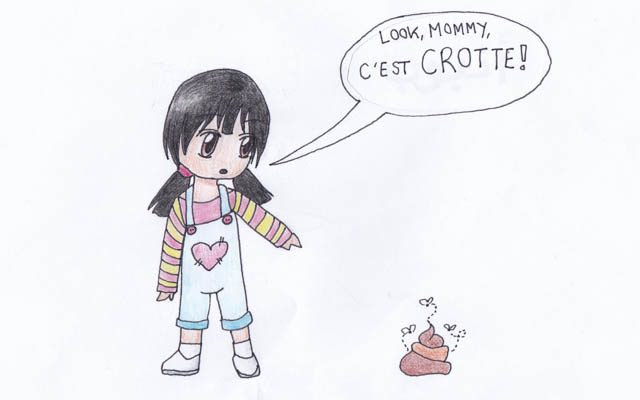 There is no doubt that growing up bilingual has many benefits for children. Knowing other languages is an asset, especially in the job market. They are also exposed to other cultures, which broadens one's horizons. The good points of growing up bilingual or even multilingual are not limited to the children, though. There are definitely benefits for the parents as well – especially for parents of toddlers, who have no idea of what should be said in public and what should not.
The number of times I have found myself thanking my lucky stars that most people in Zurich do not understand Arabic are endless. I remember when the girls first learned to differentiate between men and women. We were travelling, and our seats were in almost the last row on the plane. We went through the entire aisle with Giggles and Cuddles pointing at people and saying, "That's a man," or "That's a woman." But in some cases they couldn't quite make up their minds, so they'd look at me very puzzled and ask: "Mummyyyy…is this a man?"
Another time we were in the park when I heard Giggles shouting, "Mummy, Mummy, look – they're kissing on the mouth! Eeeeww! They'll get a bug. We should never kiss on the mouth. Only on the cheek." Like all toddlers, they went through a phase of wanting to kiss everyone on the mouth, and I had tried to explain that it was not very hygienic, and that it was better to kiss on the cheek.
One of our neighbors is quite eccentric, and one day as we were getting out of the car I heard a shocked voice say, "Mummy, look, she's naked!" I turned to see our neighbor in her bikini, saying she had forgotten something in the car and was just coming out quickly to fetch it. It is challenging to explain to a toddler that the neighbor was not naked, but rather prefers to iron in her bikini because it can get really hot while ironing.
My husband's ex-boss in London was in Zurich for work recently, and my husband offered that he could stay with us. I explained to the girls before he came that John, Daddy's friend, was coming to stay with us. As we all sat down to dinner, the questions in Arabic started, "Is John Daddy's girlfriend?" "Daddy, are you going to sleep with John?" "You're not? So are you going to sleep with Mummy?"
Unfortunately, one is not always so lucky. We invited one of my husband's work colleagues one day for dinner on the weekend, and it was my first time meeting her. As we were getting ready, I explained to the girls that Nadia was coming over and that we have to be nice to her and well behaved. As Nadia speaks Arabic, she quickly connected with the girls, and the visit went really well. The girls made lots of drawings for Nadia and showed her their dolls and their favorite toys. We had a very pleasant evening until Nadia asked to use the bathroom before leaving. As soon as she walked out, Cuddles asked at the top of her voice: "Mummy, did she just pee?" Nadia was sweet enough and forced a smile as I apologized and tried to explain that we were potty training and that this was our hot topic at the moment.
As children grow older, they will always show resistance to speaking their parents' mother tongue as they try hard to fit in and be part of the community and country where they live. But if you think it's easier to just speak the local language and to give up when your children refuse to speak your language, think twice. Stick with your mother tongue: if anything, it may act as a "secret language" to save you a few embarrassing moments.
By Didi in Zurich
Didi is an Egyptian mother of twin girls living in Zurich. Before having the twins she worked in the field of economic development. She is currently a stay-at-home mom focused on the growth and development of her daughters.
Illustration by Lara Friedrich
Lara has been a freelance illustrator for Mothering Matters since early 2013 .She is in her second year of University where she's currently working as an assistant in a research project in pedagogy. Lara is also an assistant translator from German to English for various fiction books, as well as being a demo singer for the songwriter Kate Northrop.