The Bees and The Cows: Spiced Honey and Fresh Ricotta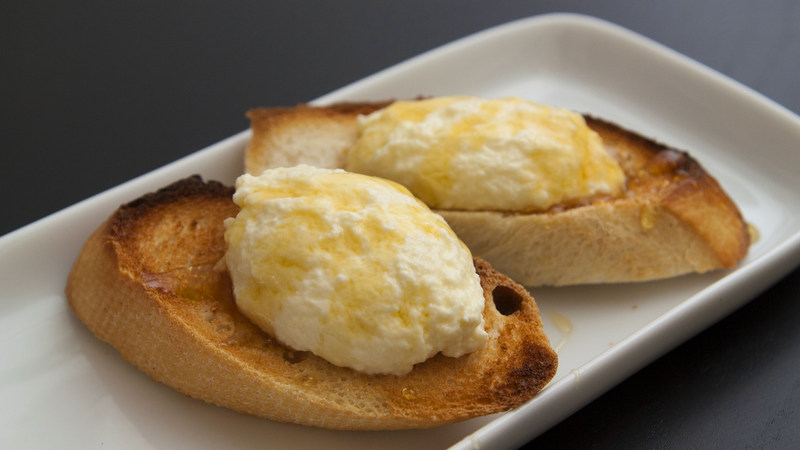 Spiced Honey and Fresh Ricotta: A Match Made in Heaven,
or How to Save the World and Impress Your Friends Without Really Trying
The Bees
Perhaps you've heard that bee colonies are collapsing at an alarming rate and sooner or later we're going to have to hand-pollinate all our crops and then the world is going to end. Oy vey! I am worried, but instead of wallowing in hopelessness, I try to focus on the little things I can do. in this case, support local beekeepers by buying their honey. Yes, it's more expensive, but here are a few of the benefits.
The exact causes of the bee colony collapse disorder are not clear; however, many experts suggest that pesticides play a significant role in this problem. Not every local honey producer employs organic (Bio) production, but buying local means you have a chance to meet the farmers in person and quiz them.
Also, many beekeepers are mobilizing against pesticides that are killing bees. Last December, the E.U. began a two-year ban on selected pesticides that are thought to be harmful to bees. By buying local honey, you are voting with your money.
When buying local honey, you can also have more confidence that what you're buying is actually honey and that it comes from where it says it does. Most store honeys are blends of honeys from various sources/countries with varying regulations. Just look at the vague labels on most honeys at Coop and Migros, with sources often labeled as "North and South America" or "Europe," even for some honeys that are promoted as "Schweizer Hönig" or "Miel de Provence". Some imported honeys have been diluted with corn syrup or sugar water but are not labeled as such. In the recent honey-laundering scandal, investigators found that China was smuggling contaminated honey to the U.S. through other countries using mislabeled containers.
Honey is considered by many to be an immune-system booster, although some studies have disproved this claim. Honey contains bits of pollen, so consuming honey made by bees from your local area supposedly prevents allergic reaction to the pollens. However, the majority of store honeys are highly filtered and contain little to no pollen, and they are certainly not from your local area.
In Switzerland, it's easy to find local honey. Many vendors at the weekly farmers' markets sell their own honey. But be sure to ask where the honey comes from, since some sell honey not from their own production. Many small groceries and cheese shops also sell honey from local producers. Of course, you can also buy from the farms directly so more money goes directly to the beekeepers and not to the middlemen.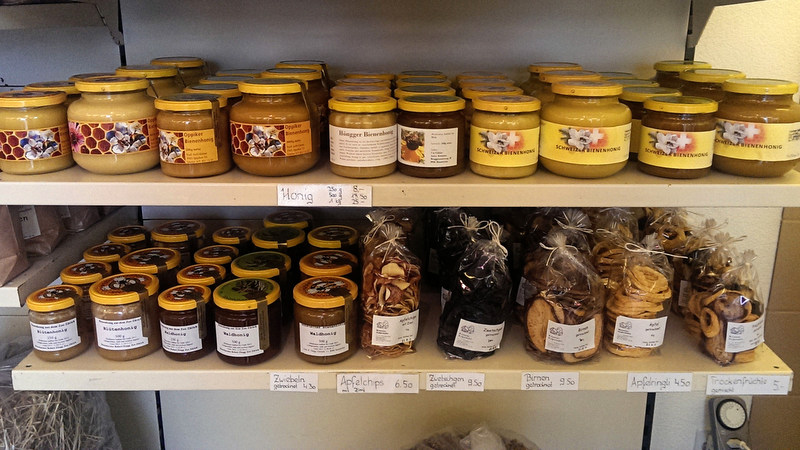 I'd usually say that honey is one of the few things that shouldn't be enhanced. It's lovely just as it is, and it's fun to taste the differences in honeys from different producers. But spiced honey is a popular trend right now and has won me over. See below for an easy recipe.
Note: please remember that children under one year old should not consume honey, as it can cause infant botulism, a rare but fatal disease.
Spiced Honey Recipe
Adapted from So, How's It Taste.
500 g honey
2 slices of lemon
8 whole cloves
2 cinnamon sticks
In a large saucepan combine the honey, lemons, cloves, and cinnamon sticks. Bring to a gentle boil over medium-high heat. Let boil for 2 minutes. Watch carefully that it doesn't boil over.
Pour into glass jar. Store it in the fridge to be eaten within 3 weeks. You can also process these jars as you would jam. See the original recipe for canning instructions.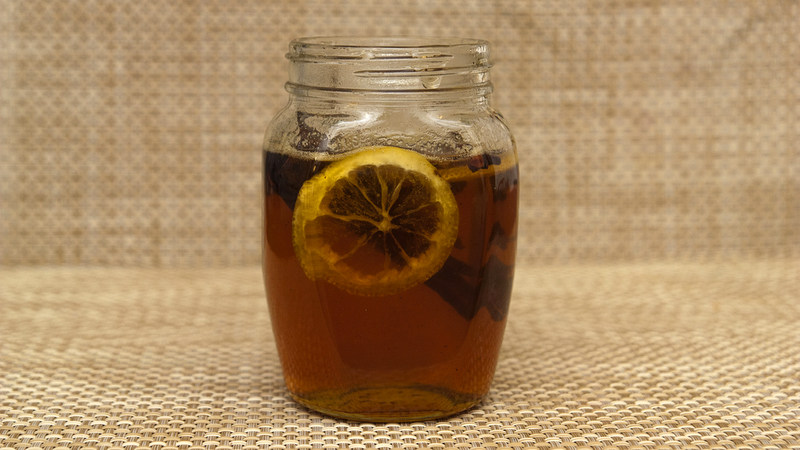 The Cows
Now that you have saved the planet with your perfect local honey, what's next?
A few weeks ago, a friend of mine showed up with an enormous jar of homemade ricotta, and my mouth gaped open: "You made that?!?" Then she pulled out truffle honey and a fresh baguette and a couple minutes later, we had a plate full of beautiful bruschetta, so delicious and the essence of simplicity, my favorite combination.
I headed straight home to make my own batch of ricotta and was delighted to find it was perhaps the simplest "homesteading made-from-scratch" thing I've ever made. You simply heat the milk, add lemon, wait five minutes, and then strain. Done.
I've read that using non-homogenized milk is preferable because it can more easily form curds. I made an extra trip to a local farm to get some and I must say that this milk did make for a better texture, though it's not absolutely necessary. A couple of recipes I read suggested using a bit of cream, which makes for a smoother texture. I agree.
So whip yourself up a batch, smear it onto bread, drizzle it with your world-saving honey and collect the accolades of your friends.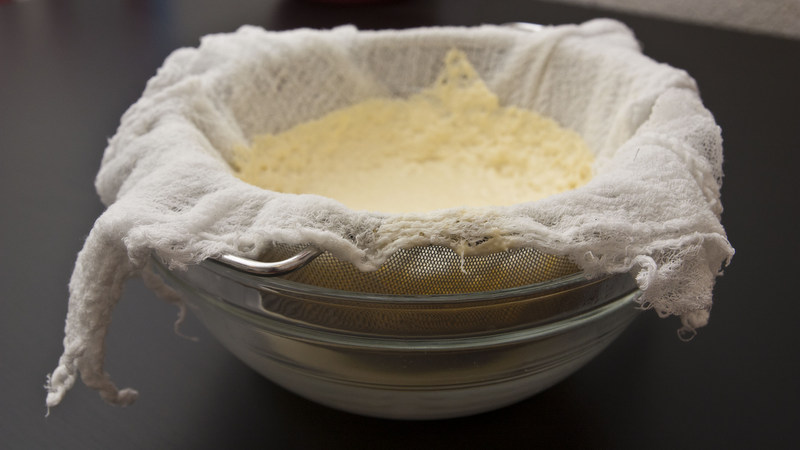 Homemade Ricotta
Adapted from Smitten Kitchen
1 liter of milk, preferably non-homogenized
100 ml cream
¼ to ½ tsp. salt
3 Tbs. freshly squeezed lemon juice
In a medium saucepan, heat the milk, cream and salt to 88ºC (190ºF).
Remove from heat and gently stir in lemon juice. Let sit undisturbed for five minutes while curds form.
Meanwhile, line a sieve with a few layers of cheesecloth and set over a bowl. Pour the curdled milk into the sieve. Let it drain for one to two hours to desired consistency. You may need to drain the bowl a few times so that the curd is actually draining and not sitting in the whey.
Eat immediately or store in fridge and consume within three to four days.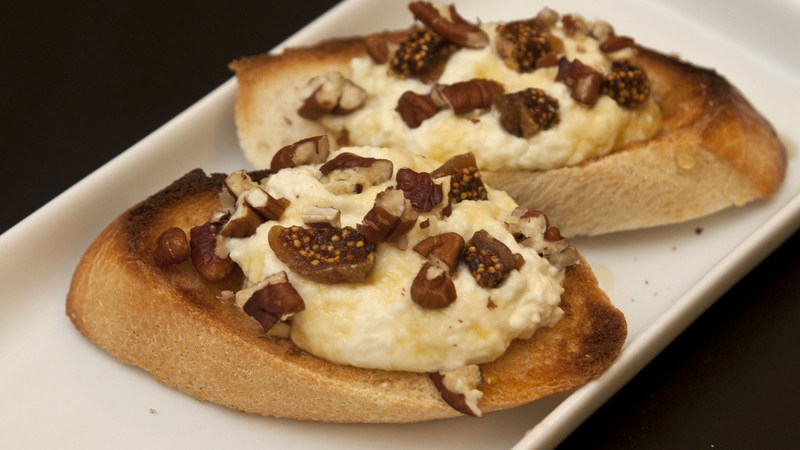 Although just honey and ricotta together are perfectly wonderful, you can add fruit and nuts for a little variety. Here I added dried figs and roasted walnuts.
Text and photos by Tanya Deans
Tanya loves to experiment in the kitchen but hates the mess. Originally from San Francisco, she has made Zurich her home for the past 8 years. She writes the blog Moms: Tots: Zurich, which details family-friendly activities in and around Zurich, particularly hikes and outdoor adventures.