A lake is the landscape's most beautiful and expressive feature. It is earth's eye; looking into which the beholder measures the depth of his own nature. – Henry David Thoreau
Switzerland is a land with a multitude of lakes; each canton has its gems. I have compiled a list of a few of my favorite swimming lakes, and I urge our readers to add to it. I have included some of the larger lakes as well as some little charmers and insider tips. So grab your kids and a picnic lunch and head out to one of "earth's eyes"! Note: the German word Strandbad, used numerous times in this article, means a public bathing beach.
Canton Aargau: Hallwilersee
Although I often swim in the free areas of the lake, if you have small children you might want such amenities as toilets, parking and a restaurant. The Strandbad Tennwil is one of the most visited beaches of the swimming lakes in Aargau. It features a large swimming area, restaurant, volleyball and ping-pong tables, diving boards, grill area with firewood, and boat rentals. The park has enough room for you to secure a special spot under a shady tree. After a few hours at the beach, you could visit nearby Hallwyl Castle, which is a beautiful moated structure offering tours, a small shop and a restaurant.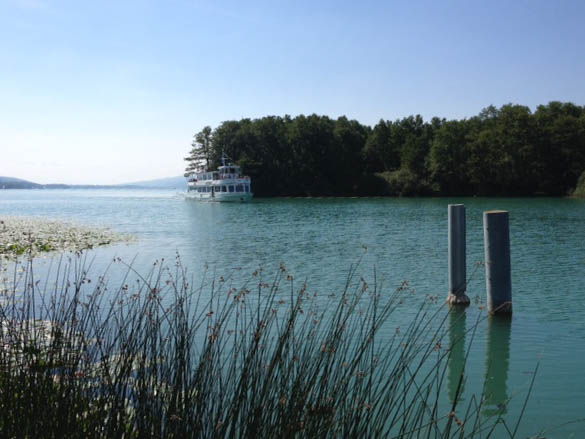 Canton Bern: Lake of Brienz in Oberried, near the town of Brienz
When my children were babies, we didn't go far away on our summer holidays. We rented a holiday apartment and found a little piece of heaven on the lake in Oberried, Canton Bern. The Lake of Brienz is one of the cleanest lakes in Switzerland. The water is an astounding blue, and a dive into this lake is a refreshing plunge on a hot summer's day. Oberried is off of the main road and there are a few little grassy beaches, a playground and a lovely little planet-themed hiking path, as well as a passenger ship dock that connects the village with others along the lake. Visit the grand Hotel Giessbach across the lake and the waterfall a short hike away. Also of interest is the town of Brienz, famed for its woodcarving school and exhibits as well as the Rothorn Bahn, a cogwheel railway that brings you up the mountain for a gorgeous view of Lake Brienz. Not far away is Ballenberg, the Swiss open-air museum.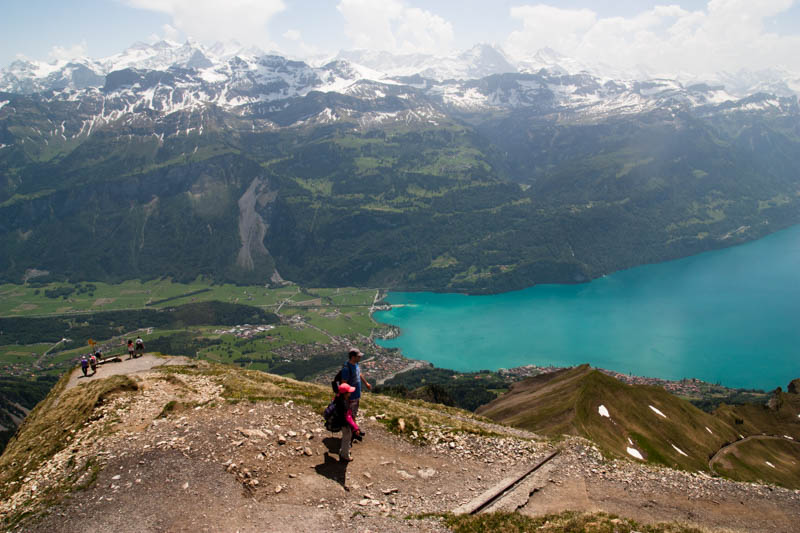 Canton Glarus: Strandbad Walenstadt on the Walensee
Although there are some secret spots along this lake where I like to stop en route to distant southern points, a visit to the Strandbad in Walenstadt offers amazing views of the almost indescribable pristine, blue waters of the fjord-like Lake Walen. The park boasts a grassy, shaded picnic area, playground, restaurant and three-meter-high diving board. One can board a lake ship here and spend a lazy day touring the lake or stop off on the other side to visit car-free villages and vineyards. Other beaches in nearby Murg offer camping options, boat and kayak rentals.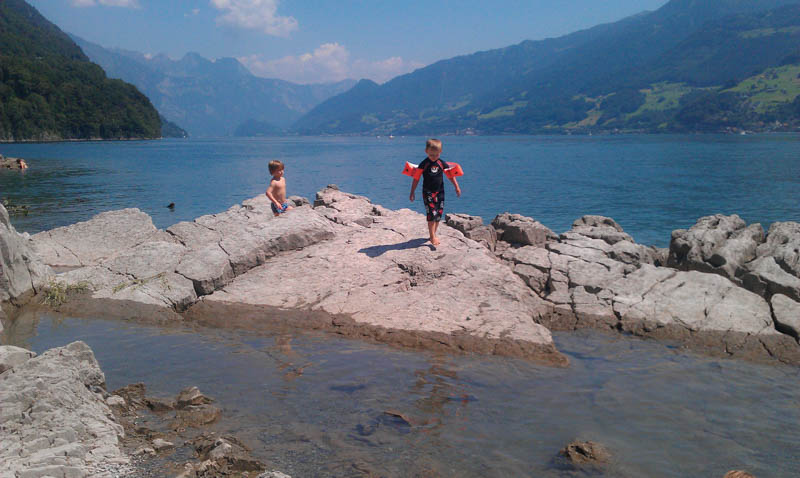 Canton Graubünden: Caumasee near Laax
This lake is awe-inspiring. The turquoise water is otherworldly, and the sandy beaches might make you feel as if you were somewhere other than in the middle of a dense forest in the Alps near Flims-Laax. The water is quite warm compared to other mountain lakes, due to the influence of hot springs. Although the entrance fee in summer is a bit pricy, it's worth it, if only to sit and marvel at the fantastic  beauty. However, you should make a day of it and rent a pedalo/paddle boat, sample local specialties in the lakeside restaurant, swim over to the island, and jump off the rocks or three-meter diving board into the invigorating waters. This lake is about a 20-minute hike from various parking areas, but one can also reach the lake using a free lift.
While in the area, hike over to the Crestasee and Laaxersee, both within hiking distance. Views of the "Swiss Grand Canyon," or Ruinaulta, are not far away, and can be observed from the Il Spir lookout in nearby Conn, above the Rhine Gorge. It's about as good as it gets for eye candy and geology lessons. Check out the special offers with the Swiss post bus. There's just so much to see in this area, you might want to make a weekend (or more) out of it!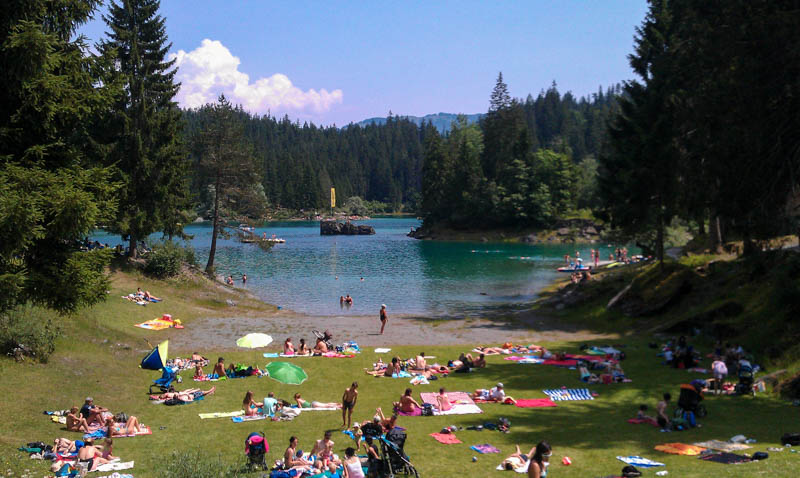 Canton Luzern: Lido on Lake Luzern
This is not a small endeavor; the Lido offers both a heated outdoor pool for days when it might still be a bit cool as well as a terrific park with sandy beach and swimming area on the amazing lake. There is a large playground (one of the biggest in central Switzerland), beach volleyball facilities, diving boards up to 6.3 meters (no belly flops, please!), a restaurant, fabulous views, stand-up paddleboard rentals, football fields, badminton, and table tennis. It's not far from the Verkehrshaus (Transport Museum), and might make a great wind-down spot for you and your family after a visit to that informative museum in the city of Luzern.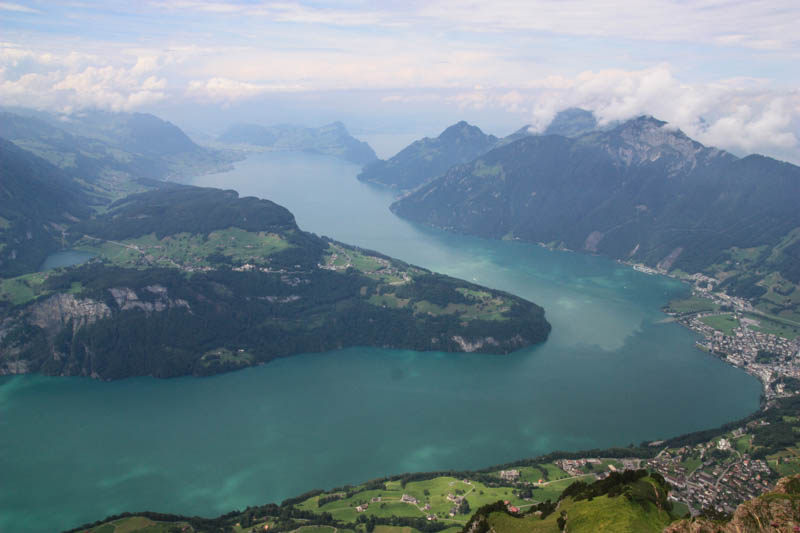 Canton Ticino: Lake Maggiore: Lido Ascona
The beach at the Lido Ascona has recently received an award for being one of the top family destinations in Switzerland. Not only can one commune with hundred-year-old shade trees, soft, sandy beaches, an amazing view of the stunning mountains, a 40,000m2 park, and all of the amenities one could expect at a top-rated resort are also on hand. In addition, there are tons of activities planned for kids that offer parents a little break on a warm summer's day. Waterslides, wakeboarding, paddleboards, a "banana boat," windsurfing, good eats, and nightlife provide something for young children to teens and adults as well. Paid entrance to the park includes free entry to the neighboring Strandbad Bagno Publicco too. The town of Ascona is a popular tourist destination with a lovely promenade, good restaurants and hotels and a busy list of events for all ages. Ascona has been called the "Pearl of Lake Maggiore" because of its history as a center of art and culture.
Canton Thurgau: Lake Constance (Bodensee) in Ermatingen, Switzerland and Überlingen and Unteruhldingen, Germany
I am including this lake-beach park in Ermatingen as a stopover before arriving at my favorite beach on Lake Constance, which is just a short ferry trip across into Germany. You will find all of the amenities you need here for a beautiful day at the beach in Switzerland with your family. Another good thing about this park is that it's on a fantastic biking trail that runs all the way from Constance/Kreuzlingen to Stein am Rhein.
Überlingen, Germany, on Lake Constance
A short ferry ride from Konstanz, Germany to the German towns on the other side of the lake will bring you to one of my all-time favorite lake getaways within a few hours of Zurich: Überlingen, Germany. Bring your bikes and explore the area! You will find a number of great family beaches offering shady, grassy picnic spots, boat rentals, grill areas, playgrounds, and restaurants.
Perhaps my favorite is the Strandbad West (West Beach), where you can enjoy the views and amenities or choose to visit the luxurious thermal baths, which face the lake. Pure bliss! Plenty of accommodation is available in historic Überlingen, from five-star hotels to private rooms, economically priced. Shopping and eateries can be found around the lively lake promenade, and there are bike trails, ship rides and museums galore. If you are interested in the ancient lake dwellers and their way of life, you can visit the Pfahlbau Museum in nearby Unteruhldingen, Germany. My family and I loved inspecting the stilt houses rebuilt on the actual spot where prehistoric lake dwellers once resided over 5,000 years ago and taking part in the activities held onsite.
Canton Vaud: Lake Geneva: Plage Chateau de Chillon, Montreux
While this beach is small compared to many on the Lake of Geneva, it offers a clear view of the stately Chateau de Chillon. Why not relax after a tour of the castle? A stunning mountain landscape, crystal clear water, proximity to a ship dock to explore Europe's largest lake and the stunning town of Montreux, famous for the world famous summer jazz festival are just a few of the reasons to visit this little secret hideaway. Toilets, a shower and grill area await you.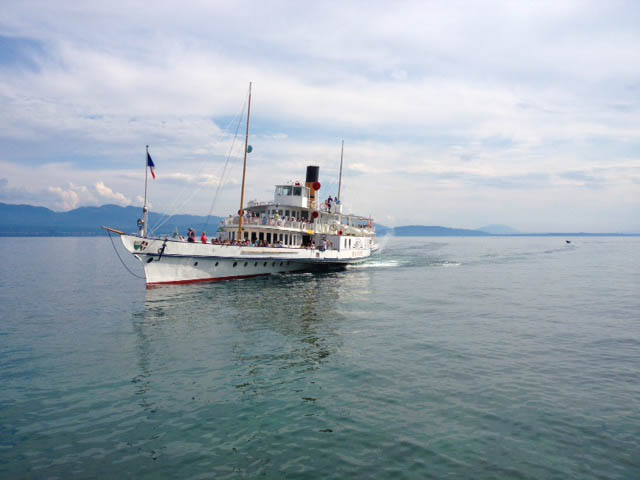 Canton Zurich: Beaches around the Zürichsee
Most of inhabitants around the Zürichsee, or Lake Zurich, have their own favorite places along the lake, depending on where they live and how much effort they wish to put into the journey for a swim. Two Zurich Strandbäder that are frequented by people in or near the city are Mythenquai and Badi Tiefenbrunnen. For a longer list of beaches all around the lake, check out this site, which reports prices, water temperatures and amenities.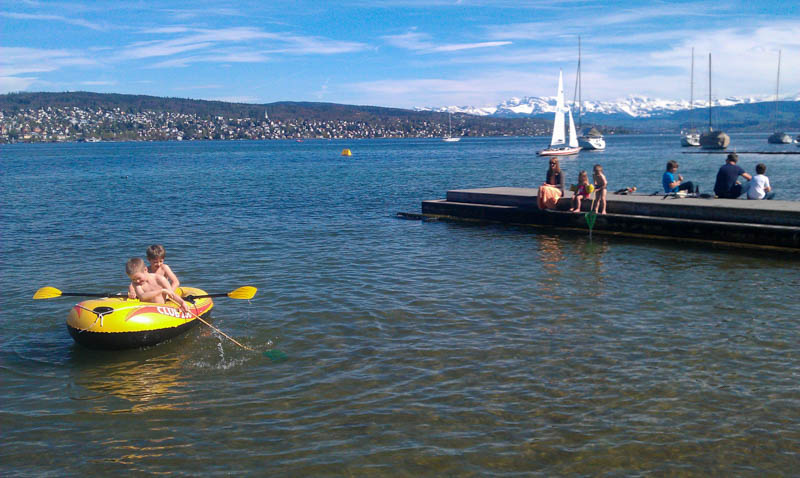 Hüttnersee, Samstagern
A bit further away but still in the canton of Zurich is the very tranquil and refreshing Hüttnersee in Samstagern. I love the views of the Voralpen, or Swiss Prealps, and although you are not far from the city, it's a different world. The area is a nature reserve and a paradise for kids, and there is a small playground, slides, wading pool, restaurant, and sun umbrella rental.
Canton Zug: Strandbad on Ägerisee, Oberägeri
A very charming little lake, in comparison to Lake Zurich, this pristine secret lies not far from the cities of Zug and Zurich, but in a quiet, green valley surrounded by hiking and biking trails. I find the crystal-clear waters so peaceful. It is hard to imagine that the first battle between the Hapsburgs and the locals was fought in nearby Morgarten on this lake. Not far from the information plaque describing the battle, you will find this idyllic swimming beach just perfect for a day away with the kids. In the shady park various diving boards, children's pools, table tennis, billiards, a lovely third generation family-run restaurant and grassy beach can be enjoyed.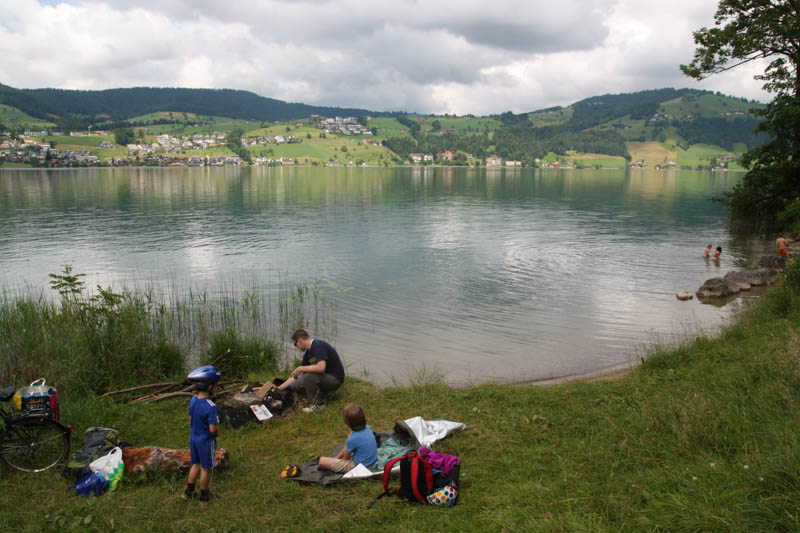 This list is a work in progress, and we hope that our readers will let us in on their favorite lake getaways. Please feel free to add to our list!
Text and photos by Mary Bider
Mary is a mother of three grown children. She has lived in Switzerland for 20 years but is heading home to her native U.S. She will miss her Swiss lakes and mountains, her family and friends, but she plans to make regular visits.
Additional photos by Tanya Deans
Tanya is a mother of two boys and has lived in Switzerland almost a decade. She writes the blog Moms:Tots:Zurich, which focuses on hiking with kids in Switzerland and other family-friendly activities in and around Zurich.