A Family Weekend in Bellagio on Lake Como, Italy
"What would you like to do when we arrive?" I asked our children (ages three and one) on our way to Italy.
"Let's go on adventures like The Octonauts do," said the eldest one. "The Octonauts" is his favorite cartoon, featuring the undersea adventures of a polar bear, a penguin, a cat, and a rabbit.
"Octonauts Family – let's do it!" we all said. We visited a little bit of Como, and then headed for the pearl of Lake Como, Bellagio. We ate good food and were amazed by architectures and parks.
We chose Italy because of its (hopefully) sunny weather and its reputation as a family-friendly and welcoming place. It's close to Switzerland, too.
Bellagio is a small municipality located upon the promontory of the landmass that divides Lake Como in two, and is about an hour's drive from Como. It is possible to reach Bellagio by using public transportation, too. There is a direct train from Zurich to Milan and regular connections from Milan to Como. From Como there is a slow boat, taking about two hours, to Bellagio. Alternatively, there's a bus service leaving from the Como train station.
Since the kids were tired after the long drive, we stopped for a break in Como. We were all hungry and decided to enjoy a proper Italian pizza, which has to be cooked in a wood oven (forno a legna). To digest the meal, we took a walk along the lake, following Lungo Lario Trieste, passing by the harbor and Piazza Matteotti. If we'd had more time to stay in Como, we would have visited the Duomo (cathedral) and walked through the streets of the old part of town. We could have jumped on the Como-Brunate funicular, which takes you high atop the mountain behind Como and offers an amazing view over the lake; and taken a peek into the many local boutiques. We did, however, manage to spend some time wandering around the bancarelle (stands) of the local market, which takes place every Saturday morning. There one can buy all sorts of things, from clothes to kitchen utensils, cheap toys for children, and washing towels. It is typically Italian.
In Bellagio we stayed at the spacious and welcoming Appartamenti Villa Giulia. It wasn't in the center of the town but rather about 20 minutes' walk away. However, it had the advantage of free parking. In Bellagio town only residents are allowed to drive through between 8:00 and 18:00, and just outside the center there are only pay parking options.
Mysterious alleys and cobbled staircases punctuate the center of Bellagio. Our kids had lots of fun running up and down each of these alleys; my husband and I enjoyed instead the numerous boutiques, bars and wine cellars.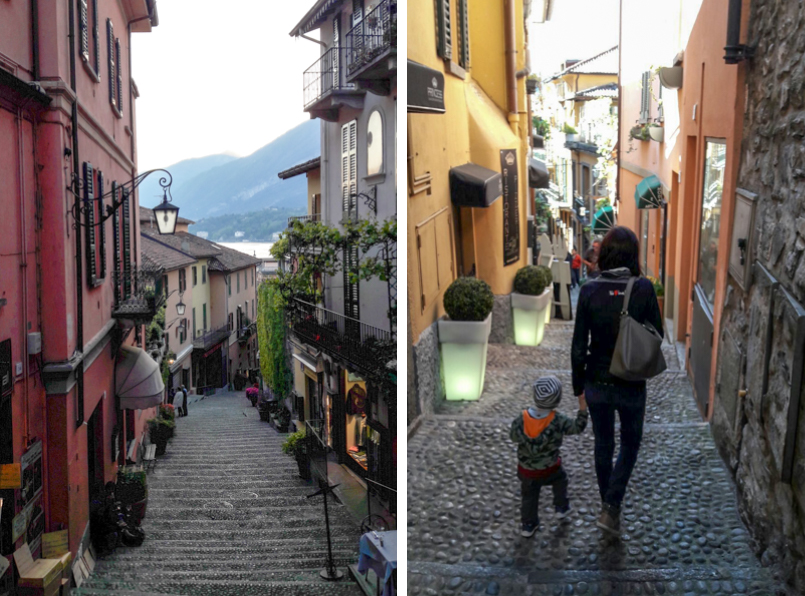 Eventually, walking down any of the numerous staircases, one reaches the harbor. We wanted to take a ferry to Cadenabbia and, from there, walk towards Tremezzo to visit Villa Carlotta and its garden (the ticket price per adult is €10). But the wind was too strong, even according to my husband's British standards. Ferries were still crossing the lake, but there was no chance that I, an Italian, would have taken one. Instead we had a snack at the Gastronomia Mini Market Antichi Sapori, which offered a wide selection of Italian salumi* (cured meat), cheese and good (local) wine, like Pinot Bianco.
The second day of the weekend we further explored the lake towards Loppia to end up at the famous Melzi Villa (€6.50 per adult). There was no wind and the sun was shining over the Villa's lovely botanical gardens and variety of bushes, which soon became perfect hiding places for the kids. The gardens of the Villa include many Egyptian sculptures and Roman statues, a few grottos and a very romantic Japanese pond. The Ristorante Darsene di Loppia just outside the Villa's entrance at Loppia is very nice, elegant yet expensive (in my opinion, a reasonable price for a first course meal should be around €12).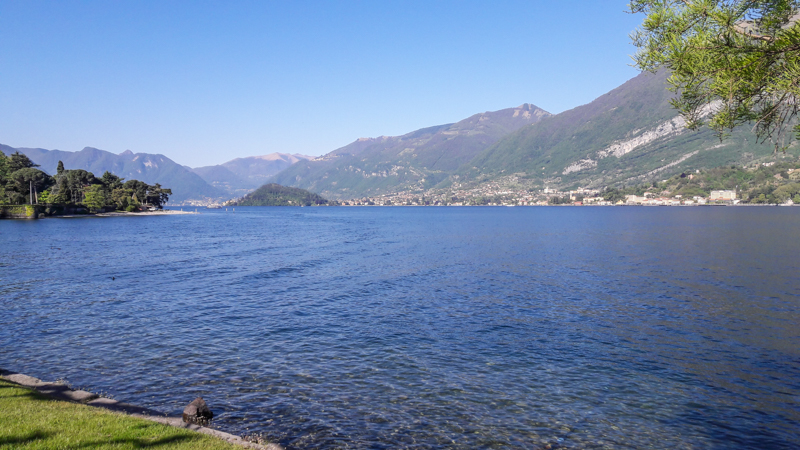 On the way back from the Villa to the center of Bellagio we took a motorised tourist train for a lovely panoramic tour of the lake and private historical villas around Bellagio (€5 per adult). The journey may take 25 to 40 minutes according to the traffic! That evening we had dinner on Italian time, after 20:00, at La Fontana Restaurant (which also offers gluten-free dishes). The frittura di pesce di lago was delicious, the staff extremely friendly, and the meal wasn't expensive.
The next day it was time to head back to Zurich. "We spent a lovely time together, didn't we, Octonauts Family?" Yes, we did. And personally, I am pleased that we did it in Italy.
Story and photos by Valeria Camia.
Valeria Camia lives on Lake Zurich with her two children and husband. She is very interested in the upbringing of bilingual children. Valeria writes about society and parenting for online magazines and narrates the adventures of her bilingual family in her personal blog. Follow her on Twitter.
* Typical salumi from Lake Como are salame di testa (salami made with cuts of pork head) and mortadella di fegato (luncheon meat of pig's liver and lean meat) and local salami.