Cool Things to do in Winter in the Geneva Region
Jessie is 11 years old and has contributed these fun suggestions for kids and adults.
I have been living in Switzerland for eight years now and am well accustomed to the boredom that can accompany the winter months here. If only I'd had some kind person to guide me when I first moved here, I could've avoided watching the same DVDs over and over all winter!
Nyon Ice Rink
One of the things that I would definitely recommend for slightly warmer winter days is the little ice rink in Nyon. It's a great place for kids to go with friends and there are nearby coffee shops to warm up in afterwards. It's an open rink, with views of the lake, and it's small enough for young children to skate safely, along with the teens and adults.
More information, and a map, can be found at the Nyon ice rink website.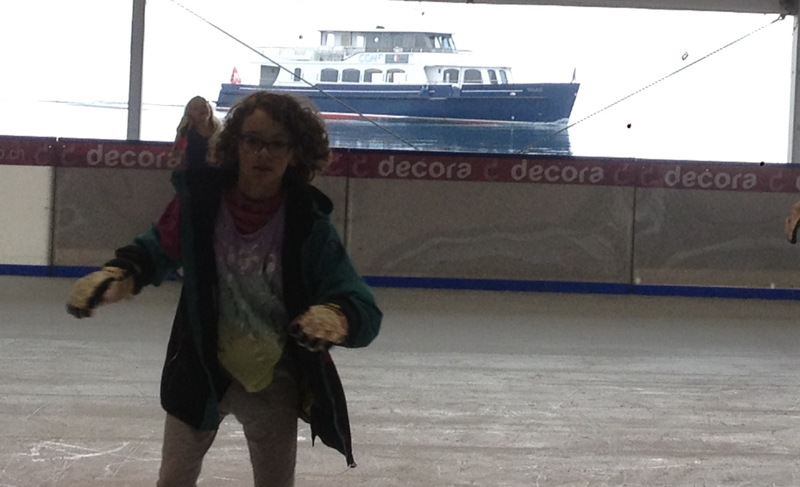 La Trélasse
Another thing, if you are further interested in sliding around on icy surfaces, is La Trélasse, just past St Cergue. Their extremely small ski station is a good place to take younger children who are new to the joys of hurtling down an icy mountain on a pair of planks, as the slopes are more for absolute beginners. There are also lots of great sledding slopes in the area, and I can recommend the tubing – which is hurtling down an icy mountain in something that looks like an oversized car tire (I seem to be quite fond of hurtling down icy mountains at speed).
Christmas markets
If you are looking for a slightly calmer, and safer, pastime, you could visit one of the Christmas markets. My favourites are the Morges Market and the Montreux Market.
The Morges Market is an indoor market that will appeal to the craft lovers of Vaud. I love its quirky stalls, and I've found lots of handmade ornaments and decorations there.
The Montreux Market is bigger, beautiful, charming and open air, with many stalls (including my favourite sweet stall selling oversized lollipops) and breathtaking views from the top of the Ferris wheel.
Swimming pools
If missioning around in freezing weather isn't your thing, you could also try any of the indoor swimming pools in the La Cote area – and there are plenty. Although not exactly warm, it is fun to swim in winter, and most have separate swimming pools for kids and diving boards for teens who might want to show off.
Restaurant
If you are looking for a cute little restaurant you could try La Barrilette. I love the view of the lake and Alps from the top of the Jura, and their fondue is amazing.
To conclude, I hope that this article has been in some way useful to you and that I have helped to end that dreadful feeling of bad-weather boredom.
By Jessie Mitchell
Jessie is an MYP1 student at La Côte International School in Aubonne. She loves books and music and is an aspiring singer/songwriter.
Photos by Robyn Goss