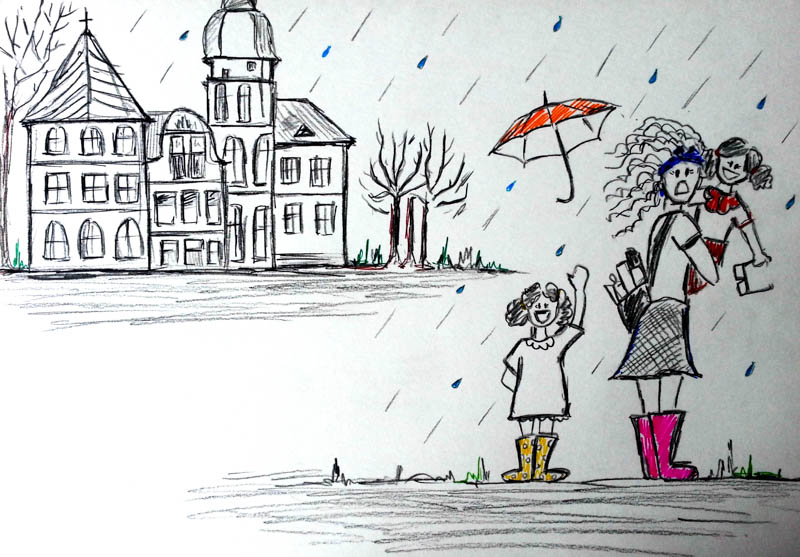 Summer days spent at the Badi (those lovely outdoor swimming areas by the lakes) are an absolute dream for me. Children are happily swimming, playing in the sand, and running around. Although the days of lying in the sun and reading a book are long gone for me, at least I don't have to be the main source of entertainment. Here in Switzerland, however, not all summer days are nice and sunny. This year my husband and I decided that we would not let the weather get in the way and that we would find activities for rainy days as well.
Our first activity was a visit to the Beyeler Museum in Basel to see the Paul Gaugin exhibition. We both wanted to see the exhibition, and we felt that now that Giggles and Cuddles are older, we could slowly introduce them to the idea that there are things to do besides slides and swings and sandpits. So I did my homework, checked train schedules and tram connections, packed snacks and entertainment for the train ride and we set off on our trip.
We got off the tram at the museum, and all we could see were umbrellas everywhere. At first we thought there was some kind of special event taking place in the museum garden that day, but we soon realized that this was the queue for the tickets. That day was a public holiday and it was pouring with rain so we were obviously not the only ones who thought of spending the day in a museum. We queued for a bit and then the girls started fighting over umbrellas and almost caused a permanent injury to an elderly gentleman behind us, so we decided to split. My husband and Giggles stayed in the queue and I thought I'd take Cuddles and go to the restaurant to order lunch for the girls. We ended up queuing for 40 minutes to be seated in the restaurant. By the time we were done with queuing and lunch we were slowly getting ready to start the journey back home. We joked about taking the train all the way to Basel to have lunch in the museum restaurant and then heading back to Zurich.
Nevertheless, we ventured into starting the tour of the exhibition. I enthusiastically tried to engage the girls and ask them what they see in the paintings, asking about the colours, etc. This only lasted for about three minutes before they lost interest completely and started running around. Soon enough it turned into a fight with pushing and screaming, so I had to take them both outside, calm them down, and explain that they can't do this in an exhibition.
We started again. There was no running around this time but there was the alarm going off, so we rushed them both out and then just couldn't bear to go back again. I found a nice area with sofas overlooking a beautiful garden and that's where we settled. My husband did the tour of the exhibition and then took his post on the sofa while I did the tour. The girls were able to run around and play in that area, so I guess in the end it worked out somehow.
By the time we finally made it back home I was exhausted, but I guess we learned a few things from that experience. First, although the girls are still too young for any cultural activities, that still doesn't mean that we can't do them; we just need to have realistic expectations and find parallel entertainment for them. Second, we need to book tickets in advance to avoid long queues. Third, we need lots and lots of snacks. Finally, I have to admit that – at least with twins this age – I can't wait for our summer vacation on the beach, enjoying the sunny weather and not worrying about rain.
By Didi in Zurich
Didi is an Egyptian mother of twin girls living in Zurich. Before having the twins she worked in the field of economic development. She is currently a stay-at-home mom focused on the growth and development of her daughters.
Illustration by Sharanya Mageshwaran
Sharanya Mageshwaran is a stay-at-home mom of a very naughty three-year-old who speaks better German than her mother does. Before moving to Zurich, Sharanya was a pharmaceutical research scientist in India. She loves painting and sketching with fauvist expressionist abstract themes. More of her artwork can be see here: http://somelightandcolor.blogspot.ch/