A Weekend in Graubünden: The Maloja/Sils Alpine Area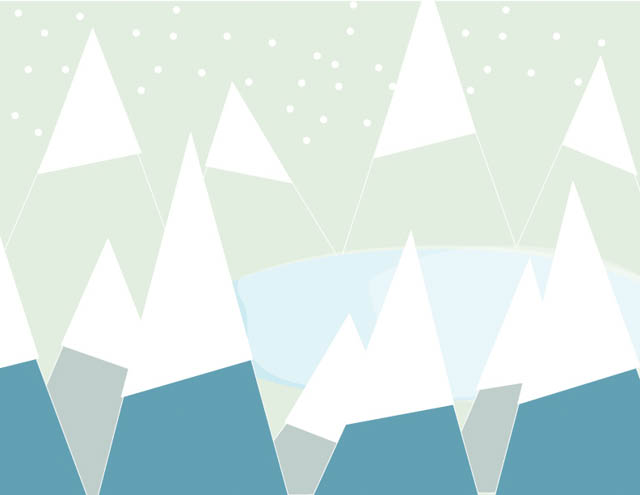 This winter it has been quite challenging to pick a spot for an extended family weekend in the snow. It is mid-January as I am writing this column, and many of our usual destinations are green and the temperatures are above 5°C – not the best weather conditions for fun and laughter in the snow! Whenever we want to be sure of snow, however, we head to the upper-Engadine valley in the canton of Graubünden. Last winter we spent a long weekend in Maloja/Sils and plan to return this year in February. If there is an area where snow is usually in abundance, it is the upper Engadine.
Located at 1815 meters above sea level, Maloja is situated in a high alpine pass connecting the Engadine area of the canton of Graubünden (Grisons) with the Val Bregaglia (Bergell valley) and Chiavenna in Italy. Sils Maria, at 1798 meters elevation, is located just across Lake Sils (Silsersee in German) from Maloja in the upper-Engadine valley (which extends further toward Silvaplana and the posh town of St. Moritz). This area of Switzerland has some of the most breathtaking landscape I have ever experienced. It can become frigidly cold, with temperature lows of -15°C common. But then again, that is why it is normally covered in snow in winter! In addition, there are three glacial lakes in the valley that freeze every year. The combination of frozen lakes, majestic mountains and snow – plus extensive infrastructure including public transportation, cable cars, shops, ski schools, as well as hotels and restaurants – enable visitors to enjoy such a high variety of winter activities in comfort.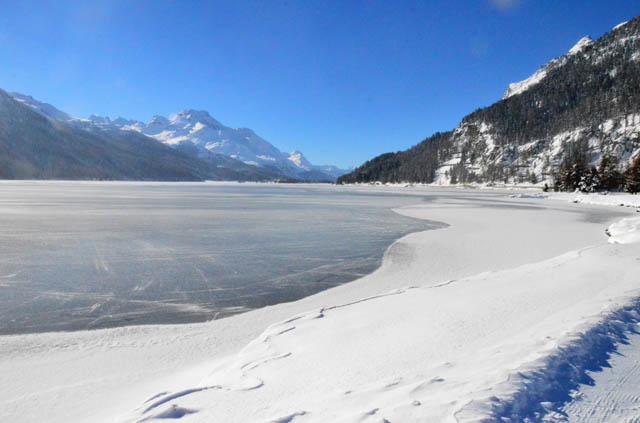 The Maloja/Sils Maria area is the perfect destination for my family, because we can choose from a variety of activities and still feel a part of nature – something that has always been necessary for us. Whether we want to ski, snowboard, ice skate, marvel at the mountains on walks across frozen lakes, ride in a horse-drawn sleigh, visit museums, or attend concerts, this area of Switzerland has something for all of us. And it is all accessible by car or by public transportation.
Last year we stayed in Maloja at the Schweizerhaus Hotel for three nights, as we have several times in the past. The lovely, quaint hotel with a 600-year history is located right next to start of the famous Maloja cross-country skiing marathon, which is held on the second weekend in March every year. It is also located across the street from the atelier and home (Chalet Kuoni) of the renowned 19th-century Swiss artist Giovanni Segantini, known for his alpine paintings. Next to the artist studio there is a sledding trail leading up to the Belvedere Tower and Castle ruin. It is great fun to walk up to the castle and sled down in the late afternoon before sunset. It is also possible to traverse snowshoe trails with a guide in the evening after dark. Just ask at the hotel reception; they are very helpful and will help you to find any activity offered in Maloja or direct you to tourist services.
My husband and I enjoy rising early to traverse from Maloja to Sils Maria across the frozen lake on the Maloja circuit trail with our cross-country skis. My husband prefers skating style, and I am happy to slide along slowly in the traditional classic technique. If you are not such a cross-country ski fan or if you have young children, you can pull them by sled across the lake. It is also very easy to travel by foot from Maloja to Sils Maria and enjoy the activities there, which include ice skating at the Muot Marias natural ice rink. There is a small ski slope in Maloja, which is particularly good for learners and young children. And if the slope is open, there is a ski school. Since our children improved their snowboarding skills enough to navigate difficult slopes, they have preferred snowboarding at the Furtschellas ski area of Sils or the Corvatsch ski area of Silvaplana. Of course, now they are old enough to use the bus pass (which is free with a two-night minimum stay at an area hotel) in order to find the "best snow slopes" daily. There is a ski/snowboard school at the base of the Corvatsch in Surlej and another winter sports school located in Sils Maria. You or your children might benefit from lessons either in groups, private or in pairs. There are lessons in English, in addition to German and other languages. We have found the instructors to be quite skilled, and we have all benefited from instruction. I have listed below the link for the Corvatsch ski school.
Last year when we arrived in February we experienced temperatures of -20°C, and my "midlands" ski jacket was not sufficient for the weather. So I purchased a winter parka from a ski and sports boutique in Sils Maria. They have some of the best winter attire for extreme temperatures I have yet to find in Switzerland. Needless to say, I could enjoy my three-hour perambulation across Lake Sils the next morning. So if you realize you have forgotten something at home or wish to try something new, you can rent or purchase any winter sport equipment or attire in Sils Maria.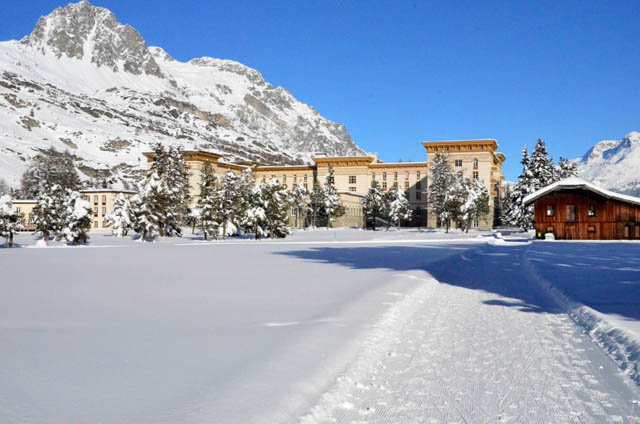 I have many Swiss friends who find the Sils Maria village much more interesting for a weekend than Maloja because it is quite posh; like St. Moritz, it offers luxury goods and yet it is car-free (which my kids find cool). There is a movie that premiered in January of this year called "Clouds of Sils Maria," starring Juliette Binoche and Kristen Stewart. Based on the film trailer, I thought it might be worth viewing before heading to Sils Maria/Maloja area, as it displays the beauty of the mountains in the area.
We always use Maloja as our base and explore Sils Maria, because Maloja is relatively undisturbed by the hustle and bustle of the other alpine villages due to strict building restrictions established by the citizens of the village. There are also good sledding and snowshoeing areas located in Maloja, which we enjoy.
Eating is another activity my entire family appreciates during our stays in Maloja. The menu is replete with regional delicacies such as Pizokel (similiar to small dumplings) and Gerstensuppe (barley soup), my middle son's favorite; Capuns (mountain cheese spices, sausage and dry-cured ham wrapped in Swiss chard leaves and baked), my favorite, and the best Marroni-Kuchen (chestnut cake) in the world, according to my husband! In the evening there is the possibility of fondue and raclette as well. Last year we were able to participate a wine degustation in the amazing wine cellar of the hotel. All in all our extended weekend stay was a wonderful experience. If you have young children, the hotel offers special packages with room and board for very reasonable prices. There are also activities for children, such as a pizza-cooking course one evening each week.
By Dr. Teresa Bingham Müller
Teresa is an earth scientist and instructor by education and an avid traveler and adventurer by nature. She has three boys ages 32, 19 and 16.
Illustration by Laura Munteanu
Laura has studied Journalism and Advertising, and has been working as a journalist and an illustrator. She has been illustrating for magazines, websites, charity and diverse campaigns. She lives in Zurich with her husband and six-year-old daughter.
Photos by Daniel Müller
Useful Maloja/Sils Maria area web links:
Children's specials at the hotel, including a pizza-cooking course
Corvatsch ski school information
Sils Maria ice rink information
Cross-country trail information for the entire area (including Maloja and Sils Maria)
Alpine ski slope information for the Corvatsch area
Information (in German) about the Segantini studio
Information about the Belvedere Tower (in English)
Other possible activities are a visit to the Segantini museum in St. Moritz (open except for holidays and Mondays) and the Friedrich Nietzche House in Sils Maria, which is open from December to mid-April.