What's On: Christmas Markets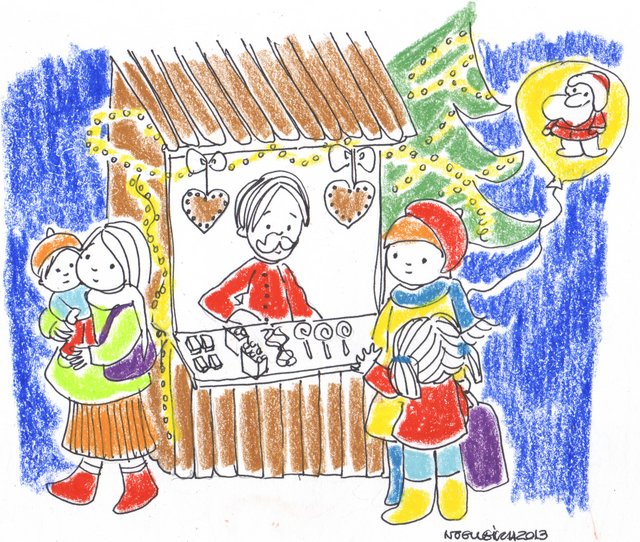 Swiss Christmas Markets 2016
These dates have not been modified for 2017 but the links to the information should take you to the current dates.
Basel Christmas Market: Held at the Barfüsserplatz and Münsterplatz in Basel. 24 November through 23 December, open daily from11:00 – 20:30. A breathtakingly ornamented Christmas tree, designed by Johann Wanner, is one of the many highlights of this market. Christmas in Basel will be officially opened at 6.30 pm on 26 November 2015, when the Christmas lights at Münsterplatz will be switched on. Click here for details.
Bern Christmas Market: This market in the cozy old town is held at the Münsterplatz and Waisenhausplatz from 24 November to 23 December. Click here for details.
Biel / Bienne Christmas Market: It has over 80 stalls, is centrally located in the Nidaugasse and runs from 3 – 24 December. Click herefor more details.
Bremgarten Christkindlimärt: Bremgarten, Aargau 1 – 4 December. Although it tends to become overcrowded by midday, this market features a beautifully decorated setting in a medieval walled city. Go early, especially if you are bringing children. Click here for details.
Einsiedeln Christmas Market: Einsiedeln (Canton Schwyz). A cozy atmosphere on the Klosterplatz, featuring Glockenspiel music, model trains, an amazing 450-piece hand-carved nativity scene and Lebkuchen (gingerbread). The museum lures many market lovers each year. While there ensure you visit the church to see the Black Madonna. 26 November to 4 December. Click here for details.
Lucerne / Luzern: Handcrafts Market. If you are looking for handcrafted gifts, this market, located at the Mühlenplatz, is for you. Open 3, 8, 10, 11, 17, 18 December. There are various other markets in Luzern as well. Click here for details.
Lucerne / Luzern: The Venite Market, with stands from 20 countries, will be held 15 – 18 December at the Kapellplatz. Click here for details.
Lucerne / Luzern: Christkindli Markt / Christmas Market in main train station from 24 November until 24 December, Monday – Sunday 10:00 – 21:00. Click here for more details.
Lucerne / Luzern: DesignSchenken ('GiveDesign') takes place in the Kornschütte (town hall) in Lucerne, 2- 4 December. Click here for details. At the three day festival, over 90 young Swiss design labels will present their products as unique Christmas gifts.
Lugano Natale in Piazza. Held from 26 November to 8 January, 2017; features 150 stalls. Click here for details.
Montreux Noel. The Christmas Village in Place du Marché, quays, Grand-Rue. A big ferris wheel and Santa's Post Office are some of the treats at the Montreux Christmas Market in the Canton of Vaud. 24 November to 24 December. Click here for details.
Rapperswil-Jona Christkindli Market (Canton St. Gallen). At Fischmarktplatz from 9 – 18 December (closed 12th). It's one of the largest in Switzerland with over 200 market stalls. Click here for details.
Zurich: "Wienachtsdorf" (Christmas Village) at the new Sechsilaütenplatz, in a magical setting directly in front of the Opera House, has around 100 stalls and runs from 24 November to 23 December. Click here for details.
Zurich: Heilge Bimbam Market. Held 15 – 18 December at the Plaza Club, Badnerstrasse 109 and from 22 – 23 December at the Maag Halle, Hardstrasse 219, 8005 Zurich. This is an alternative Christmas market to the traditional ones and features tons of local artists and a funky, homespun beat. Go early to avoid crowds. Click here for details.
Zurich: Old Town Christmas Market can be found in the Niederdorf quarter of the Old Town. The numerous market stalls line the centrally located Niederdorfstrasse and spill onto Hirschenplatz and Rosenhof. Open daily from 24 November to 23 December. Click here for more details.
Zurich: The Christkindlimarkt/Christmas Market at the Hauptbahnhof (Main Station). With about 150 stalls and a huge tree filled with glittering Swarovski ornaments, this market is convenient to travelers and later shoppers. It is the biggest indoor market in Europe and among its many attractions is Christmas storytelling for children. November 24 till December 24 from 11:00 to 21:00 (open till 22:00 Thursday through Saturday). Click here for more details.
Zurich: The Singing Christmas Tree and Christmas Market at Werdmühleplatz. Open daily from 24 November till 23 December. This venue hosts a large tree-shaped stage on which various choirs and singing groups perform holiday programs. This year's will feature appearances of international guests. Check out the website for a complete schedule of events.Click here for more details.
For a comprehensive listing of Christmas markets throughout Switzerland with dates and times, check out the My Switzerland website.
If you have a favourite Christmas market not listed here, please share it by adding it in the comments below. Thanks!
Originally written by Mary Bider and updated by Andrea Snashall
Andrea loves Christmas and from October onwards is counting the days until she is 'allowed' to decorate her home and Christmas Tree. This year she's planned to have one tree inside and one outside.
Illustration by Albina Nogueira
Albina Nogueira has been a primary school teacher since 1992, and a writer and illustrator since 2006. She currently lives in Switzerland, but her homeland is Portugal. She is also the author of Letters to Grandparents and Hairdresser. To find out more, like her on Facebook or see her books in Amazon.