Summer Time in Canton Schwyz
The region of Schwyz lies in the heart of Switzerland, just a stone's throw away from Zurich, Lucerne and Zug, and can easily be reached in 30 to 60 minutes of travel time. All major mountain outlets and lakes are mostly accessible by car, train, bus and even ferry. There are hundreds of hiking trails suitable for a variety of ages and levels. I've handpicked some of the most family-friendly trails and destinations to keep the kids entertained.
The Sattel-Hochstuckli mountain resort is great for families, with many of its activities and services tailored especially for kids. There are five main hiking trails on the mountain. One of the most popular family trails is the 40 minute BrückenRUNDweg (bridge round-trip), which goes across Europe's longest pedestrian suspension bridge, the "Raiffeisen Skywalk." This trail combines well with many other Sattel Hochstuckli summer experiences, such as tubing, tobogganing or the jumping castles.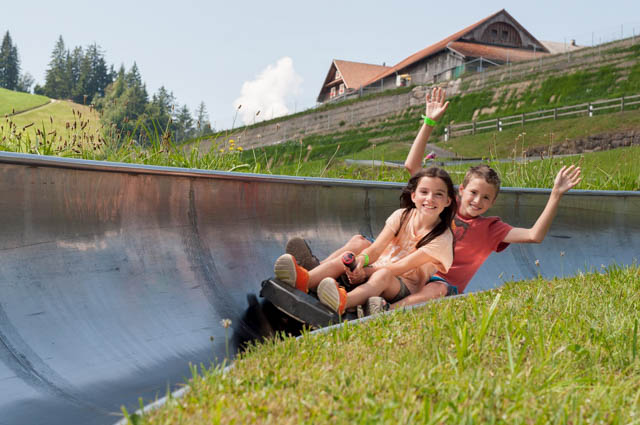 The Chäferliweg (Lady Bug Trail) in Illgau is a local Schwyzer family favourite. The Lady Bug Trail begins at the top of Illgau cable car station in St. Karl and takes approximately 50 minutes to complete. While searching for the seven lady bugs, you'll come across numerous trail challenges and features, including a climbing wall, adventure playgrounds and hidden cubby houses. Bring a packed lunch or some sausages, as picnic and grill facilities are available.
The small, car-free resort of Stoos is a paradise for leisure enthusiasts. The Moorerlebnisweg (Moor Experience Trail) is a great way to get the kids to use their senses and enhance their knowledge of a moor. Across the 1.6-kilometre trail, there are eight "moors"-code symbols to be collected on the brochure. At the end of the Moorerlebnisweg, there is a picnic area and two large fireplaces adjacent to a small beautiful lake.
Make a splash!
There are many indoor and outdoor water sport activities to enjoy, such as Alpamare in Pfäffikon. It is Europe's biggest covered water and fun park and has over 11 water slides with a total length of 1800m, a drifting stream, wave pool and wellness and fitness facilities. New to Alpamare is a water playground for kids aged zero to eight with accompanying adults. This water playground area includes a water slide, a kiddie pool with a seating area for parents/guardians and a water spray park with various fun-themed water pistols and targets. It also has a private terrace overlooking Lake Zurich and the Alps.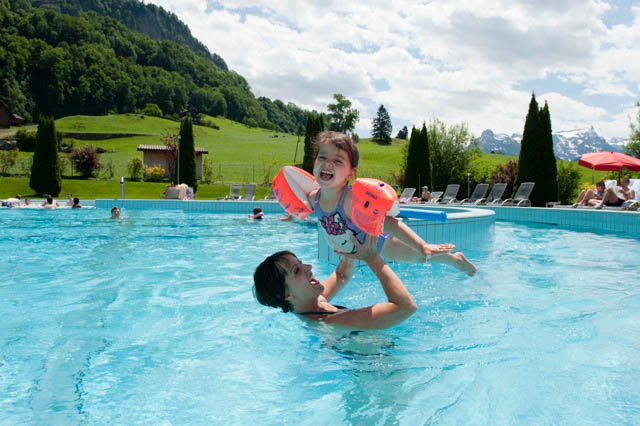 The Swiss Holiday Park in Morschach is a resort located on the highlands of Morschach overlooking Lake Lucerne. It's suitable for either a day-trip or overnight stay, with plenty of activities for parents and kids alike. The outdoor adventure pool includes a waterfall, 100-metre slide, Jacuzzi beds, hydrojet massage, steam bath, whirlpool and lawn for sunbathing. The pool also has a large area for young children, with specially designed slides, water toys and two kiddie pools. The pools are just one of the many attractions that visitors can enjoy at the Swiss Holiday Park all year round. Other activities include: an adventure farm with horse riding, an electric go-kart track, miniature car racing and miniature golf, as well as the latest attraction to the park – a flying fox activity course. Tip: For overnight guests, any child under the age of 15 eats and drinks for free. (To read the Mothering Matters review of Morschach/Stoos, click here. )
If you're looking for natural water experiences, Lake Lucerne, Lake Zurich and Lake Sihl (near Einsiedeln) are  some of the most popular water sport outlets within canton Schwyz. A relaxing way to experience the tranquility of Lake Lucerne is via canoe. Rental canoe services or tours are made available by Adventure Point  in the lakeside town of Brunnen. These canoe trips show some beautiful lake views, including the historic Rütli or the 380m high cliffs and are suitable for beginners and families with children.
Animal and history outings
The animal and nature park in Goldau is an animal park lying in the middle of a boulder-strewn area, where animals can walk freely between the rock formations. Visitors are welcome to pat and feed the roaming animals (mostly sika deers, moufflons and goats); the feeding pellets are available to purchase from the gift shop on entry. The nature park spans 34 hectares, with approximately 1,000 animals and 100 different species. Visitors can bring a packed lunch or eat at the park's self-service restaurant. There are also various playgrounds across the park for children to enjoy.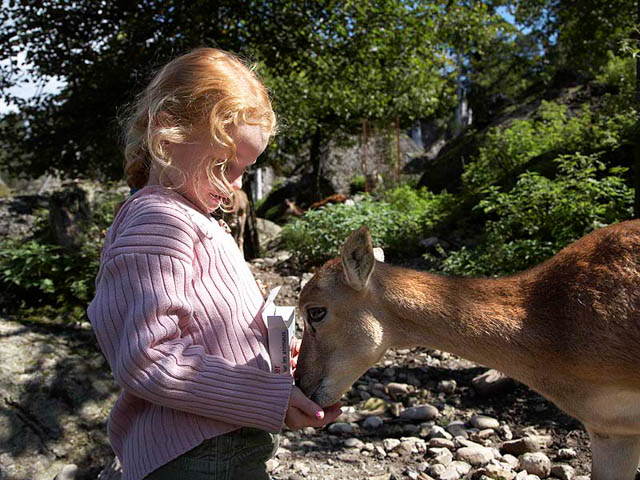 For a bit of history, the capital of canton Schwyz, which is also named Schwyz, is a charming town to visit. Families can get the most out of their visit by purchasing a museum pass at either the local museums or the visitor information centre. The museum pass costs SFr. 10 per adult and children under the age of 16 receive entry free of charge. The pass grants one-time access to each of the three museums: Forum of Swiss History, Museum of Swiss Charters and the Ital Reding Estate and Bethlehem House.
Adventure time
For those looking for a bit of an adrenaline kick, there are a number of family adventures to be had, such as the world's longest zipline in Hoch-Ybrig. It runs at a maximum height of 80 metres and travels up to a speed of 120 kilometres/hour for 2.3 kilometres. The zipline starts at the top of Hoch-Ybrig's mountain chairlift, which is approximately 1,900m above sea level, goes down to Fuederegg and then back to the mountain's main cable station.
A cool place to be this summer is in Muotathal at the Hölloch Caves. The cave system is one of the largest and most impressive in the world, stretching over 200km underground. Participate in a family tour and learn about the history of the Hölloch, the Hölloch dragons, the Hölloch devil and the cavemen. Within the cave system, some crawling and climbing is required in parts. The tour is relatively suitable for family members around the age of seven and older. There's also a free on-site barbeque by the Hölloch creek.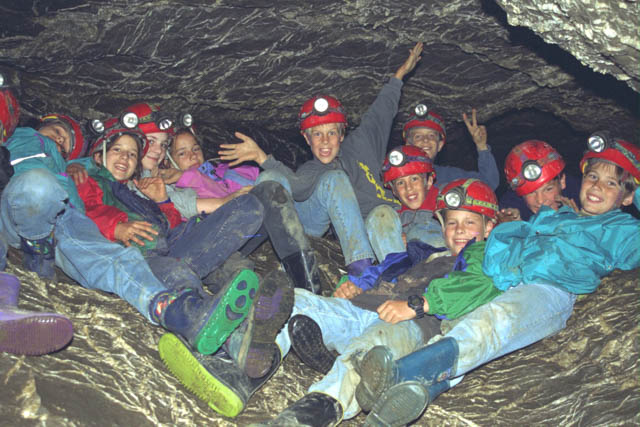 The Erlebniswelt at Muotathal has a programme of events this summer, with lots of fun day and overnight family experiences. The Husky-Traum (Husky Dream) includes visiting the husky enclosure, learning about the work that goes on behind the scenes with the sled dogs and even accompanying them on a short walk with a special harness. There's also a three-day summer getaway  offering husky moments, natural hikes and local rustic cuisine.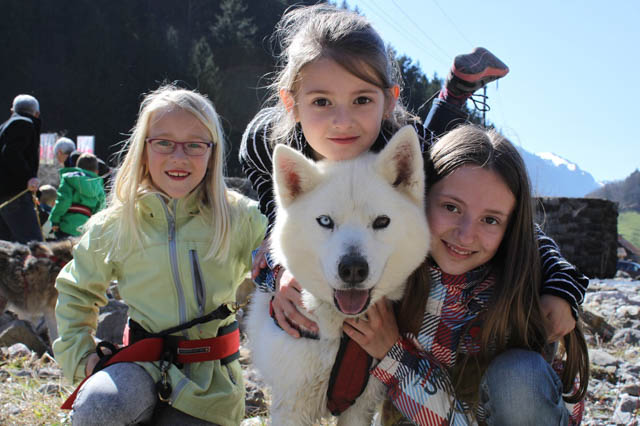 More details are avaliable in the online brochure. Current seasonal information can be found in the Summer Magazine.
By Amy Roulston
Amy is a student intern at Schwyz Tourismus. Originally from Australia, Amy is currently undertaking a masters program in tourism. Amy is a Schwyz enthusiast and enjoys the diverse natural, historic and cultural elements the region has to offer.
Photo credit: Thank you to Schwyz Tourism for the beautiful images.
Further resources
The Canton Schwyz Hiking App has a lot of very useful information about the footpath network within the region. It's a free, user-friendly App that can be used on iOS and Android devices. Download the App from either the Apple or Google Play Store by clicking on the link above.
For further details about the canton, visit the Schwyz website. Email: info@schwyz-tourismus.ch
For more family-friendly things to do in canton Schwyz as listed on the Family Matters website, click here.