Staying at Home – resources for parents
And, on it goes. It's been nearly a year since the first full lockdown in Switzerland – schools closed fully here 13th March – 10th May 2020. We are still living very different lives to those which we were used to, while we do have vaccines on the horizon and children in Switzerland ARE currently mostly going to school. Many things about this ol' "soft" lockdown life have remained the same while others have changed. Digital media creates the illusion of movement and activity, while our own personal, physical worlds have contracted into our domestic spaces.  We are all spending a lot of time at home at the moment which means we still have to find different ways to keep the children entertained.
Some of us are simultaneously working from home in a professional capacity. There is a limit to the amount of crafts you can make or the building of dens that you can supervise once the children are home from school in the afternoon. Stay-at-home-parents have found that their children's access to playdates and extracurricular activities have been cut off and we may be looking after multiple little ones. All of us – in our differently sized and shaped boats – are simply trying to stay afloat during a bizarrely turbulent and yet monotonous time and we are all trying to give our days some shape so that they don't simply bleed into each other and form one shapeless, amorphous, all-consuming blob.
For those of us who are spinning multiple plates at the same time and trying to keep them all from crashing into a tumultuous heap on the ground, these following resources might help. Please bear in mind that the workability of the resources below do rely upon screen-time to a certain extent…I can tell you however that they have been tried and tested. I have been trying  them out with my 9-going-on-10 year old and 4-going-on-5 year old at home since March 2020 when they were both 8 and 3 respectively.
1. PE with Joe
Joe Wicks is running live PE sessions every Monday, Wednesday and Friday at 9 am GMT (10am CET). Joe Wicks, otherwise known as 'The Body Coach', has brought back his PE mornings, three times a week as he tries to keep the children of the United Kingdom  – they are on their third national lockdown over there – active. However, as his lessons are available on YouTube, it means that all of us, all over the world can also participate and – this bit is crucial – catch up in our own time. Over 120,000 people tuned in for the first rebooted 'PE with Joe' in January. You and your children can expect short, high-intensity bursts of activity filled with plenty of banter and larking around. You can participate in the workouts even if you have limited space and you won't need any specialised equipment. Friday sessions are particularly popular in my household as they involve dressing up.
https://www.youtube.com/channel/UCAxW1XT0iEJo0TYlRfn6rYQ
2. Do your children love drawing?
At the outset, they don't need to love drawing. They don't even need to believe that they are any good because by the end of their time with Rob Biddulph and Jim Field they will have discovered newfound confidence and enthusiasm in their creative abilities. Rob Biddulph, author and illustrator is running illustration classes on IGTV every Tuesday and Thursday. The classes are available to view and follow along afterwards. They are also available on YouTube. To the best of my knowledge, there are now more than 72 episodes available to view online.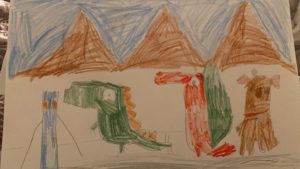 Rob Biddulph's popularity has also parlayed into two activity books – aptly titled 'Draw with Rob' where children continue to draw alongside 'Rob'. The first has been published to great acclaim while the other one will be arriving in March.
https://www.youtube.com/channel/UCBpgrJijMpk_pyp9uTbxLdg
Jim Field's illustration classes were also very popular during the first wave of lockdowns.Jim Field is the author of the immensely popular 'Oi Dog' 'Oi Frog' series of books as well as the illustrator of contemporary classics such as 'The Koala Who Could'.
You can find his episodes here:
https://www.jimfield.me/draw
3. The somewhat controversial children's author David Walliam narrated 'Elevenses' – short stories from his many books – during the first lockdown and they are still available to listen to for free on his website. However, he has come under criticism for some of his portrayals. Walliams' narratives are not known for their diversity or inclusivity but nevertheless Walliams' books are tremendously popular with children, parents, teachers, libraries and bookshops. They are also very popular in their translated avatars.
https://www.worldofdavidwalliams.com/elevenses/
4. If you are on Instagram, you might want to veer away from doom scrolling to check out the handle, @savewithstories where Hollywood stars and luminaries from both sides of the pond have come together to read stories aloud to raise money from charity. Have you ever wanted Hugh Grant to read you and your children 'Stick Man'? Well, your wish has been granted! You can listen to everyone from Henry Winkler, Padma Lakshmi, James Marsden, Martin Freeman, David Tennant, Kate Winslet, Terry Crews,Lin Manuel Miranda to Benedict Cumberbatch, Chris Evans and Kamala Harris. Kamala Harris! It is quite honestly one of my favourite accounts on Instagram and any time I'm feeling blue, I listen to Captain America reading 'If You Give a Dog a Donut' to make me feel better.
https://instagram.com/savewithstories?igshid=ut8n8tscgncl
5. As a teacher, one of my favourite websites continues to be BBC Bitesize. Alongside popular digital platforms such as Khan Academic, the BBC Bitesize website contains a wealth of educational resources. At the moment, they also have a 'Lockdown Learning' section which is only available to residents of the UK. However, the rest of the resources on the website are available globally. Other UK based digital learning platforms include Twink and Mrs Mactivity. If you become a member, you are able to access all of their learning resources. However, some resources are also available for free. This is rather helpful for families who are trying to help their children keep up with their English language learning. However, to be completely honest, I – a 35 year old – also use the BBC Bitesize website to help me learn German!
https://www.bbc.co.uk/bitesize/this-terms-topics
https://www.twinkl.de/
https://www.mrsmactivity.co.uk/
6. My final recommendation is for an incredible resource called 'Pratham Storyweaver' which is the work of the Indian publishing house, Pratham Books. Through the website, you have access to 32004 stories, for free! They do lean towards the Indian experience but I feel quite strongly that they are accessible to people from all over the world, including Switzerland. Stories, we must remember, are windows, mirrors and doors and in lieu of actual travel, you can travel the world through the Storyweaver. You will find stories in German, French and Italian alongside English as well as the multiplicity of Indian languages. It is also a good opportunity for creativity as you can upload your own stories and illustrations here. You can, if you wish, also translate the existing stories.
If you have any ideas to share with us, please do get in touch via the comments section or tag us on your social media pages!
By Nayana Chakrabarti
Nayana Chakrabarti studied at the universities of Cambridge and London. In her previous non-Swiss life, Nayana was a teacher of English who taught across the U.K and India. Now living in Zurich with her husband and children she tries (and frequently fails) to don many hats. Professionally, Nayana remains a teacher and a tutor while also trying out her luck as a writer. As well as contributing to FMS, she writes for Namaste Switzerland and is a parenting and education editor at 'My Swiss Story'. Personally, she is trying very hard to not raise monsters and hoping to successfully parent two well-adjusted Third Culture Kids of her own (fingers crossed). You can follow the family's adventures on Instagram where Nayana writes using the handle @themigratorymum.
You can read more of Nayana's writing at:
https://www.familymattersswitzerland.ch/a-greifensee-state-of-mind/
https://namasteswitzerland.ch/2020/12/08/young-voices-our-kids-section/
https://myswissstory.com/author/nayanaresham/
https://www.instagram.com/themigratorymum/?hl=en
Illustration by Aleksandra Koroleva
Aleksandra, originally from Moscow, Russia, now lives in Adliswil with her husband and 6 year-old son. She specializes in clinical psychology and started studying illustration after her son's birth. In her free time Aleksandra likes sleeping, just like all mothers do. https://www.instagram.com/uber_evil