Baking Bread over an Open Fire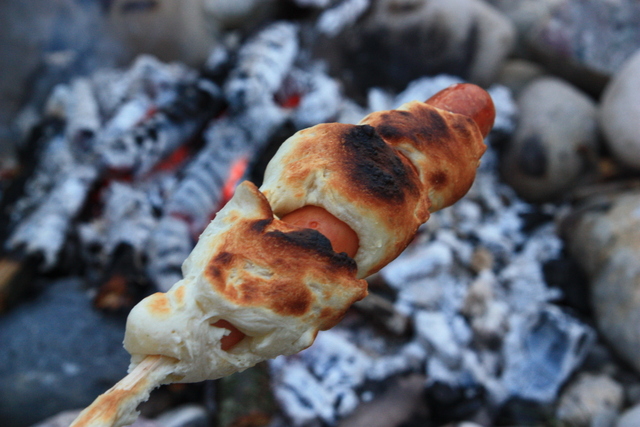 It is campfire season again and I am determined to eat something other than sausages and paprika chips at least a few times this summer. When you are grilling at home, you have many options. But it's another story if you are carrying everything on your back for a couple hours and grilling in the wild with hand-carved sticks. I've got a running list of things to try someday, including: foil fish packets, Cajun shrimp, kafta, souvlaki, veggie kebabs, maybe even grilled brie.
We will have to wait and see if any of these make it into my "on-the-trail" meal repertoire. But in the meantime, I can offer you an easy treat to try the next time you find yourself at a Schweizer Familie Feuerstelle: Schlangenbrot, or "Snake Bread."
Schlangenbrot, also called Steckenbrot, is an old favorite here in Switzerland, and it is such an obvious combination that one would expect to find it at campfires all over the world. But I had never seen it before moving here. You simply wrap bread dough or pizza dough around a stick and hold it over the fire until it is golden brown and cooked through. We have used the store-bought pizza dough from Migros or Coop, but I have to say it was not very tasty – homemade dough is much better. Plus you can add in delicious ingredients like herbs and onions, make a dessert version with cinnamon and sugar, or make a healthier version with whole wheat if you like.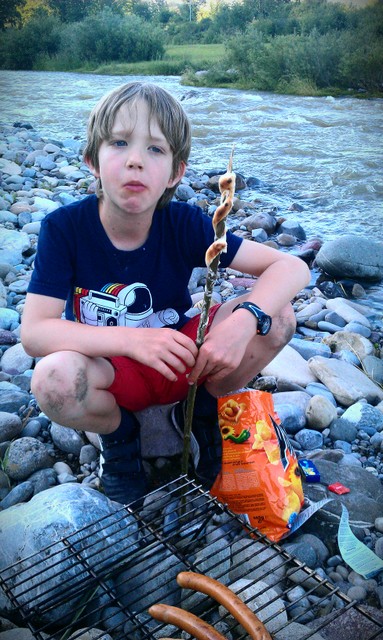 At the moment, I like to use a pizza dough recipe from Mark Bittman, author of How to Cook Everything. I love that you make it in the food processor in less than a minute and that it has a long rise – two to three hours. That means I can make it quickly in the morning before leaving, put the dough into a plastic bag, and let it rise while we hike. I can always punch down the dough after a couple hours if it gets too big.
Recipe: Dough for Schlangenbrot or Pizza
(Adapted from How to Cook Everything by Mark Bittman)
Ingredients:
3 cups (400 g) white flour
1 tsp. instant yeast
2 tsp. kosher salt
1 cup (240 ml) water
2 Tbs. olive oil
Method:
In a food processor, combine flour, yeast, salt. With the machine running, add water and oil through the feed tube. Process until the mixture forms a slightly sticky ball, about 30 seconds.
Remove dough from machine and knead dough briefly on a lightly floured surface. Coat with oil and put in bowl to rise (or plastic bag if you are taking with you to the fire). Let rest at room temperature until the dough doubles in size, about 2 hours.
If making Schlangenbrot, divide the dough into 4 to 6 pieces. For each piece, roll and/or stretch into a long rope and wrap around a grilling stick. You can also wrap it around a hot dog on a stick and cook the two together. Try not to make it more than about 2 cm thick. Any thicker and it will have trouble cooking through. Hold over fire, rotating frequently. Cook until outside is golden brown and inside is fluffy, no longer doughy. It takes 10 minutes or so to cook.
If making pizza, heat the oven as hot as it can get (240-250ºC). You can either make one large sheet-sized pizza or two 20 cm rounds. Divide and shape dough as desired, then add pizza toppings. Bake about 10 minutes until bottom of pizza is golden brown.
By Tanya Deans
Tanya is a mother of two boys that love to roast marshmallows.