Be Open to Being Surprised
A Cultural Nomad's Secrets for Rebuilding Self-esteem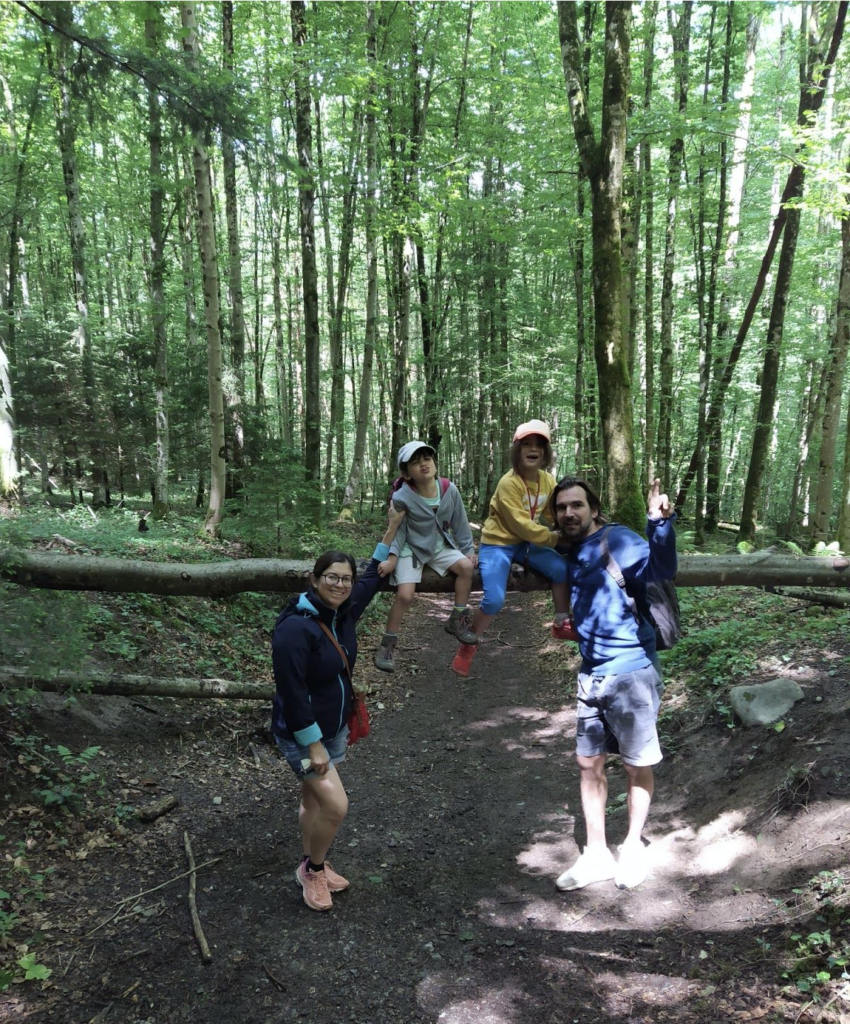 "The last couple of months have been challenging," she smiled, "The 'corona-quarantined' life was not easy, because I am a very social person. At the same time, it was interesting to see how people with different backgrounds reacted to this special situation."
Elida Villalba Vargas Ebert, originally from Paraguay, recently celebrated her 10th anniversary of living in Switzerland. She now feels it's her second home, but there are still things in the Swiss culture that she is not 100% used to. Elida met me in May to share her story as a working mom and a member of a multi-cultural family.
A Paraguayan and a Swiss in Mexico
Elida was a brilliant student. She was the only one who stayed late in the school library, avidly reading books. It was no surprise that she chose to study law at the university. She received a full scholarship to continue studying in Mexico. After getting a master's in law, specializing in human rights and public law, she started to work for a law firm in Mexico. It was an interesting life. Financially independent and professionally confident, she could spontaneously enjoy such treats as a trip to New York with friends.
Then this man appeared in her life: a Swiss who was traveling in South America, Claude Ebert. It was at the 30th birthday party of one of Elida's friends, and Claude had arrived in Mexico one week earlier. Elida walked up to him when she saw him standing alone. They talked and exchanged email addresses. It had not been Claude's original plan to stay in Mexico very long, but he changed his mind. He and Elida had a good time together for six months, traveling around.
It became more serious after a three-year long-distance relationship between Mexico and Switzerland. They wanted to be together, but "The critical reason that made me come to Switzerland was my new job," Elida said. She found a job at the Paraguayan Embassy and started her new life in Switzerland in 2010 at the age of 32, leaving her life in Mexico behind after six years. "It was a step backward in my professional life, but a step forward in my personal life," she said. "I had a good job in Mexico but I was lonely. I was happy to have a new family in Switzerland."
A different path in life
Now she's a mom to two children, ​Amélie (seven) and Leo (five). ​What she appreciates most about living in Switzerland are security and education. "Especially after the birth of my kids, I am so happy to live in a country where it's safe and everyone has equal access to education," she said. Elida went to private schools in Paraguay. The quality of private education was good, but not everyone could afford it. It not only mattered how rich you were, but also where you lived.
Her interest in human rights led her to a further path. She stopped working for the embassy after ​Amélie was born, and ​Elida has been doing her PhD in organization studies and cultural theory at the University of St. Gallen since 2016. "I am researching water accessibility in rural areas. There is enough water in Paraguay but the people in the countryside lack water of good quality. My question is whether a delegated community can manage the resource in an efficient and transparent way," she explained.
Besides that, she runs a ​legal consulting company​, and she has been a voluntary legal consultant for ​an NGO for the last eight years. Often, her clients are immigrants who are not used to the legal system here. "There are many people who don't know their legal rights and end up being pushed into hard situations. It can get worse if they don't speak the local language or don't have a job, because then the power gets lopsided," Elida said.
Starting from scratch
Her own experience as an immigrant helped her to understand her clients. "I could speak neither English nor German when I moved here. It was depressing that I couldn't communicate with the people I met on the street. I sometimes found myself in embarrassing situations," she recalled. Being self-employed was another challenge for her. "I used to work for a big company. But now I work from home as a freelancer. I had to start from scratch to make myself recognized by other people. I was timid and stressed." Elida emphasized that it's a long process to be fully integrated into a new society. "Now, looking back at my 10 years in Switzerland, I see the progress. I learned the language; I have two kids, and I am learning how to get my own clients and make a profit."
Even though she enjoys working from home as a freelancer, sometimes it's hard to take it seriously. "Not many people understood that I was doing an important job at home. My social status was just SAHM: "Stay-at-Home Mom." Even my own kids didn't respect it much, opening the door of my home office whenever they wanted," Elida said. The coronavirus crisis affected this situation. "Since everyone started to work from home because of COVID-19, I became equal with others. Ironic change," she laughed. "While working from home for several years, I struggled to rebuild my self-esteem. I realized that it's more important to justify the value of my job to myself, than to justify it to others."
Neither here nor there
Elida and her husband Claude, a ​Hortleiter, o​r director of an after-school care club, are a well-matched couple, despite their different cultural backgrounds. "We Latin Americans are very open and spontaneous people. I am not used to making plans in advance. On the other hand, the Swiss are disciplined and strict," Elida said.
A few years ago, Elida visited her mother-in-law without giving her advance notice. She welcomed Elida, but she looked shocked by the surprise visit. "Since then I try not to visit them spontaneously. In Paraguay, though, let's just say that when you have an unexpected visitor during lunch or dinner, you just keep eating and make a place for the visitor at the table."
Social interaction is another big difference between the two cultures. "It's important for me to talk with my sister in Paraguay every day. We talk about everything from our mom's health to the plants we are growing. But Claude talks with his brother only when there is an important issue. "It's not a matter of right or wrong, just a cultural difference."
This multi-cultural family shares critical values: to respect others and to be honest. Elida shared a memory of Claude's grandmother. "She passed away two years ago at the age of 102. When I first came to Switzerland and could barely speak German, this old lady tried to talk with me patiently, with a small German dictionary in her hand." Elida added, "This type of attitude of kindness to others, or empathy, can make things easier. It's an attitude Claude and I expect from our kids."
I wondered if she felt more Swiss or Paraguayan. Elida said, "I visit Paraguay once a year, I follow the news in Paraguay, my best friends are there, and I speak Spanish with my kids. But I am not 100% Paraguayan any more. When I am in Paraguay, I find myself in need of a private place, as the Swiss do. I read the news with a different point of view now. However, this doesn't mean that I am Swiss, even though I have Swiss family and speak the local language. People like me have the challenge of learning to live with the weird feeling of not belonging to either place."
Whenever it feels hard to live as a "cultural nomad," Elida tells herself, "Be open to being surprised." She told me, "When you expect zero and get one, you feel so happy. That's the motto of my life. Lower your expectations, and you'll find good surprises."
Story and photos by Jeenkyung Chloe Kim
Chloe is a freelance writer and journalist from South Korea, now living in Zurich with her Spanish husband and two kids. She's interested in diverse cultures, parenting, literature, movies, plants, food, drinks, and writing about all these. Email: j​eenkyungkim@gmail.com
This article is the third one in a series that Chloe is writing about international families in Switzerland. The first one can be found here. The second one is here.