Some Adventure in Our Holidays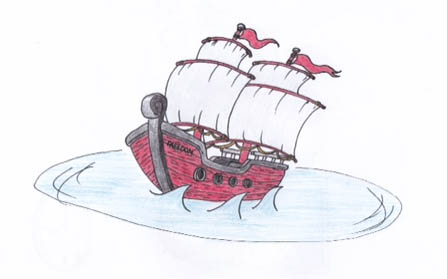 The sun has finally made it out. After a rainy spring the kids are excited to finally put on their shorts for school, and every day they ask when we are going to put up our pool in the garden.
I'm thinking further down the line, wondering what I'd like to do for the summer holidays. And here's the thing: My partner has a sailing boat. It's a lovely American "pirate boat" (as the kids call it) that was passed down from his father. He spent most of his childhood holidays on that boat and now we spend most of our holidays on that boat. Now don't get me wrong; it's a lovely boat: it's big, it's red, and it has a nostalgic, adventurous feel to it. But (yes, there's a but) it's merely on a lake. The lake is, mind you, Lake Constance (Bodensee), which is stunning and delightful with all the harbours that border on Germany and Austria, making it therefore international and intercultural. At least, this is my partner's line of thought.
However, I can't help but remember all the amazing adventures I had on my family's travels when I was a child: For example, when we lived in Oman, we travelled through deserts to visit the oasis of Djebel Akhdar, the Green Mountain. We found flint tools on "little hills" (ancient settlements in the Wadi Jizzi desert) and engraved cave paintings of horses with riders in caves. We used to go to the beach after school every day – indeed, life there seemed like one long beach trip. I also have strong memories of diving in the warm Caribbean along endless white beaches when we lived in Cartagena, Colombia.
Huddled in the salon of our boat, Freedom, I tell the kids about the different places I lived as a child, of how I saw that amazing bromeliad called Puya Raimondii or "Queen of the Andes," when we lived in Peru. And how we took the highest train to Lago Titikaka, where people live on self-made islands of reed and chew coca leaves (and how we munched on the coca leaves shared with us by the locals, who encouraged us with their huge, toothless grins). I show them Tintin in the book Prisoners of the Sun and tell them about the solar eclipse I experienced in Peru when I was about sixteen. With my dad, I also climbed Huayna Picchu, a mountain that looks down onto Machu Picchu. I jumped around on the rocks up there, and he freaked out because he thought I'd jumped off the edge way down to where my mum and my sisters were waiting in Machu Picchu.
I remember how it felt quite vividly, and I realise now how lucky I was to have experienced so much as a child. I would love to go back and retrace the steps of my childhood with my children, so that they too can experience new and exciting places. Of course, it's hard to compete when we actually lived in all those amazing countries.
So you can see that I sometimes feel a little guilty for not giving my kids the same opportunities that I had as a child. However, in the meantime, I've managed to convince even my partner that it's a good idea to spend at least one holiday a year further afield, so we have visited amazing places like Greece, Gozo and Italy. We've agreed to spend our summers on the boat and our autumn holidays in destinations we must reach by aeroplane.
In truth, when I remember the kids swinging off the ropes to dive over the boat deck into the cool, clear Bodensee water, or letting themselves be dragged along behind the boat as we set sail, I realise that kids don't really need all that much to have a good time. Anyway, it's good to have these exciting tales to tell; it gives children something to dream about.
In the meantime, I think it's nearly the time of the year when we get the "Rhine swim bag" out of the cellar – the one every true Basler, (inhabitant of Basle) has for an evening swim in the Rhine. We drive down with the whole family just before bedtime. We dive in and, with Sherlock bounding along the riverbank, the Rhine carries us down under a bridge or two, and then we take the bus back to our car. That way we don't really need to wait for the summer to have an adventure. Oh, but that's not going to stop me dreaming – I'm also working on a kid-friendly autumn holiday to Namibia, but nobody knows about it just yet.
By Karin Mohler
Karin has lived in between cultures for her entire life and has come to the conclusion that this will always be a big part of her. Having no roots doesn't bind her anywhere in particular, but she is careful not to impose that sense upon her children, who have been born and bred in Switzerland. She has taken a lot of inspiration for understanding her "in-betweenness" from the book Third Culture Kids: Growing Up Among Worlds, by D. C. Pollock and R. v. Reken (2009).
Illustration by Lara Friedrich
Lara has been a freelance illustrator for Mothering Matters since early 2013. She is a demo singer for the songwriter Kate Northrop and has also written an article for the newspaper March Anzeiger. Lara is bilingual in English and German with a Cambridge Advanced Certificate in English. She is in her first year at University.